So you've looked back at your year in music taste in Spotify Wrapped. Now get roasted with this Spotify AI.
Spotify's Wrapped feature is a neat way to take a look back at your listening history for the year. But it focuses on stats and data rather than subjective opinions. That's where the new "How Bad is Your Spotify" app can do what your friends won't – tell you your taste in music sucks.
The Spotify AI is created by The Pudding and analyzes your listening history based on several factors. The feature can take a while to use, though, if a lot of people are roasting themselves on their listening habits. The Spotify AI asks a few questions, so be prepared to answer them for more 'accurate' results.
It asks if you really listen to songs that it picks at random to make sure they represent your tastes. You can tell the AI whether the song is one of your personal favorites or if someone else was listening. The AI also asks users to play the 'f*ck marry kill' game that is common across so many US high schools. Presented with three artists (chosen at random), you must rank them with FMK in mind.
The Spotify AI's final rundown gives you a list of tracks that you play 'too much.' You'll also be presented with a list of artists you 'stan' too much (AKA your top five) this year. The AI rates how basic your tastes are (by how much pop music you enjoy), and highlights the decade you're stuck in.
The website says the Spotify AI 'knows what's good' in music through extensive training. Its programmers fed the app over two million data points of objectively 'good music' from several sources – Pitchfork reviews, recommendations from record stores, and niche music-focused subreddits.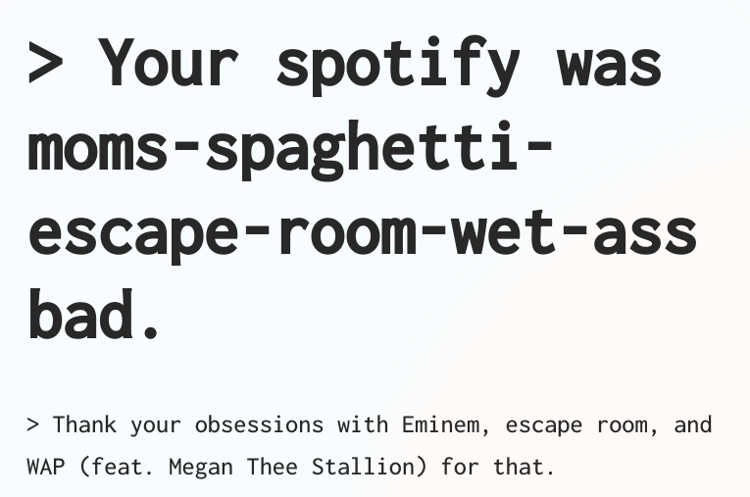 Did you miss the Spotify Wrapped stats this year? Puerto Rican rapper Bad Bunny took the most streamed artist on Spotify 2020 title. Meanwhile, Billie Eilish claimed the most-streamed female artist title for the second year in a row.
Not a Spotify user? There's no bot to roast your listening habits on Apple Music, but you can enjoy Apple Music Replay.
It's fun to see how much listening habits can change over the year. I started 2020 listening to the metal band Ghost and finished it with Eminem. Of course, the Spotify AI bot was sure to roast me about all the Em featured this year. What can I say? I have a weak spot for good rap beef.