The following post for musicians and labels comes from CD Baby, a proud partner of DMN.
"When should I set my release date?"
The most common question I'm asked goes something like this: When should I release my next album or single if I want to run a pre-save campaign and pitch a song to Spotify in time?
I could answer with a simple calendar date, but that's not really what they're asking.
There are a lot of moving pieces and contingent steps when any artist or label puts out new music. What they really want is a timeline:
Do THIS by THEN in order to qualify for THAT
Do THIS by THEN in order to qualify for THAT
etc.
Last year my personal DMs got flooded with this kind of question from strangers and friends alike. Seriously, in one week almost two dozen people hit me up with the same question. That's when I thought, "CD Baby should just build a tool that helps artists customize their music release plans. Otherwise I'll be cut-and-pasting until the end of eternity!"
You plug in your target release date and we'll provide you with a personalized schedule of distribution deadlines, music promotion benchmarks, and more (whether you use CD Baby for distribution or not).
Things to do before you release new music
[In Your Release Plan Generator, each of the items below is explored in further detail, and you'll be given a deadline by which each step should be completed in order to take advantage of the steps that follow.]
Prepare to tell the story of your music, including:
Gathering your promo assets (artist photos, bio, etc.)
Crafting your pitch or press release
Scheduling a release celebration
Prepare to distribute your new music, including:
Mastering
Finalizing artwork
Entering your metadata
Delivering music to DSPs
Prepare to promote your music, including:
Exploring music promotion tools
Setting up a Spotify pre-save
Claiming or updating your platform profiles
Pitching music to Spotify editorial (and Release Radar)
Creating a smartlink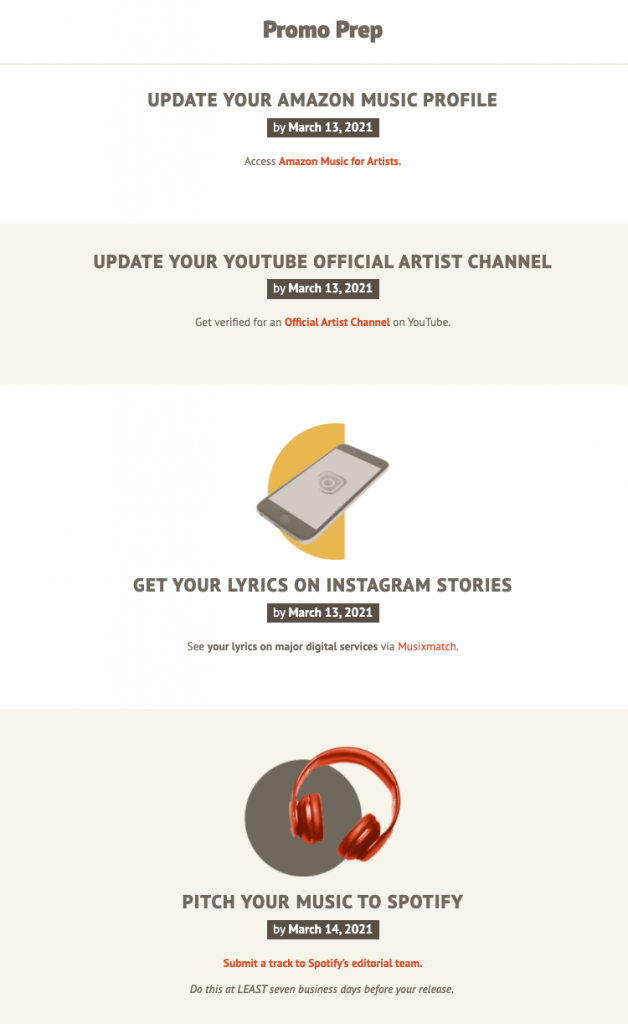 That's just SOME of the stuff to consider BEFORE your actual release date.
Your Release Plan Generator also gives you an action-plan for things to do as soon as your music becomes available, as well as follow-up promotion to help you:
reach new listeners beyond your existing fans
build on your momentum
stay on the radar of both your warm audience and the cold, calculating algorithms
Start with a target release date and reverse engineer your timeline
If you rush your release you will miss certain things.
For instance, without an ample onramp, you won't be able to pitch your music to Spotify.
To qualify for that one opportunity, you need to know when your upcoming music will appear in your Spotify for Artists dashboard…
… which means you need to know when your distributor will send it to Spotify…
… which means you need to know when to sign it up for distribution.
You can see how artists start to stress about timelines.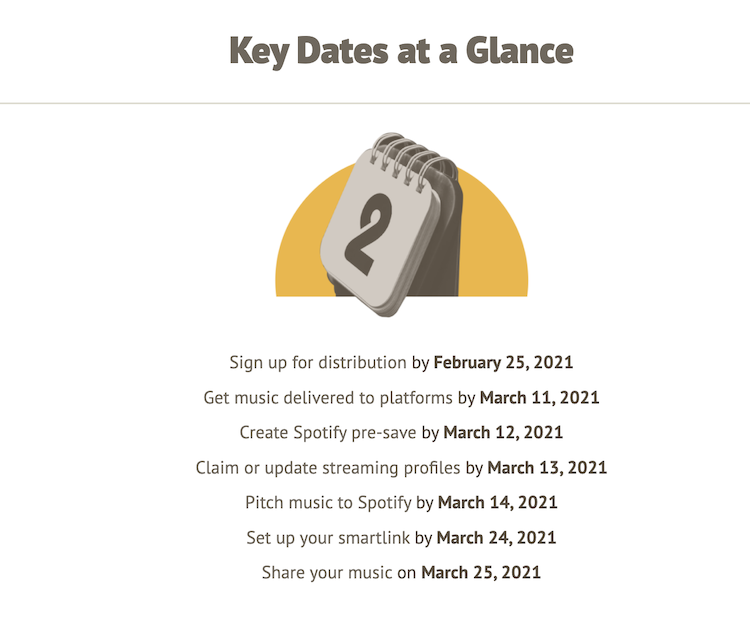 That is why it's best to begin with your target date and plan backwards. If you notice that a too-soon release date makes you ineligible for certain opportunities, consider pushing the launch further out. When using Your Release Plan Generator, you can switch the release date at any time to view alternate launch schedules.
Strategy versus speed
With all this talk of planning, it's worth mentioning: Not EVERY release needs to be carefully considered. 
Digital music production and distribution give you the freedom to make something today and share it tonight. Sometimes that's the right path for certain songs, platforms, and audiences. And CD Baby is happy to deliver music to our partner platforms quickly.
But if it's an IMPORTANT release, we encourage you to give yourself enough time to do it right, strategize, and check every item off the list.
Plan your next music release for success
Want a customized timeline for your next single or album launch? Your Release Plan Generator is fun and FREE to use!