Twitch growth exploded in 2020, with Facebook Games not too far behind.
As the COVID-19 pandemic raged throughout 2020, most people turned to digital entertainment. That trend helped push Twitch to record growth numbers, with viewership growing even faster.
Time spent watching gaming content on Twitch increased by 50% between March and April 2020. But that trend didn't stop growing throughout the rest of the year. In fact, gamers tuned in to watch over 1.7 billion hours of content on Twitch. A marketing firm previously estimated that Twitch would reach 37.5 million viewers this year.
With revised numbers behind the Twitch growth, that estimate now sits at 41.5 million viewers.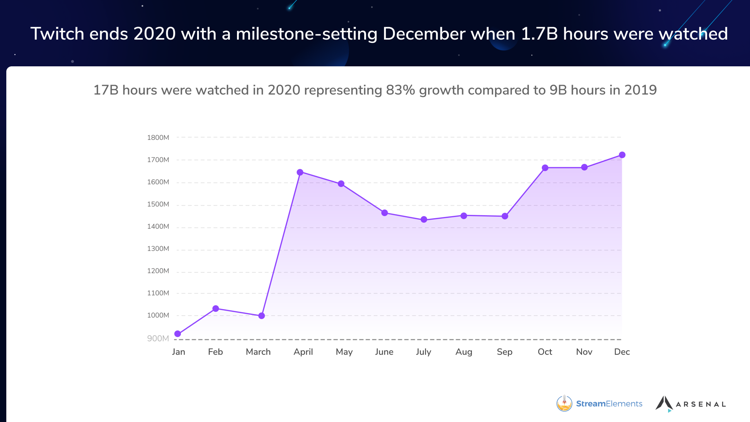 That's a 26.2% increase from the 32.9 million viewers reached in 2019. Gaming still makes up the bread and butter of Twitch content, but non-gaming content has grown too. With many live events canceled, struggling artists took to the platform to earn a living online. SoundCloud even partnered with Twitch to allow artists a fast-track Twitch partnership, so they can begin monetizing their streamed content.
The Music and Performing Arts category on Twitch nearly quadrupled its growth in 2020.
The category is up 385%, comparing April 2019 to April 2020. The Just Chatting category is also up by 138% over the same period. That showcases just how vital Twitch has become a communications tool for many viewers and streamers. The Music and Performing Arts category's increased usage has struck a nerve with many music labels, though.
Twitch does not have any licensing agreements in place with major labels. Yet, its streamers were used to creating Spotify playlists alongside their game streaming activities. This year, Twitch began cracking down on unauthorized music streaming, playing DMCA whack-a-mole with any streamers who violated its policies.
On October 20th, thousands of Twitch streamers received copyright complaints about past videos. "We have processed these notifications and are issuing you a one-time warning to give you the chance to learn about copyright law and the tools available to manage the content on your channel," the Twitch email to offending streamers read.
Twitch has for years tolerated copyright infringement on the platform. But when the music industry asked Twitch to do something about it, it hasn't.
That's because of the 'safe harbor' provision of the Digital Millennium Copyright Act (DMCA). That provision says Twitch itself isn't liable for copyright infringement if it responds to notices of infringement from copyright holders. That's also why so much content disappeared from Twitch this year, despite record growth in 2020.