Rapper Kodak Black has deleted a tweet in which he promised to donate $1 million to charity if pardoned by former president Donald Trump.
The rapper was one of several music industry figures who were pardoned by Trump on his way out. While pleading for a pardon, Kodak Black tweeted, claiming he would give a million dollars to charity if released (image of the tweet below).
The tweet was quickly deleted after Kodak Black was pardoned. Now, his lawyer is stepping into the arena, saying it was a legal move and nothing more.
"I didn't think I had to address this because it's a non-story," Kodak Black lawyer Bradford Cohen said. "A statement promising something for something in exchange is not appropriate, and although Kodak has always given charity his whole career and will continue to do charity, not in exchange for anything, some think this is a story. It isn't," Cohen adds.
So Black's lawyer advised him to delete it due to legal issues. While the Kodak Black pardon covers the federal charges he was facing, he's still facing state charges related to sexual assault. South Carolina prosecutors are trying to get Black back into custody for allegedly raping a woman in 2016.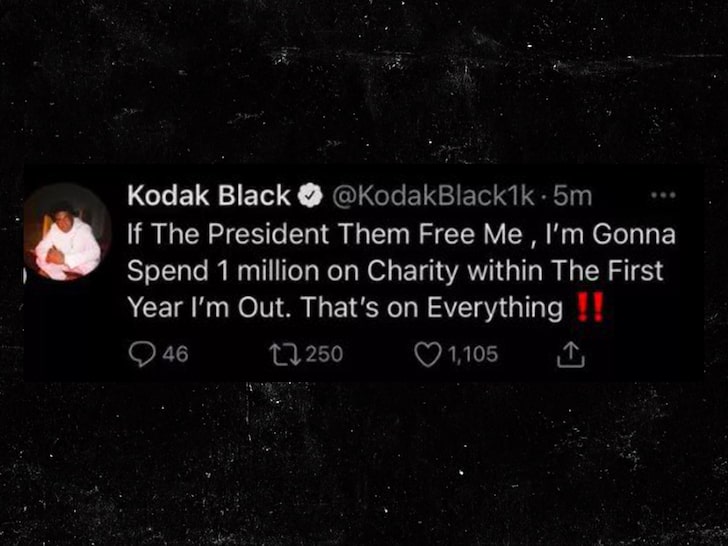 The details of that case are ongoing. But if things don't go well, Kodak Black could find himself back behind bars despite a presidential pardon.
Kodak was indicted on a felony charge of first-degree sexual misconduct. The case was disrupted last year due to the coronavirus pandemic, which suspended jury trials. But prosecutors haven't forgotten about it, especially since Black is no longer in federal custody.
South Carolina's Florence County Solicitor Ed Clements says his office is continuing to aggressively pursue the case until it goes to trial or Kodak Black agrees to a plea deal. Kodak Black's attorney in that case, Beattie Ashmore, says he's prepared to fight those charges.
Ashmore responded to Clements, saying, "Aggressively prosecute? It's been four years. That speaks volumes. Kodak was on bond and on tour for two years before his federal case even began. Ed's a very fine and experienced prosecutor and I look forward to once again speaking with him about this case. It's been awhile," Ashmore added.
If convicted on the felony sexual misconduct charge, Kodak Black could face up to 30 years in state prison. The 23-year-old rapper has an extensive rap sheet through his teenage years. He was arrested twice in Florida on charges including armed robbery, unlawful possession of a firearm, and marijuana possession.