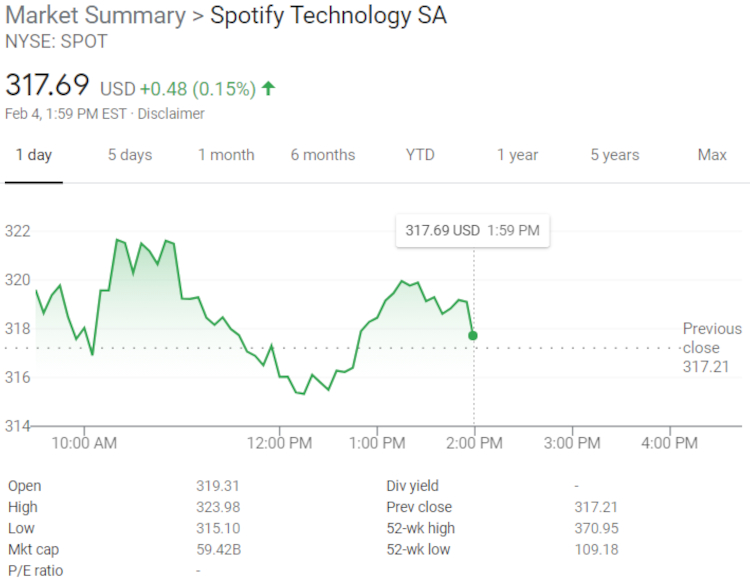 Spotify stock (SPOT) has fallen by about $30 per share, for total losses of over $5.2 billion, since the music streaming service released its Q4 2020 earnings report yesterday. Now, some are discussing what exactly brought about the multibillion-dollar decline.
Spotify stock finished at $345.43 per share on Tuesday, February 2nd, and the price represented a nearly $200-per-share year-over-year gain for SPOT, which had been trading for approximately $154 per share in early February of 2020. (This point could be significant in the broader context of Spotify's relative stock-price decline.) But yesterday, after the Stockholm-based platform made its much-anticipated fourth-quarter earnings report publicly available, SPOT ended the day at $317.21.
Following a slight rally (to some $321 per share) this morning, Spotify stock dipped as low as roughly $315 per share, before rebounding into the $319-per-share range and then returning to $317 or so. With a $27.74 difference between SPOT's closing value on Tuesday and its price at the time of this piece's writing, the stock (consisting of 189.59 million outstanding shares) has lost over $5.25 billion in total value.
It's unclear what prompted so many investors to cash out of SPOT on the heels of the earnings report – which, to be sure, delivered stronger increases to monthly active users (MAUs) and paid subscribers than Spotify's third-quarter performance breakdown. The company's modest growth forecast for 2021's first quarter might have contributed to the small-scale selloff, however.
In terms of MAUs, Spotify said that it expects to have between 354 million and 364 million on-platform listeners at March's end, against 345 million MAUs as of Q4 2020. Even if the service manages to touch the upper end of the estimate, it will have added fewer MAUs than it did between Q3 and Q4 2020, when the figure jumped by 25 million.
Spotify's paid-user guidance – between 155 million and 158 million subscribers – was even more noteworthy, as the vast majority of the company's earnings are attributable to premium accounts. Moreover, Spotify added 11 million paid users in Q4 2020 (and six million paid users in Q3) and debuted in South Korea this week solely with a paid version. But the lower end of the subscriber guidance represents Spotify's current number of paid users.
Finally, some shareholders may have sold their SPOT stakes because of podcasting's listenership stats. Just 25 percent of MAUs "interacted with" podcasts – not necessarily listened to them – throughout Q4, including the first month in which The Joe Rogan Experience episodes were available exclusively through Spotify. The podcast-interaction figure totaled 22 percent in the third quarter.
Spotify's modest-but-increasing podcast listenership (or interaction, more specifically) could represent the foundation from which the company pursues heightened (non-music) earnings in the long term. But given that so many financial professionals have mentioned podcasts when explaining their bullish SPOT positions, while the service has acquired Megaphone for $235 million and closed an array of expensive podcast deals, certain investors may wish to see a stronger near-term return.