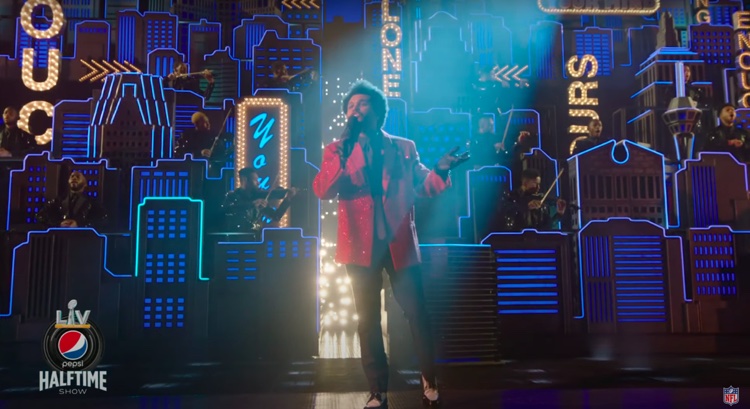 The Weeknd didn't just play the Super Bowl LV Halftime Show for free on Sunday night — he spent millions of his own money on the elaborate set.
Several years ago, Digital Music News stumbled on a startling reality for Super Bowl Halftime performers. Despite their superstar status, the NFL doesn't pay the artists who dazzle the stage in front of millions of viewers. Outside of an estimated $10 million production budget and related costs, the artist always plays the Super Bowl for free.
The NFL hasn't been shy about this arrangement — and the biggest artists in the world happily accept it. "We're putting someone up there for 12 and a half minutes in front of the largest audience that any television program garners in the United States," an NFL executive once said. "It's a pretty good deal. It's the famous win-win for both parties."
That 'win-win' has been enough for a long list of superstars, including the likes of Bruno Mars, Red Hot Chili Peppers, Katy Perry, Beyonce, Bruce Springsteen, Shakira, and Jennifer Lopez. But for The Weeknd, who dazzled the stage — or rather, the entire stadium — last night at the midpoint of Super Bowl LV, the 'win-win' took on another dimension.  Not only did The Weeknd accept no payment for the performance, he also paid $7 million of his own money to complement an estimated NFL-supplied budget of $10 million.
That means the multi-faceted set cost in excess of $17 million, with The Weeknd calculating a handsome return from the publicity. And he's probably correct in that calculation: once COVID restrictions start to ease, The Weeknd is charting an ambitious worldwide tour.  Already, multiple dates have been sold out, with more sellouts likely in the wake of The Weeknd's Super Bowl performance.
It's also worth noting that The Weeknd isn't performing at this year's Grammy Awards.
The singer was famously snubbed despite a record-setting 2020; rumors within the music industry point to The Weeknd's acceptance of the Super Bowl gig as the reason. The Super Bowl performance was viewed as being too close to the Grammys' originally-scheduled date, which allegedly caused the Recording Academy to yank a possible performance — as well as any possible Grammy Awards.
The flames were fanned by the artist himself. The Weeknd flatly called the Grammys 'corrupt' for suspiciously planning a performance before dropping the singer from the schedule. "Collaboratively planning a performance for weeks to not being invited?  In my opinion zero nominations = you're not invited!" The Weeknd blared.
"The Grammys remain corrupt. You owe me, my fans and the industry transparency."