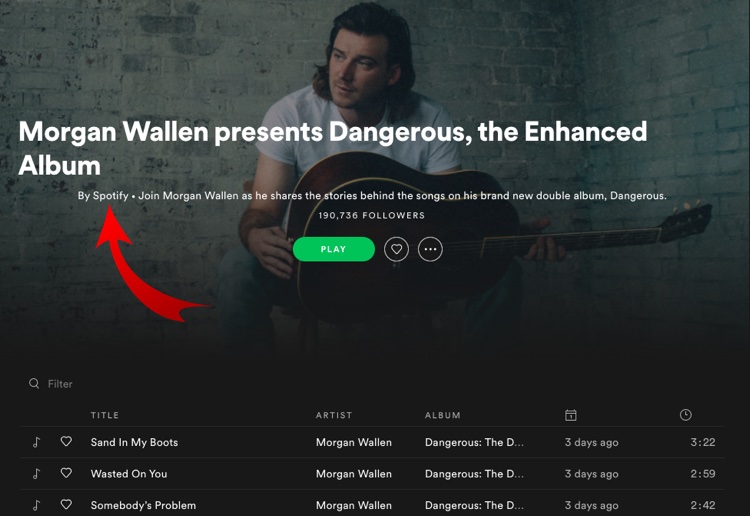 Just days after removing Morgan Wallen from a number of high-profile country playlists, Spotify has launched a dedicated 'enhanced album' playlist for the singer's fans. Wallen also appears to be getting slowing reinstated on other heavily-trafficked country playlists.
It looks like Spotify is already forgiving Morgan Wallen — and quietly resuming its promotion of the country artist. Earlier this week, the streaming giant moved forward with plans to launch a playlist dedicated to Wallen's recently-released album, Dangerous: The Double Album. The playlist, which is featured within the artist's results page on Spotify, has amassed nearly 200,000 followers in just three days.
The playlist itself is a deep-dive into Wallen's album, and features bonus tracks, live cuts, and an overall closer look at the artist and his work. The album-focused playlist format isn't new for Spotify, but is somewhat surprising considering the platform's earlier response to the artist.
Earlier this month, the streaming platform removed Wallen from its marquee country playlists after video surfaced of the singer uttering the n-word after a night of partying in Nashville. The removal included Hot Country, a playlist that boasts over 6.2 million followers and previously featured multiple tracks from Wallen. Wallen was also wiped from other playlists — both inside and outside of the country genre — a drastic move that immediately plunged Wallen's playlist-based streams.
Getting yanked from marquee Spotify playlists is enough to torpedo an artist's career — or at least put a dent in things. Alongside the Spotify yank, Wallen was also blacklisted by hundreds of country radio stations nationwide, fired by William Morris Agency, removed by SiriusXM and Pandora, and deemed ineligible to receive awards from the Country Music Awards. But despite losing all of that, Wallen's streams, song downloads, and album sales surged, while radio stations battled irate fans who promised to stop listening entirely.
During the most recent week, sales of Wallen's Dangerous: The Double Album, tripled. The release topped multiple album charts for the fourth week straight, and both streams and followers surged on platforms like Spotify. It's unclear if Spotify faced pressure from Wallen fans — including threats to terminate subscriptions — though the Dangerous playlist first surfaced on Tuesday, February 9th, exactly one week after damning video of the singer first surfaced.
Unlike other platforms, Spotify has remained entirely silent over the Wallen issue.
They didn't issue an announcement alongside their mass-removal of Wallen from various playlists. Similarly, the Wallen Dangerous playlist was quietly launched, though Wallen fans likely received in-app notification. Similarly, Wallen appears to be getting quietly added to a few country playlists, including Country Coffeehouse, which has nearly 600,000 followers and added a Wallen track for several days this week.
In total, Wallen enjoys nearly 1.4 million followers on Spotify, an increase of more than 100,000 this month.