The first iOS 14.5 beta preview was released, bringing new features to the Apple Music app – like lyric share.
Some of the new Music app changes include a new way to share lyrics and revamped menus. Apple already overhauled the Music app in iOS 14 to bring several new features. That update included support for home screen widgets, autoplay, and a complete iPad app redesign. Now Apple is focusing on refining the Apple Music experience to be easier to use.
The Apple Music app now supports swipe gestures with quick actions available. This swipe gesture can be used on albums and playlists, with various features depending on the swipe. Swipe right to see a Play Next or Play Last control dialog, or swipe left to see Add to Library, Download, and Delete options. 9to5Mac reports that there is no way to change these options – but maybe in the future.
Apple is also expanding the functionality of the pop-over menu first introduced in iOS 14. The new beta features a pop-over menu in the Music app. There's now a 'More Options' button for each song, making it easier to access the menu. Apple also made some visual tweaks to its buttons – the download button is now a down arrow, for example.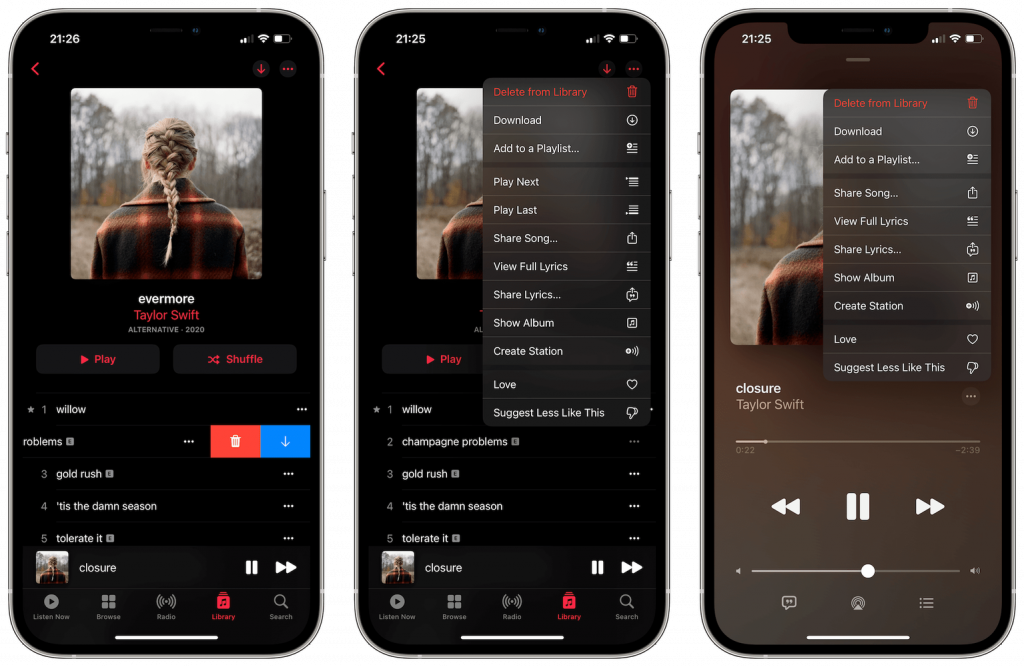 Perhaps the biggest new feature is the ability to share lyrics to social media from Apple Music.
iOS 13.5 brought the ability to share Apple Music songs to Instagram Stories. Now Apple is expanding on that functionality to allow Apple Music subscribers to share song lyrics to their favorite social networks. Tapping the new 'More Options' button brings up this new share lyrics functionality in Apple Music.
New 'Share Music' and 'Share Lyrics' buttons will show up. Tapping 'Share Lyrics' will bring up a verse selector in which users can choose up to three verses to share to Instagram Stories, Facebook Messenger, or iMessage. Spotify brought real-time lyrics to its app in response to Apple's Genius deal, so maybe lyric sharing will come soon.
Unfortunately, the new iOS 14.5 beta doesn't resolve the issues around setting a new default music player for Siri. The first beta debuted an option to let users set their own default music app. However, the feature is still disabled in the latest beta update. Only Apple developers registered for the Apple Beta Software Program have access to it right now.
There are no details about when iOS 14.5 will release publicly. But it shows Apple is working hard to refine the Apple Music experience — and potentially catch up to Spotify's global subscriber and active user stats.