Daft Punk announced they're splitting after 28 years. Lindsay Lohan is cashing in on the crypto market.
A user called "Daft Punk" on the non-fungible token (NFT) website, Rarible, minted new digital collectibles on Sunday. Rarible allows artists to sell digital art utilizing the Ethereum blockchain to keep a record of ownership. The artwork can be resold repeatedly, and the blockchain serves as a history of ownership and certificate of authenticity in one.
Most NFTs are images online, and it's becoming an extremely lucrative market for artists. The account is 100% created by Daft Punk, and 10% of any sales of these collectibles go to the creator. That includes resales.
The value in these tokens is the proof of ownership the blockchain provides, like a publicly accessible guestbook. Artists who can create demand around their NFTs perpetually reap 10% of the sales of those collectibles – for as long as they are sold and resold on the platform.
The account minted two images of Daft Punk with 200 editions each. It then sent the NFTs to pop figures like Tyga, Soulja Boy, Lindsay Lohan, and Mark Cuban.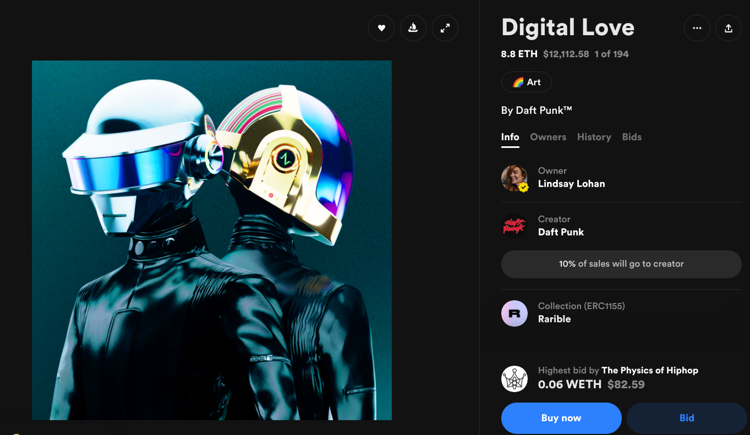 None of these celebrities paid for the NFTs they receive; the Daft Punk account handed them out. No other account has touched the NFT since it was given to them – except Lindsay Lohan. Lohan quickly listed her Daft Punk NFT on the Rarible secondary marketplace for 8.8 Ethereum. That's about $15,000 USD.
The highest bid on the Lindsay Lohan Daft Punk NFT auction is around $88. A few other accounts on Rarible that randomly received the collectibles are selling them for anywhere between 0.5 ETH ($750 USD) and 8.8 ETH ($15,000).
It's interesting timing to see digital artwork distributed on Rarible just a day before Daft Punk split.
It has also created a market for the artwork being shared on Rarible, as plenty of people are buying it. Several people are placing bids, similar to eBay, that any owners of the official NFT can consider. For example, Tyga could decide to sell his copy of the NFT artwork and accept the site's current highest bid, 0.06 ETH ($82 USD).
It cost Daft Punk nothing to mint these 200 editions of an image of the iconic duo. Yet fans who want to engage in trading the baseball-card equivalent of merchandise can continue to support them. It's an interesting concept that is in the nascent stages of developing new artist revenue streams. Only time will tell if it's something that catches on or if it will remain a niche part of the industry.