If your Twitter app keeps crashing on your Android or iOS smartphone, take a look at these quick steps to fix it.
The Twitter for Android app is notorious for crashing on a variety of devices. Last year, Twitter acknowledged an issue and worked on a fix, but sometimes Twitter keeps crashing no matter what. If you're experiencing problems with the app not loading or crashing upon opening it – here are a few quick fixes to try.
1 – Update the Twitter App
Check to see if there are any updates available for Twitter on the Google Play Store or the App Store. Sometimes an app update can resolve any Twitter crashes that keep happening. Here's how to update apps on both Android and iOS.
How to Update Twitter App on Android
Open the 'Play Store' app.
Tap the three-bar menu at the top left.
Open 'My Apps & Games' tab.
Find Twitter and press 'Update.'
If it says 'Open' instead, the app is up to date.
How to Update Twitter App on iOS
Open the 'App Store.'
Tap your profile icon at the top of the screen.
Scroll to see pending updates and release notes.
Tap 'Update' next to Twitter to update it.
If there is no 'Update' button, Twitter is up to date.
2 – Clear the Cache
Sometimes clearing the Twitter app's cache can help resolve issues. On Android, you can clear the cache by following these steps for both Android and iOS.
Clearing Twitter Cache on Android
Open the 'Settings' app.
Find the 'Apps' tab and select it.
Find 'Twitter' and select it.
Open the 'Storage and cache' tab.
Clear Storage and Cache to reset app.
Clearing Twitter Cache on iOS
Open the Twitter app on your iOS device.
Tap on your profile icon in the upper left corner.
Tap on 'Settings and Privacy' in the menu.
Select on 'Data Usage' under the 'General' menu.
Select 'Media Storage' or 'Web Storage' menu.
Tap 'Clear Media Storage' or 'Clear Web Storage.'
Once finished, both should show 0 KB usage.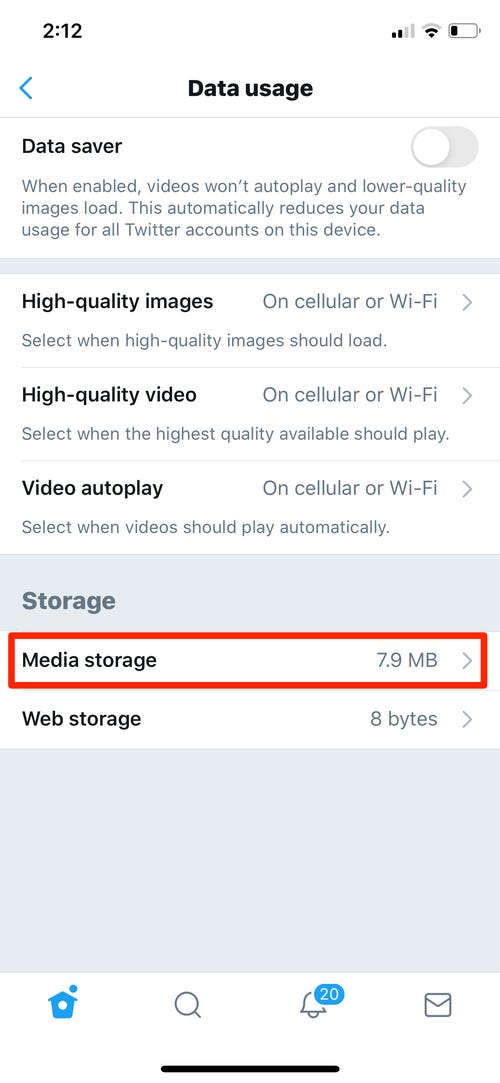 Clearing the cache for Twitter can reset any issues you may experience. It resets all data and settings in the app, forcing you to sign in again. This step will also clear other user settings like dark mode.
3 – Uninstall and Re-install Twitter
If you're still experiencing Twitter crashes after clearing the cache and updating the app – a fresh install may be due. Deleting the app removes it from the phone, starting with a fresh copy downloaded from the App Store.
How to Uninstall Twitter on Android & iOS
If the Twitter app is on your home screen, simply long-press on the icon. This will bring up an uninstall dialog on both Android and iOS. Choose uninstall to completely delete the app from your phone.
To re-install the app, navigate to the Play Store or the App Store and search for Twitter. Re-download the app and sign-in to the fresh app to see if your crashes are resolved. Are you having trouble re-installing the app on your device? You may need to check the available space on your phone.
Open your device's 'Settings.'
Tap 'General.'
Under 'Usage', you can see how much memory is available.
If your device has less than 130 MB of memory available, you may need to uninstall other apps to clear space.
Once you have more space available, try to re-download Twitter and install it.
4 – Reset Your Device
If you're still experiencing Twitter app crashes on either Android or iOS, you may need to factory reset your device. This step is essential if you have an older Android smartphone or iOS device. If you plan on factory resetting your device and you have two-factor authentication enabled on any of your accounts, make sure you have backups.