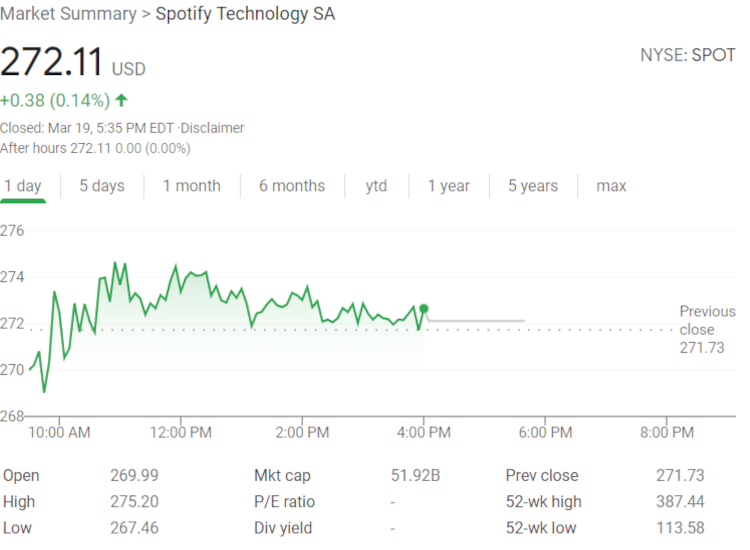 Spotify stock (SPOT) has parted with about 22 percent of its value during the last 30 days – prompting some to ask if it's a good time to invest in the Stockholm-based streaming service.
On Monday, February 22nd, Spotify stock (SPOT) finished at $349.91 per share – down substantially from the company's 52-week high stock price of $387.44 per share, but up considerably from the approximately $147-per-share worth that SPOT had at the same time in 2020.
The latter figure represented a boost from October of 2019 but would decline (along with the broader market, of course) amid the domestic onset of the COVID-19 pandemic. Then, after Spotify announced in May that it had become the exclusive home of The Joe Rogan Experience, SPOT embarked on a months-long upward ascent, complete with multiple record prices and culminating with the aforementioned $387.44-per-share high last month.
March has seen Spotify part with a noteworthy portion of its stock-price value, however, with shares having finished at $258.33 apiece on Monday, March 8th. Spotify shares then rebounded to almost $290 apiece later that week and leveled off at $272.11 apiece on Friday, March 19th.
Particularly given the entity's unprecedented market gains during 2020 and into early 2021 – as well as the subscribership bump and aggressive podcast expansion that appeared to fuel these gains – some are asking if now is an ideal time to acquire Spotify stock.
On the podcast front, Spotify is hardly without high-profile programs, including the Joe Rogan Experience, Renegades: Born in the USA (featuring Bruce Springsteen and Barack Obama), and much more. Specifically, Spotify boasted 2.2 million total podcasts as of Q4 2020 (up from 1.9 million in Q3).
But despite dropping many millions on podcasting (including $235 million on Megaphone alone), Spotify recorded only modest listenership gains during last year's fourth quarter, with 25 percent of monthly active users (MAUs) having "interacted with" – not necessarily listened to – shows.
The stat signified a three percent boost from Q3 2020 and may have contributed to SPOT's recent value decline, given that podcasting's earning potential (or lack thereof, depending upon one's perspective) was mentioned frequently by investors when they set their Spotify stock target prices.
In this way, whether a financial professional is bullish or bearish on SPOT appears to hinge in large part on how he or she believes podcasts will perform moving forward, especially in terms of attracting listeners and generating revenue.
Worth noting in conclusion is that Spotify, which has arrived in more than a few new markets this quarter, expects earnings to remain essentially flat through 2021's first three months. Importantly, the leading music streaming service is also anticipating relatively slow (or even flat, on the low end) subscriber growth in Q1 2021, compared to the 11 million subscribers and 14 million ad-supported users it gained last quarter. And in spite of rumors of a price increase in the UK, Spotify doesn't currently intend to raise its monthly cost in the United States.
Consequently, those who decide to go in on Spotify stock at the moment could be banking on the platform's achieving advances in the long term, as opposed to posting continued short-term growth. One such bullish investor, the Guardian Fund, predicted last month that Spotify stock will be worth "at least five times more in 2030."