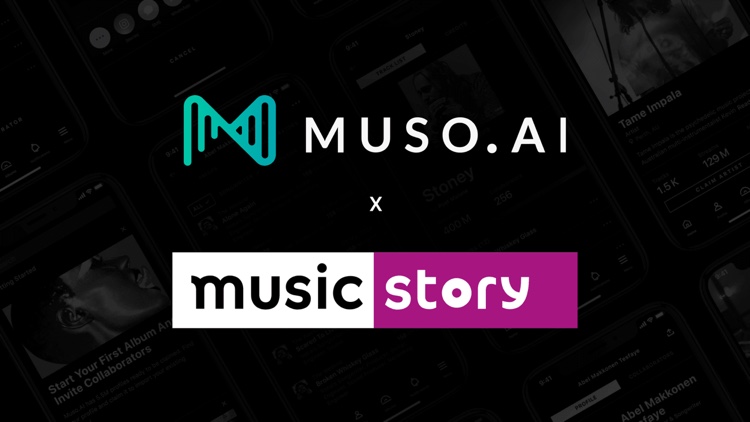 Muso.AI has developed a promising solution to help streaming services render missing credits an issue of the past. Now, the metadata platform aims to deepen the impact of that solution through a newly finalized partnership with Music Story.
Back in October, Digital Music News teamed up with Muso.AI as it announced the rollout of Muso.AI 3.0, the latest iteration of a scalable credits database designed to remedy the inherent flaws associated with email chains, pen-and-paper logs, and well-meaning (but ultimately inadequate) plug-ins. Muso.AI's authoritative, verified system has already compiled over 100 million music credits, with 20% month-over-month growth in both users and tracks carrying verified credits.
That momentum hasn't gone unnoticed: just recently, Muso.AI entered into serious discussions with Music Story, a full-service music metadata provider whose broader goals were aligned. The companies ultimately teamed up to revolutionize metadata together, and Music Story is now the official outpost for Muso.AI credits.
"We couldn't ask for a better partner to resell our credits," Muso.AI cofounder Kyran de Keijzer told DMN. "Music Story is a staple in the industry for metadata — and will continue to be — with the addition of our creator credits. With Music Story out there integrating our credits into the world's leading technology services, we can continue to build the best crediting platform for music creators."
Beyond offering detailed metadata and associated licensing services to a broad range of DSPs, Music Story has also become widely known within the industry for its metadata integration services. That includes content matching, disambiguation, data enrichment, and coverage for specific regions for pure-play streaming platforms like Deezer.
Creators worldwide stand to benefit from the partnership and, just as significantly, its members' commitment to improving metadata.
Antiquated crediting systems are now wildly out-of-step with today's tech-driven music landscape. But most crediting solutions leave glaring problems unsolved: plug-ins, for example, struggle with low adoption rates and serve largely as a temporary fix for problems that require permanent solutions. Meanwhile, the tidal wave of incoming content makes it difficult to disambiguate between similar profiles — good luck finding your local favorite singer-songwriter named John Smith.
Compounding these obstacles are the major crediting gaps on today's foremost streaming platforms, which ingest more music – including more tracks from indie acts – than ever before. To be sure, artists upload more than 60,000 tracks per day to Spotify, and the company expects its creator community to grow dramatically in the coming years.
The unsigned artists whose works account for the vast majority of these uploads typically lack the resources and tools needed to bolster metadata. In contrast, major label artists typically benefit from stellar metadata (and the corresponding career advantages).
Even when the former creators conform their metadata to meet the compliance requirements established by their distributors, they often forgo discoverability, reach, owed compensation, and more.
The downstream problems presented by less-than-excellent metadata aren't confined to traditional discovery, either, as voice-controlled devices are integrating metadata to better handle users' audible searches. But because searches can be abstract, platforms have a pressing need for a larger number of data points and keywords.
Furthermore, text-based searches, royalty remuneration, general transparency, and data management alike are complicated by metadata shortcomings, and evidence suggests that the obstacles will compound without an industry-wide pivot.
That's where Muso.AI and Music Story's unique vision for metadata, on both the creative side and for streaming platforms, comes in.
The companies' comprehensive database of trusted, verified crediting information, for contemporary acts as well as legacy artists, appears poised to serve the industry well moving forward. Significantly, this cutting-edge database will remedy search-related challenges, including those related to voice searches, helping streaming services position themselves (and, in turn, their creators) for success.
On this front, Muso.AI and Music Story are engaged in discussions with today's foremost DSPs, and the integration of a one-stop crediting system could arrive sooner rather than later for certain platforms. More broadly, the metadata and crediting mainstays have established meaningful professional relationships throughout the music industry, including partnerships with labels and distributors that are striving to optimize sizable catalogs. 
That includes a broader focus on powering credits for any platform, including future formats and experiences that are hard to conceptualize currently but are certain to surface in the coming years and decades. Just like current platforms, those future experiences will also demand competencies related to royalty accounting, discoverability, and artist disambiguation.
Another noteworthy component of Muso.AI's crediting platform involves expanding music metadata – not solely filling out existing fields. The company issues unique codes to creators (so as to make identification and remuneration as straightforward as possible) and for various credits.
The ISRC is an ID for recordings, whereas ISWC codes are issued to compositions. IPI IDs are attached to songwriters, and UPCs, of course, define albums. While a crediting ID isn't yet available for producers, Muso.AI is lobbying for the adoption of the ISNI, a code that will link to all credits. Currently, Muso.AI is an official ISNI registration agency, part of its broader mission to help disambiguate and accentuate creator listings (a mission that also deploys AI technology).
In the long term, these and other metadata innovations and crediting improvements will help musicians, songwriters, publishers, and labels alike to maximize their royalty payments, assuring that they promptly receive the entirety of the compensation that they're owed.
Much work remains, but the technology and the initiative required to usher in worthwhile change are in place – particularly given Muso.AI's stellar credits platform and Music Story's powerful metadata integration infrastructure. Consequently, all signs indicate that the coming months and years will bring material progress towards a crediting reality that benefits every creator and industry player.
For more information on verified credits and the push to expand them, check out Music Story's site.