SiriusXM-owned Pandora Radio has now lifted its three-month ban on Morgan Wallen music, according to multiple reports from fans.
The Morgan Wallen ban was lifted at some point Friday afternoon (May 14th), according to numerous reports (and associated screengrabs) from die-hard fans. The streaming radio platform, which is now owned by Sirius XM Holdings Inc., first removed Wallen from its channels in early February after the singer was filmed uttering a racial slur outside of his home. Shortly after the incident, Pandora scrubbed all of Morgan Wallen's tracks from its service, even from Morgan Wallen stations.
At this point, it's unclear if SiriusXM is planning a similar reinstatement on its satellite radio channels. A formal announcement hasn't been issued on the matter — and may never be issued. Indeed, it's possible that Pandora was hoping to quietly reinstate Wallen into its playlists to appease angry listeners.
Earlier, a number of broadcast radio stations reported getting flooded by calls from angry Wallen fans after they removed the singer's music from their broadcasts. Currently, most broadcast radio stations in America are still blocking Wallen's music, though a number have reinstated the singer's tracks in response to heavy protests from fans.
It's unclear if Pandora lost listeners as a result of the Wallen ban, though listener attrition remains a serious problem for the online radio platform. While competitors like Spotify, Apple Music, and Amazon Music continue to amass new users and subscribers, Pandora has been shedding listeners for years. In the past two years alone, Pandora has lost more than 10 million active users, a situation that likely made it difficult to alienate a large section of country music fans.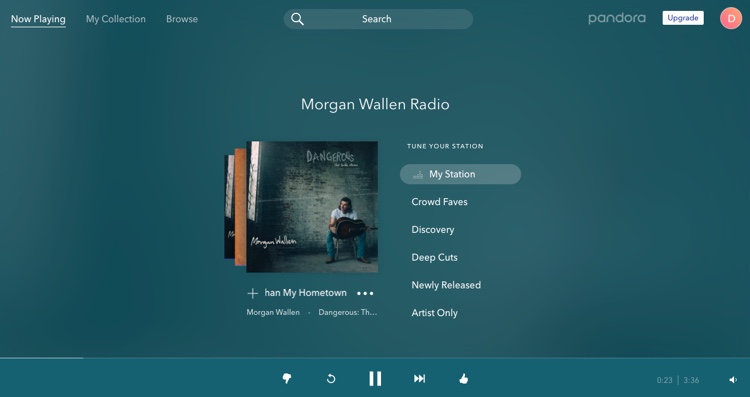 The news of the Pandora reinstatement closely follows a change-of-tone by Wallen's label, Big Loud Records.
Earlier this week, the CEO of Big Loud, Seth England, openly expressed his support for Wallen, before footing the bill on an expensive birthday golf outing for the singer. Big Loud, which is partnered with Republic Records and Universal Music Group, has yet to officially reinstate Wallen after suspending the singer in February, however.
Other platforms are toying with reinstatements. Spotify, for example, reintegrated Wallen into a few country playlists. But Spotify stopped short of reinstating the singer into its marquee playlist, Hot Country, which draws millions of country fans.
Separately, Morgan Wallen decided to cancel his entire summer touring itinerary in the wake of the controversy. That included a number of country festival dates and an entire tour opening for Luke Bryan. It's unclear when Wallen will resume his touring plans, though there are currently rumblings of a possible headlining arena tour in 2022.