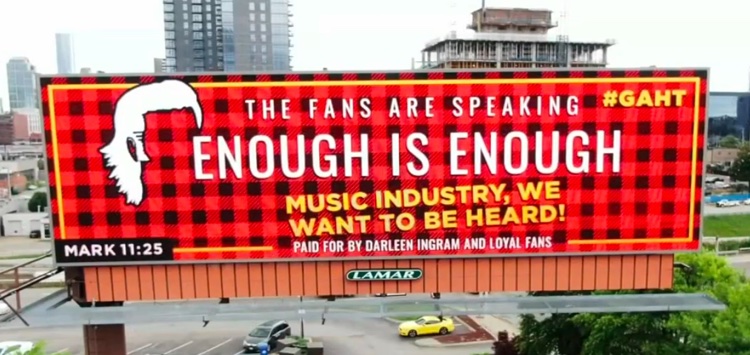 Morgan Wallen fans continue to show their support with new billboards in Nashville.
The beleaguered country star was subjected to 'cancel culture' earlier this year after uttering a slur on video. But die-hard fans demanded that the music industry give their home-grown East Tennessean another chance – which is now happening.
Darleen Ingram of Empire, Alabama, is one of Wallen's most fervent supporters. When Wallen was cancelled from appearing at multiple music awards, billboards went up in Nashville and Los Angeles. Darleen Ingram is the mastermind behind the billboard campaign to keep the attention on Wallen.
"People have the right to make their own decisions, it is not the music industry, political parties, news media, or any other big business that needs to tell us what is right," Ingram says.
"The fans stood up and said we are not allowing this to happen. They may take his radio airplay away, and they may take his awards, but they will not stop us from listening and having our voices heard. The music industry jumped so fast, without taking time to hear his side of the story or to evaluate who his friends are. How many in the industry are guilty?" Ingram asks.
Mrs. Ingram paid for the Morgan Wallen billboards around Nashville and Los Angeles to show her support for the country star. "We're not bowing down to the mob," she told the Tennessean.
Her support campaign may have played a role in Wallen getting reinstated by his record label, Big Loud Records. Big Loud is partnered with major label Republic Records/Universal Music Group, which has been largely quiet on the matter. Wallen was reinstated by Big Loud and returned to the label's website after a suspension that lasted four months.
Big Loud/Republic made the decision to officially suspend Wallen after the racial slur incident in February. Spotify, Apple Music, Pandora, SiriusXM, and most country radio stations in America stopped playing his music. But the cancellation of Wallen served as a lightning rod for some, a dynamic that brought album sales to an all-time high.
The outrage spilled into other areas of the industry. Multiple broadcast radio stations reported receiving angry calls from Wallen fans. Most threatened to stop listening to stations that wouldn't play his music. Other fans turned to billboards to show their support during award shows that excluded the country singer.
Now, it looks like that pressure campaign is working in more ways than one. Pandora recently lifted its ban on Morgan Wallen, likely to keep its country music fans happy. Spotify reintegrated Wallen into a number of country playlists, but not Hot Country. Just a few days ago, his music was reinstated by the major radio conglomerates who banned him back in February.