The music industry is changing. The power once held by major record labels is now in the hand of the consumer. Audiences have new ways of connecting with music they love, and artists can now communicate directly with their fans. This is causing a shift in music culture, offering independent and DIY musicians a chance to cut through the noise caused by the hum of the major labels.
The following article comes from iMusician, a proud partner of DMN.
The old gatekeepers of the music industry have been removed, it's now artists that hold the key. To be a successful musician in the modern-day climate, you need to have a vision, stay true to yourself and use every tool available to help build your brand. You now have the freedom and power to release the kind of music you believe in, whenever you want, wherever you want.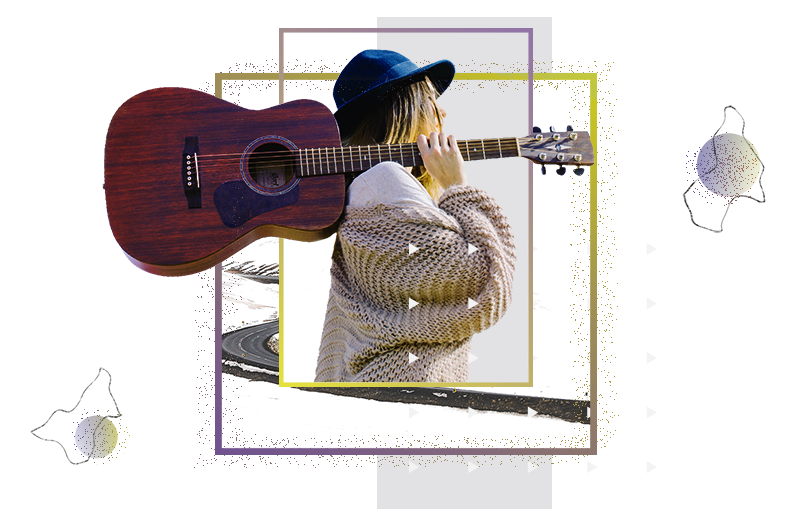 Over 200,000 independent musicians and record labels trust iMusician to distribute their music. This article pulls together knowledge and advice from iMusician's expert team on how independent artists can successfully promote their music, compete with major labels, and get their music heard in a saturated market with their own smartlink for music.
Selling Music Online
Music streaming is a divisive topic. As a model in transition, large streaming companies have been accused of not paying artists enough — an argument that is still ongoing amongst the global music community. The royalties artists receive aren't currently hitting the right notes, there is no denying that, but in reality, streaming services do give musicians an unimaginable global reach, something that was previously unheard of for smaller, independent artists. But now, with the right mix of creativity, foresight, and planning, emerging artists can level the playing field alongside the industry's biggest hitters.

Create a music release strategy
No longer shackled by the decisions made by record label executives, DIY and independent artists can now tell their story how they want. If you're DIY, you also have to DIA (do it all). That means learning how to execute a successful promotion strategy and build your own brand. This takes work. A lot of it. But in the end, the rewards are worth it.
Music is a competitive industry. Making great tracks isn't enough to get you noticed and help build a loyal following. To stand out in an increasingly crowded market, artists must be able to visualize and execute a strategy that can not only sustain music streams and sales but also a fanbase with a constant thirst for more.
Build anticipation for your music
If you're building up to a new single, EP, or album release, get your fans excited by creating video teasers, keep them up to date with photos and posts documenting the creative process, and use social media to engage with your audience and make them feel part of the creative journey.
Setting up pre-orders on major streaming sites can be a great marketing tool for your release. A pre-order enables you to put your album, EP, or single online in shops and download stores before the official release date. You can decide if you want to offer a 90-second preview, set different prices per track, or offer "instant gratification tracks". Instant gratification tracks can be made available on different dates before release day, and fans who pre-order the album will get them instantly.
Pre-order sales count towards your iTunes chart position both during the pre-order period and your release day, so encouraging fans to purchase your pre-order can help you rise up the iTunes charts as well. You can also set up pre-orders on Amazon Music and Deezer.
iMusician can quickly and easily set up pre-orders and instant gratification tracks on Apple Music, Amazon, Deezer, Traxsource, and Beatport.
Build a website
Creating and maintaining your own website is a lot of work, but a well-maintained website is a crucial contact point between you and your fans. Modern fans are conscious of giving back to the artists they love, and as your audience grows, you can expect fans to support you by buying music and merchandise directly from your site. Your website means your rules; it's your own space where you're free to put out whatever content you want — a place to build a narrative that represents you as a band or artist. It's also the first place your audience will look for news on upcoming music or gigs.
iMusician's latest tool for independent musicians, Artist Hub, is designed to be the beating heart of music promotion for DIY artists and independent labels. With Artist Hub at the core of your campaign, you can use it to route fans to your music on their favorite platforms. The instantly shareable smartlink for music comes free with every iMusician release or a fully customizable version is available with Artist Hub Pro.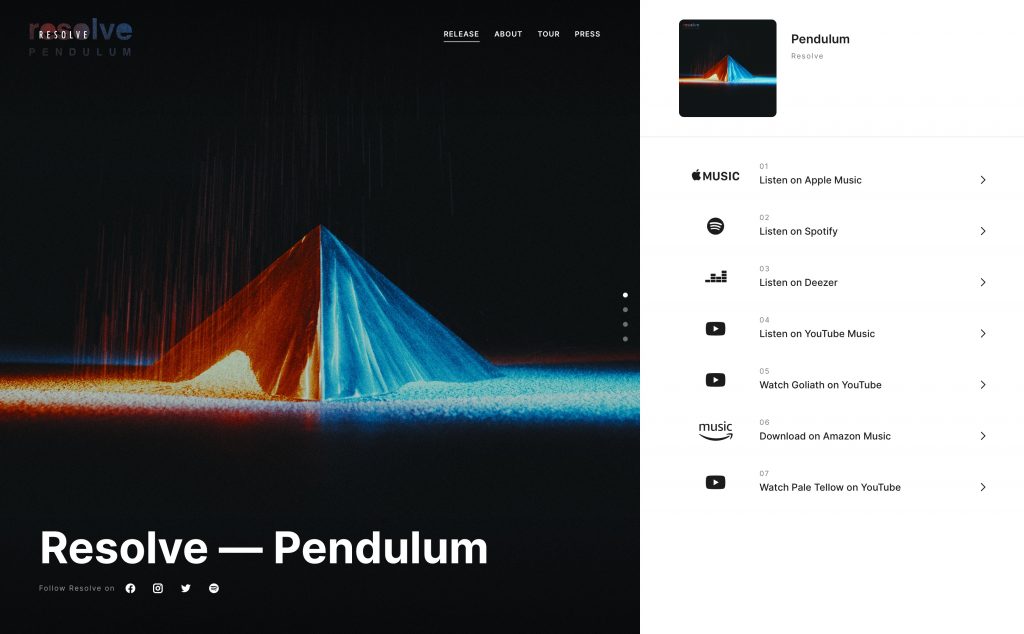 Artist Hub Pro tells the whole story behind your music. With a biography, tour dates, downloadable press kit, social links, and more within your music smartlink, it's an easy-to-use promotional tool that will boost any marketing campaign. It provides fans, playlist curators, influencers, and the press with everything they need to learn about you and your music. It gives you everything in one centralized location without the need to build or maintain a website.
Think about your release strategy
It's important to plan your release strategy properly. Do you want to drip-feed singles to fans before dropping your album? Do you want to make a splash with an EP? Getting the strategy right influences the rest of your campaign. Your strategy creates the first nudge down the hill that helps your music pick up speed and snowball into a successful release. Usually, the best release days are Fridays and Tuesdays. It's recommended to schedule your release at least 4 weeks in advance so that you have time to execute your promotional plan.
Create a promotional plan
Make the most of any promotional channels you have at your disposal to make sure you maximize your coverage in the run-up to release day. If you have the money, hiring a PR agent to contact journalists and influencers would significantly raise awareness. Here are a few DIY tips to help spread the word if your budget is a bit tighter:
Set up your artist profile
More and more platforms allow you to create your own artist profile. These pages give you a chance to customize the way you appear to fans on streaming platforms and download stores, which you can then feature on your music smartlink. Having an eye-catching artist profile can increase your chances of success when submitting your music to playlist curators. Some platforms, such as iTunes, Apple Music, and Deezer require you to go through a digital distributor, like iMusician, to claim an artist profile. Platforms such as Spotify and Beatport allow you to claim it yourself.
Newsletters are a crucial part of selling your music online. An email list is like having your own fan database. An email creates direct communication between you and your audience, and most people check their emails every day. If fans have previously subscribed to your emails, they are likely to be keen to hear from you about any exciting news. Take this unique opportunity to send an email to your fan list with a link to buy your new single or album.
Social media is an essential tool for any artist — upcoming or established. It's the easiest and most instantaneous way to engage with fans and keep them in the loop with what's going on in your world. It's not a straight-up marketing platform, but a catalyst for conversation and word-of-mouth marketing. This is your chance to create imaginative content to get people talking. Announcing a new single? Record some videos from your studio, or film a teaser for your fans to get excited. As well as interacting with your existing audience, you can use tools such as Facebook ad campaigns to get in front of potential new fans. The global reach of social media is undeniable, and with each channel offering exciting opportunities to communicate with different demographics, the possibilities are endless. Social Media is also great for research. Use it to understand more about your fans: who they follow, what content they like, what makes them tick. It's also a valuable source for inspiration. Check out what the artists you admire are creating on their channels. It might be more than their music that impresses you!
Don't stop once your music is released
Just because your music is out in the world, doesn't mean that the promotion stops there. This is the time to get creative by offering digital and physical bundles, discounts, and fan subscriptions. Any way you can think of to re-engage your fanbase — do it! The more imaginative the better.
How iMusician can help build your music career
iMusician works closely with Spotify, YouTube Music, Apple Music, and Amazon, as well as popular regional shops around the world. iMusician also distributes music to electronic specialist stores like Beatport, Traxsource, and Juno Download.
With flexible pricing, no annual renewal fees, and real human support in six different languages, iMusician makes it easier for musicians and labels to become more financially sustainable, so they can concentrate on what is important: making more music. iMusician's goal is to create a world where artists who want to go pro, can, and to create a marketplace where independent labels can compete on equal footing with the majors.
The iMusician team is made up of music lovers, music makers, and label owners. iMusician offers more than distribution, it's an all-in-one service that gives musicians expert advice, knowledge, and tools such as a music smartlink to take their music further. Wherever you find yourself on your musical journey, the iMusician team is on hand to get you where you want to be.