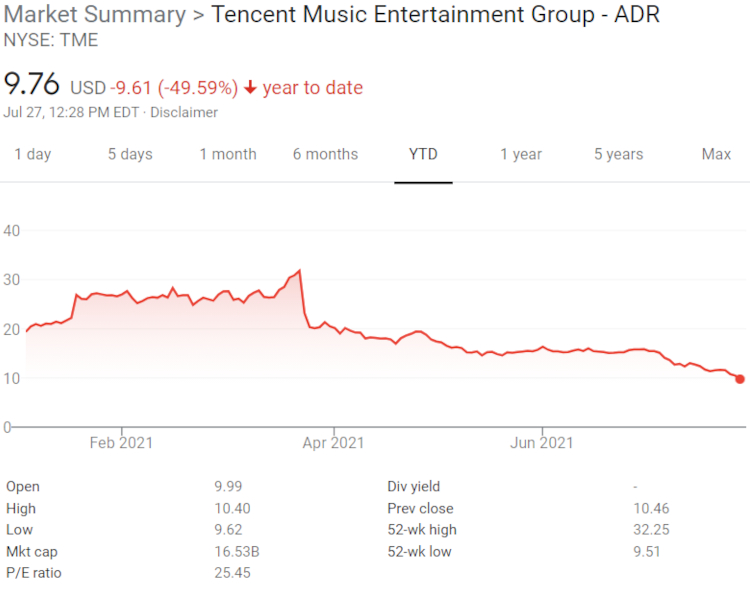 China's State Administration of Market Regulation just recently ordered Tencent Music to give up the exclusive rights to a portion of its on-platform music. Now, Tencent Music stock (NYSE: TME) has parted with roughly 50 percent of its value on the year and touched a 52-week low of $9.51 per share.
At the time of this piece's writing, Tencent Music stock was down six percent from yesterday's close, with shares worth $9.76 apiece. The figure signifies an approximately 16 percent dip during the last five days and a more than 63 percent falloff across the last six months.
On the latter front, TME climbed as high as $32.25 per share during 2021's first quarter, though several factors – the threat of government regulation and a massive Tencent Music stock selloff among them – appeared to prompt a material downturn and set the stage for a $1 billion stock-repurchase program.
But even this initial stock-price decline didn't cause TME to sink beneath $10 – a worth not seen since March of 2020 and, to be sure, notably less than the per-share value that came with Tencent Music's December of 2018 IPO.
Needless to say, given that the latest hiccup occurred following the SAMR's crackdown on exclusive music, it appears that investors are anticipating a substantial long-term effect on subscribership across Tencent Music streaming services (QQ Music, Kugou Music, and Kuwo Music). As a pertinent aside, a concurrent behind-the-scenes shakeup to the company's executive roster could be related to the antitrust action.
That Tencent Music has turned in record user growth amid continued expansions of its library of exclusive music may be contributing to the bearish mood. Shenzhen-headquartered Tencent Music in its Q1 2021 earnings analysis reported a 42.6 percent year-over-year improvement to paid subscribers (which cracked 60.9 million accounts), as well as a 24 percent YoY boost to revenue, at $1.22 billion. (The Q2 2021 earnings report is scheduled to release on Monday, August 16th.)
Higher-ups have long touted their platforms' quick-expanding library of exclusive music, however, relaying in the Q4 2020 earnings report that the number of "exclusive indie musicians increased by 13 times" on the services. It remains to be seen whether the market advantage that the company has already achieved will be enough to offset the exclusive-music setback.
Worth mentioning in this regard is that Tencent Music has also made several high-profile plays outside the licensed-music sphere. For instance, January of 2021 brought a more than $415 million acquisition of Lazy Audio, "a comprehensive audio platform providing entertainment in the forms of audiobooks, Chinese comedy, podcasts and other radio shows." Plus, the Tencent subsidiary has invested in virtual-concert startup Wave and touted the viewership success of its livestream shows.
It bears highlighting in conclusion that early reports of the SAMR's Tencent Music crackdown suggested that the company would face a $1.5 billion fine (Alibaba was made to pay $2.8 billion in April, and TME's fine ultimately totaled just $77,000 or so) and be made to sell off Kuwo and Kugou. Though this comparatively devastating penalty didn't materialize, it – along with the still-significant order regarding exclusive music – serves as a reminder of the unilateral regulatory power that the Chinese government holds over domestic companies and may have factored into investors' concerns.