Want to start your own distribution service? New player DistroDirect offers a customizable music distribution solution under your own brand.
The following was created in collaboration with DistroDirect, a proud partner of Digital Music News.
Launching today, DistroDirect gives tens of thousands of music businesses, labels and industry professionals globally the opportunity to open their very own automated, online distribution platform.
With plans to democratize the distribution sector, DistroDirect puts more power back in the hands of a wide range of industry professionals. Focusing on world-class customer support for both the distributor and artist, DistroDirect's intuitive system and devoted support crew emphasise fostering robust artist relationships in a traditionally data driven sector.
DistroDirect bills itself as a market disruptive white label B2B, SaaS solution for the industry. In lay-speak, it's a customizable software platform aimed at any music professional with a catalog of music. DistroDirect's platform delivers music to over 100 digital service providers (DSPs), including Spotify, Apple Music, Amazon, Deezer, TikTok, and many more.
Why use DistroDirect to build a platform?
Each distributor can set their own pricing, royalty rate and customize their website with a dedicated admin panel. Artists can create an account, log in and see their dashboard to manage their assets, uploads, and royalty withdrawals. DistroDirect and its team handle all artist customer support and facilitate all content delivery giving music businesses an admin-free solution to scale their artist network.
DistroDirect is the brainchild of independent Australian digital distributor GYROstream. It's a distribution platform built to bring a customizable distribution platform to anyone who needs it.
"We saw a lot of music businesses doing it tough (many are still) with the loss of revenue across the board. So we wanted to offer something that could help them diversify their income streams, further automate and scale their current distribution processes and help them have greater control over their artist's end-to-end product deliveries," DistroDirect and GYROstream CEO Andy Irvine told Digital Music News.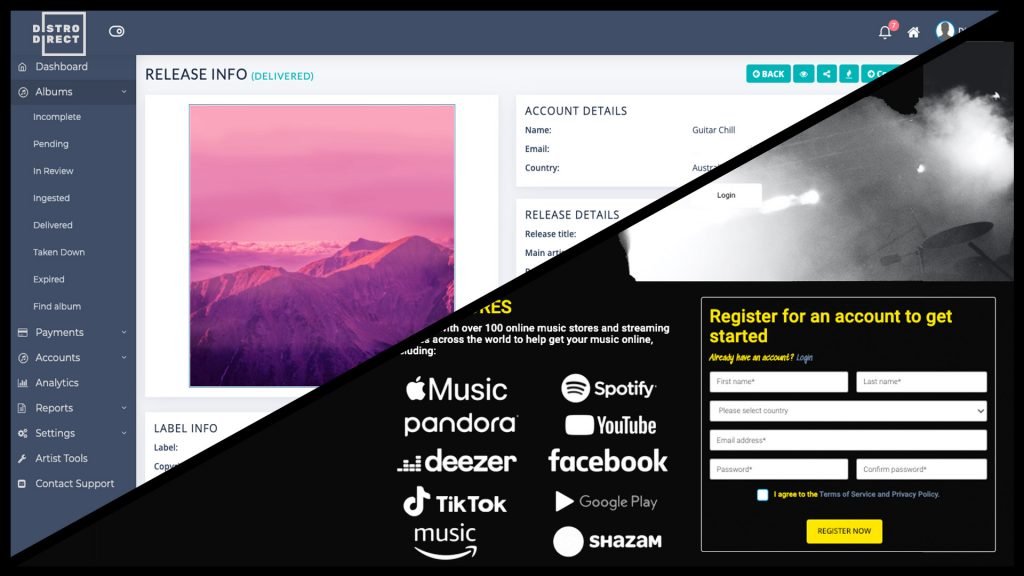 DistroDirect says its model is intended as an alternative to the increasing monopolization of global distribution giants.
DistroDirect believes that developing key relationships in local markets drives better outcomes for artists. Its premium micro-distribution model allows for small-to-medium sized music businesses to flourish while handling their own distribution.
DistroDirect says it is excited to be building a network of white labelled services to tap into like digital marketing, artist advances, playlisting and other global promotional opportunities. Over 150 music businesses in 21 markets have opened their own services since the DistroDirect beta launch in January 2021.
"We've already onboarded so many like-minded labels, studios, and music-related start-ups who are representing some amazing artists. Our aim is to empower more industry professionals and establish boutique distribution in every music market around the world," Irvine says.
Digital music distribution is easier than ever, thanks to distribution companies. It's estimated that around 60,000 tracks are released each day through digital distributors. With aspiring artists and indie labels clamoring at the gates of DSPs – it's important to choose the right distributor.
DistroDirect puts the power of distribution in the hands of smaller outfits, who may have relied on larger distributors in the past. It's a platform that has been built by a company that prides itself on premium artist support.
What is GYROstream?
Based in Brisbane, Queensland, GYROstream was founded

 in 2018 and has since become a leading Australian-owned digital music distribution and artist services company. It handles delivery to Spotify, Apple, TikTok, Amazon, YouTube, and over 100 more DSPs.

The distributor recently introduced a new split payments system to allow multiple collaborators on a track to receive automated royalty payouts. Split payments are also available within the DistroDirect platform.