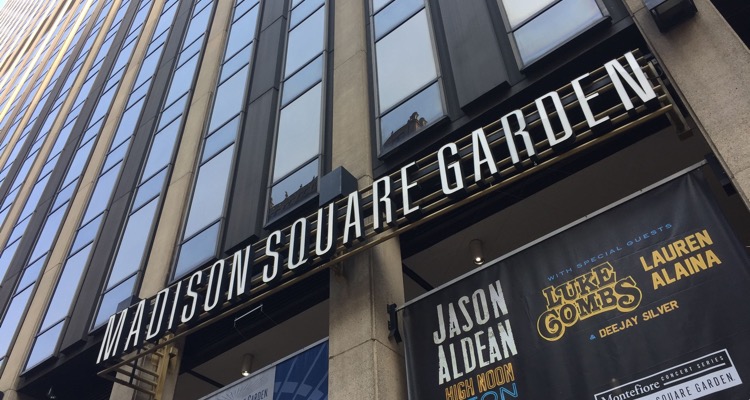 In what appears to be a positive sign for the broader live-entertainment sector – and, in turn, the concert and music-festival space – Madison Square Garden Entertainment (NYSE: MSGE) saw its revenue increase from $9 million across April, May, and June of 2020 to nearly $100 million during the same stretch in 2021.
Madison Square Garden Entertainment – which began trading as a standalone company in April of 2020, splitting off from MSG Sports (formerly the Madison Square Garden Company) – revealed this and other telling financial specifics in its newly released Q4 FY 2021 earnings report.
The breakdown covers April, May, and June of 2021, as mentioned, during which time MSG hosted several sold-out New York Knicks playoff games and the Big Apple's first full capacity-concert since the pandemic's start, to name some. Q4 FY 2021 revenue totaled $99.8 million for Madison Square Garden Entertainment, according to the earnings analysis, with $31.1 million having derived from "entertainment" – up from $8.6 million through the identical period in 2020.
The fourth-quarter entertainment sum reflects "various commercial arrangements" with MSG Sports, including $8.3 million worth of "arena license fee revenues" and $3.3 million "in revenues from food and beverage sales during New York Knicks and New York Rangers games."
The remaining $70 million or so in Madison Square Garden Entertainment earnings came from Tao Group Hospitality, which operates a number of bars, restaurants, and nightclubs. Notwithstanding this division's improvement as well as that of the overarching MSG Entertainment, however, income for the entirety of the 2021 fiscal year reflects the gradual nature of the entertainment and leisure sectors' comeback.
Specifically, Madison Square Garden Entertainment's 2021 fiscal year brought with it $180.4 million in revenue, against $762.9 million in FY 2020. Similarly, the entity's operating loss throughout the 2021 fiscal year, $450.2 million, swelled from $59.8 million in the 2020 fiscal year.
Lastly, MSG Networks (which MSG Entertainment officially acquired last month) experienced a small year-over-year revenue decline for the 12 months ending on June 30th, with income having finished at $647.51 million (down from $686 million or so in FY 2020) – albeit while improving from $152.11 million to $166.06 million on the quarter.
Though more than a few crowd-based sporting events, concerts, and music festivals have gone off without a hitch in recent weeks and months, August has been accompanied by an influx of cancellations, including five Garth Brooks stadium shows, the Pixies' 2021 tour, and Splendour in the Grass.
Nevertheless, happenings such as Bonnaroo 2021 remain set to take place, and Live Nation (which enjoyed a massive revenue uptick in Q2 2021) and AEG recently announced the implementation of COVID-19 vaccine or negative-test requirements at their festivals and venues.
Worth mentioning in conclusion is that MSG Entertainment stock's value grew slightly on the day, for a 1.46 percent bump and a per-share price of $73.61. The figure marks an approximately 27 percent falloff since 2021's start, but a roughly 18 percent gain during the last five days.