Spotify is driving podcast growth in the US as Apple's podcast market share has stagnated.
A new report from eMarketer suggests that Spotify will surpass Apple by the end of 2021. It predicts Spotify will reach 28.2 million monthly podcast listeners by the end of 2021, compared to Apple's 28 million.
Looking at the next four years and based on current data trends, that gap is expected to widen. By 2025, Spotify is expected to have 43.6 million monthly podcast listeners or 12.7% of the US population.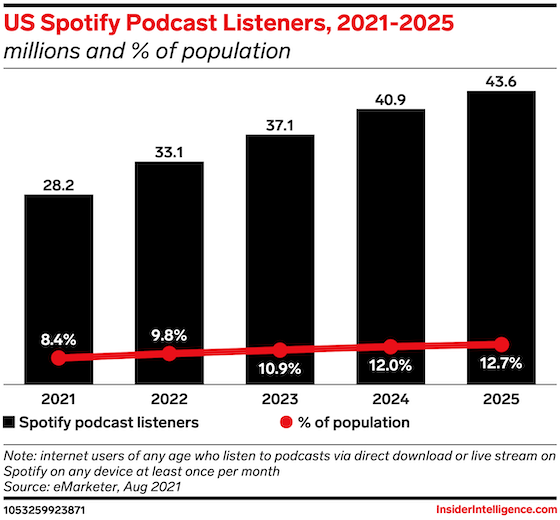 The report also predicts that around 40% of US internet users will tune in to podcasts at least once a month. That rapid rise in listener growth is what is currently fueling Spotify's rise in subscriber count. But that rapid growth could cool over the next few years.
The report also mentions YouTube, Google Podcasts, and Amazon Music as potential podcast competitors siphoning listeners away from the once-dominant Apple Podcasts. eMarketer predicts that by 2025, there will be 131.2 million podcast listeners in the United States who listen at least once a month.
Despite that projected growth, Spotify has focused few resources on making podcast power users feel at home. Spotify has tried to weave podcasts throughout the app as something you just listen to side-by-side, but many people prefer to keep their music and podcast listening separate.
I've spoken to many people who begrudgingly admit they listen to podcasts on Spotify because their favorite show went exclusive and now they have to use it. Spotify is essentially holding a digital gun to your head – use this terrible app to enjoy your favorite show or don't enjoy it at all.
If you spend more time listening to podcasts than music, the Spotify app is not designed for you.
There are countless dedicated podcast apps on iOS and Android that will serve you better. The home page is a mix of podcasts, music, playlists, a jumble of audio that sometimes leads to choice paralysis if you don't have a destination in mind when you open the app.
The result is lots of complaining online about how terrible the dedicating podcast listening experience is for power users. As more and more listeners tune in to podcasts (likely via Spotify), hopefully, the experience gets better.