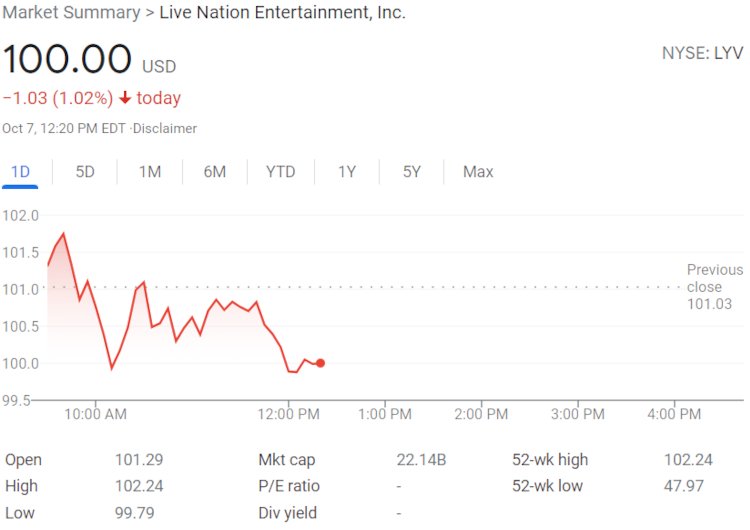 Live Nation stock (NYSE: LYV) has recorded a more than 40 percent value hike since 2021's start, and shares have officially cracked $100 apiece for the first time in company history.
At the time of this piece's writing, Live Nation stock was trading for an even $100 per share – down slightly from yesterday's close and an all-time-high per-share price of $102.24. Nevertheless, in addition to representing an over 40 percent boost since 2021's beginning, as mentioned, LYV's current value marks an eight percent jump during the five most recent trading days, a roughly 14 percent improvement across the last month, and an approximately 15 percent gain throughout the past six months.
More broadly, Live Nation's per-share worth dipped into the low-$20 range during the onset of the COVID-19 pandemic last year, and on October 7th, 2020, LYV was hovering around the $55 mark. As an aside, Saudi Arabia's government purchased a $500 million Live Nation stake in April of 2020, when shares were priced at about $40 each. Factoring based upon LYV's present value, the Middle Eastern nation's interest (encompassing 12,565,167 shares) is worth a staggering $1.26 billion or so.
While the precise reasons behind Live Nation stock's ascent remain unclear, it's possible that investors could be banking on the company's reporting a material revenue hike in its forthcoming Q3 2021 earnings report.
The Ticketmaster owner is scheduled to release this performance analysis on Thursday, November 4th, and equities analysts expect Live Nation "to report sales of $2.12 billion" for the three-month stretch, according to a report from MarketBeat. Live Nation recorded a little over $184 million in revenue during Q3 2020 – a 95 percent falloff from the same period in 2019, which brought about $3.77 billion in revenue for the entity.
Of course, this anticipated income rebound has been made possible by the return of concerts, music festivals, and other in-person entertainment events. On this front, notwithstanding some high-profile cancellations, a number of artists are organizing massive tours for 2022.
The Weeknd has long planned to embark on an extensive concert series in the new year, for instance, and recent weeks have seen Lil Tecca, Bunbury, Allen Stone (whose shows have started but will proceed into February), and the Red Hot Chili Peppers unveil 2022 tour plans of their own. Moreover, the Red Hot Chili Peppers are set to kick off their newest tour's European leg in June before heading to North America in July, with artists including Anderson .Paak, A$AP Rocky, Beck, The Strokes, and Thundercat billed as "special guests" for certain dates.
It bears mentioning in conclusion that Live Nation and other major players in the live-entertainment sphere have continued making noteworthy investments as of late. Live Nation last month resumed its more than $440 million Ocesa Entertainment buyout, for example, and CTS Eventim in August announced plans to construct a $212 million arena in Milan, Italy.