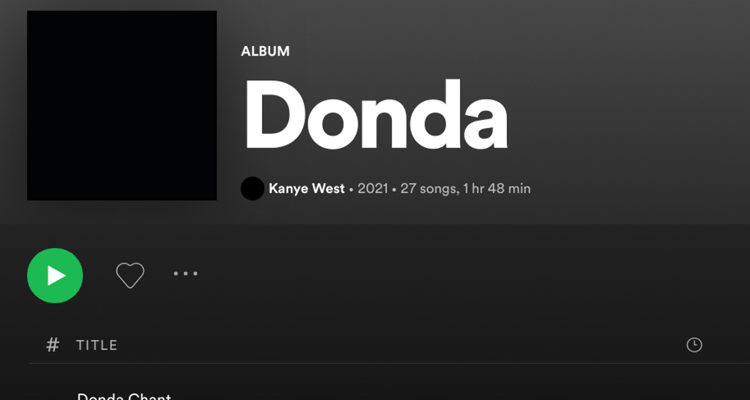 Kanye West's Donda album has reached one billion streams on Spotify.
Spotify made the announcement on October 25, though the album still trails Drake's recently released Certified Lover Boy. It is the fastest Kanye album to achieve that feat, which isn't too surprising.
The Life of Pablo was a TIDAL exclusive when it debuted in 2016. ye and Jesus Is King received much smaller promotional tours compared to Kanye's other albums. The release for Donda was in the media for weeks as Kanye even holed up at a stadium to finish the album. Once it debuted on August 29, it was the biggest new album release of 2021 on both Spotify and Apple Music.
First-day streams of Donda were 94 million on Spotify and 60 million on Apple Music. However, the album was overshared by Drake's Certified Lover Boy, which dropped just a few days later. Certified Lover Boy smashed Donda's short-lived first-day streaming records. It saw 150 million first-day streams on Spotify. CLB surpassed one billion Spotify streams in roughly half the time, too.
Drake's Certified Lover Boy reached the one billion streams milestone on October 2 – less than a month after release. It took Kanye West's Donda nearly two months to reach the one billion streams milestone.
The two rap heavyweights have long had a standing cold beef with each other. That went a step further this year as the two rappers prepped their albums to drop. Back in September, Kanye flooded downtown Toronto with promotional billboards for Donda. The billboards outnumbered and towered above those purchased by Drake to promote CLB.
As part of his promotion of Certified Lover Boy, Drake also hosted a guest mix on SiriusXM's Sound 42 radio show. During that set, he aired an unreleased Kanye West and André 3000 song called "Life of the Party." After fans heard the song, they were upset it wasn't included on Donda – which is named for Wests's late mother.
Andre 3000 raps in "Life of the Party," speaking directly about the loss of his parents.
"Hey Miss Donda, if you ran into my mama,
please tell her I said, 'say something' /
I'm starting to believe ain't no such thing as Heaven's trumpets /
No after-over, this is it, done/
If there's a Heaven, you would think they'd let you speak to your son."
"That Kanye x Andre 3000 record sounding more fire than CLB and Donda albums combined, I want THAT," rapper Emilio Rojas tweeted.