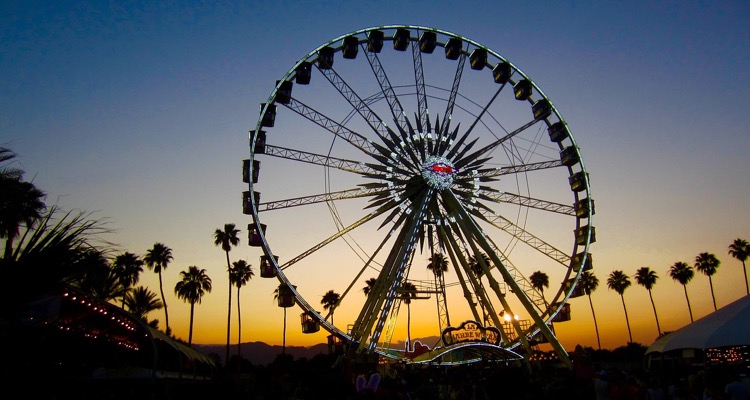 Staying true to its official nickname – "The City of Festivals" – Indio, California, is now set to remain the home of Coachella for at least another 29 years.
Local outlets including The Desert Sun have reported on the extended agreement between the Coachella Valley's most populous city and AEG Presents' Goldenvoice, which organizes the annual music festival. Back in August, Indio's five-member city council voted three to one to lengthen an existing contract with Goldenvoice "until at least 2050," according to the same source, and the company just recently inked an updated lease agreement (also running through 2050) with the Empire Polo Club, which serves as Coachella's site.
Beginning with the City of Indio's vote to extend the Goldenvoice contract through this century's halfway point, Mayor Elaine Holmes, who's served on the city council since 2010, "excused herself from the discussion, citing a conflict as she owns property within 1,000 feet of the festival area," per The Desert Sun once again. Councilmember Oscar Ortiz cast the lone vote against the nearly three-decade-long extension.
Explaining his dissenting vote in an Instagram video, Ortiz stated in part: "I just wanted to urge us to go back into negotiations for this deal. I still believe we haven't done our due diligence and community outreach to be ready to extend this agreement for another 20 years.
"We practically had no input from residents on what the community's needs are. … Being one of the biggest festivals in the world, I believe this deserves extensive outreach because of the large impact it has on our residents and because of the length of the term," he continued, noting that the City of Indio's existing agreement with Goldenvoice wasn't scheduled to conclude until 2030.
Some residents called into the city-council meeting to express their reservations with the decidedly long Coachella agreement, and one such individual asked: "Will the company receive a cheaper rate on police costs anywhere other than Indio? Will Palm Springs let them bring 17 Beyoncé semi-trucks through the busiest streets? No, but Indio has."
Councilmember Glenn Miller, on the other hand, reiterated Indio's initially noted "City of Festivals" nickname and emphasized: "Not one dollar comes out of the city of Indio's pocket. So we benefit from the money that comes in here from the ticket sales. … They're spending thousands and thousands of dollars in our community, keeping our residents working, not just in Indio, but throughout."
Regarding Goldenvoice's newer deal with the Empire Polo Club itself, the corresponding arrangement will grant the promoter "full operational control of the venue, opening the door for music events year round," The Desert Sun has reported. Also included in the contract is "oversight of Empire Grand Oasis, a special event property in Thermal," but the terms of the previously highlighted deal with Indio will not be altered.
It goes without saying that the developments appear to reflect the confidence that both Indio's councilmembers (or a majority thereof) and Goldenvoice have in the long-term earning potential and popularity of Coachella – as well as music festivals generally.
This confidence and the years-long Coachella extensions are particularly significant considering that the happening has been called off several times since 2020's start. But a substantial number of concerts and music festivals have taken place in 2021, and all manner of live-music events are being scheduled for 2022.
Coachella 2022, for its part, is slated to go down during the weekends of April 15th-17th and 22nd-24th next year, with headliners Rage Against the Machine, Swedish House Mafia, and Travis Scott. Additionally, October has seen Dierks Bentley extend his Beers on Me Tour into 2022, while Jacob Banks has announced that he will kick off a 23-stop concert series in January.
Meanwhile, Brandi Carlile is poised to perform shows for the Beyond These Silent Days Tour into late October of 2022, and acts including but not limited to Coldplay, the Red Hot Chili Peppers, Dylan Scott, Sleepy Hallow, and New Kids On The Block have also unveiled their upcoming tour plans this month.