Adolph Robert Thornton, Jr. — aka Young Dolph — was murdered on Wednesday, November 17th while buying cookies in Memphis, TN. Here's what we know so far about the suspects and possible motives for the killing.
It's now confirmed: rapper Young Dolph was killed on Wednesday afternoon (November 17th) in Memphis, TN, at a local cookie shop. The death was confirmed by the Memphis Police Department, first responders, and witnesses at the scene. The rapper sustained a flurry of bullets after stepping out of his vehicle to purchase cookies.
Breaking update — November 19th: Since Young Dolph's killing, footage of two gunmen has emerged (see below). Additionally, we've also learned that Soulja Boy is possibly connected to the murder, based on a $100,000 bounty he offered just prior to Dolph's murder. Soulja Boy was removed from the Millennium Tour based on concerns about violence (more details below). 
The gun-down occurred at Makeda's Homemade Butter Cookies, a place the rapper frequented. The murder occurred either immediately outside of the establishment or inside the store. According to the store's owner, Young Dolph was approached by a vehicle while entering the establishment. A hail of bullets assailed the rapper, and he was pronounced dead shortly thereafter.
Young Dolph was a beloved Memphis celebrity who was planning to deliver Thanksgiving turkeys to lower-income residents in the community. According to one account of his itinerary, the rapper was planning to attend the Thanksgiving charity event immediately after visiting Makeda's.
Unfortunately for Young Dolph — who real name is Adoph Robert Thornton, Jr. — the rapper is easy to spot. Thornton pulled up to the store in his flashy black Corvette, which remained at the crime scene as evidence. Young Dolph also wears bulky and flashy jewelry around his neck and wrists, and often attracts a small crowd. He's high-profile and hard to miss.
Dolph was 36 and leaves behind a son and a daughter. He released seven studio albums, including his debut, King of Memphis.
Just after the murder, Memphis mayor Jim Strickland shared his condolences while condemning the violence on Twitter. He also specified that a search for the suspect(s) is underway.
"The tragic shooting death of rap artist Young Dolph serves as another reminder of the pain that violent crime brings with it," Strickland shared. "My thoughts and prayers are with his family and friends."
So why was Young Dolph murdered?
Nearly 48 hours after the killing, the identity of the gunmen remains unknown. Police haven't disclosed any information on a possible motive, either. But Young Dolph has been the target of multiple assassination attempts in the past, suggesting some serious ongoing beef.
Back in 2017, Young Dolph barely survived a brazen murder attempt in Los Angeles. While shopping for shoes in broad daylight in Hollywood, the rapper faced a hail of bullets — some of which stuck him. Young Dolph required surgery and medical attention afterwards, and narrowly escaped death.
The LAPD offered no clues or information on what prompted that attack, though a vehicle was left behind at the scene. One suspect detained in that murder attempt was released.
Earlier in 2017, Dolph was also attacked in Charlotte, NC, in a coordinated assault. The rapper's SUV was reportedly the target of a flurry of bullets, though Young Dolph survived. Immediately following that attempt, rival rapper Blac Youngsta was arrested but ultimately released after questioning.
While alive, the rapper blamed the assassination attempts on jealousy. Dolph was not only flashy and successful, but also assumed a cocky and brash demeanor. That explanation sounds partly plausible, though not enough to draw multiple, well-coordinated assassination attempts.
Around the time of the earlier murder attempts, the rapper upgraded his vehicles to include bulletproof paneling. It's unclear if Young Dolph's black Corvette was bulletproofed, though assailants may have strategized accordingly and targeted the rapper outside of his vehicle.
Who killed Young Dolph?
Two masked gunmen were caught on surveillance cameras murdering Young Dolph directly outside of Makeda's  Homemade Butter Cookies in Memphis, TN. They pulled up in a white two-door Mercedes. But the identities of the gunmen remain unknown at this time.
The Memphis Police Department is actively pursuing the case, but no suspects have been named. Here are still images from the footage that has emerged.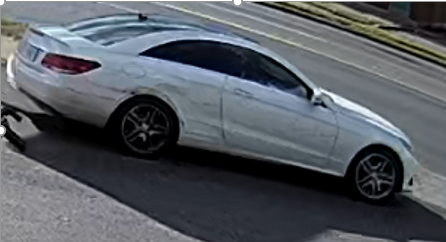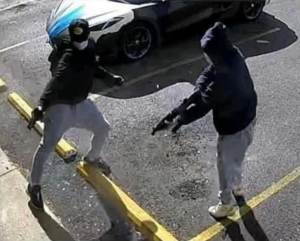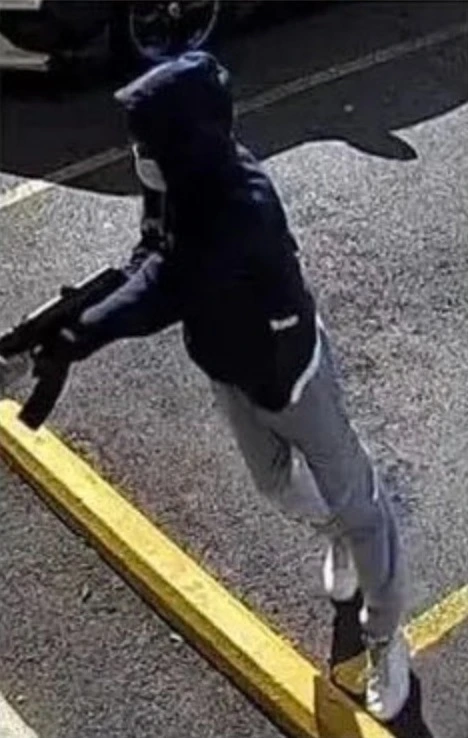 Soulja Boy has also become a person of interest.
Immediately prior to Dolph's assassination, Soulja Boy claimed that 'he'd put a $100,000 bounty on Dolph's head' for information about his rival's whereabouts. Whether that bounty was mere internet posturing is unclear at this stage.
"I bet $100,000 this n—a won't give me an address how about that," Soulja Boy boasted on social media. "Look, I got $100k cash. Look, DM the address, and you can have all this in my hand, how about that."
In response to Young Dolph's murder, the Millennium Tour has removed Soulja Boy from its lineup to prevent any violence.
"The safety and welfare of our patrons are the first and foremost priority," Millennium Tour coordinators stated. "We pride ourselves on bringing high-quality concert experiences to our patrons. In times like this, we will stop at nothing to ensure that everyone that participates in these experiences is healthy, safe, and quite frankly having a good time."
It's unclear how long the ban will last, though Soulja Boy quickly denied any connection to the murder. "I'm still getting paid," Soulja Boy blasted. "What does him dying got to do with me? I'm trying to see my fans."
More details as they emerge.