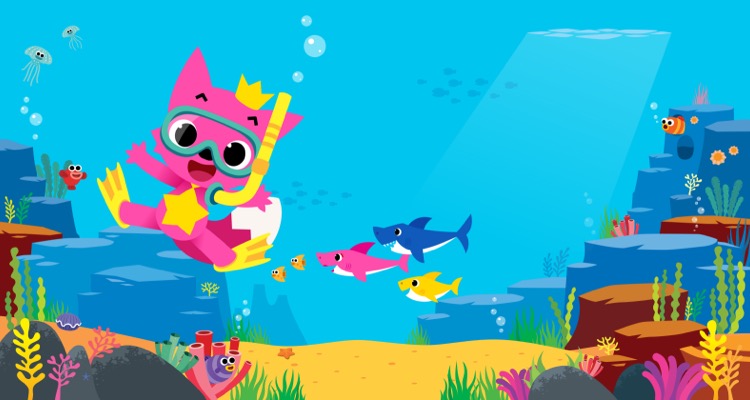 Sony Music Entertainment (SME) and SmartStudy, the creator of children's educational brand Pinkfong and "Baby Shark," have officially partnered to launch non-fungible tokens (NFTs) based upon the ultra-popular song, the associated dance, and the animated characters at hand.
Seoul-headquartered SmartStudy just recently unveiled its decidedly innovative Baby Shark NFTs, and the initial collection's auction is set to go live tomorrow afternoon. With a staggering 9.76 billion views to its credit, SmartStudy/Pinkfong's "Baby Shark Dance" remains the most-viewed video on all of YouTube, holding a commanding lead over Luis Fonsi's second-ranked "Despacito" and its 7.65 billion plays.
Pinkfong collaborated with its "global music partner" SME on the six-piece Baby Shark digital-asset collection, which is already available to view on NFT marketplace MakersPlace. (Back in August, Sony Music, Coinbase Ventures, Eminem, and others backed the latter startup in a $30 million Series A.)
Regarding the Baby Shark NFTs' availability and appearance specifics, the involved parties relayed that one of the six choices will be "unique," encompassing a single unit, whereas the remaining five tokens will be "limited edition."
The unique NFT, dubbed "Baby Shark No. 1," is "a one-minute long digital art piece that features Baby Shark as he journeys through a newly reimagined dream-like underwater world," per SmartStudy's release.
And while the auctions' starting bids haven't been publicly revealed, previous NFT sales suggest that the listings could fetch substantial sums. Accordingly, the winning bidder for the unique Baby Shark non-fungible token "will be gifted a one and only custom vinyl created by Pinkfong exclusively for this NFT, featuring the music from the unique piece and accompanying art."
The other newly minted NFTs will also showcase "Baby Shark and his family in original, loopable animations inspired by holographic collectors' playing cards," SmartStudy proceeded, and "each piece is accompanied by audio that references the genre-defining song and its iconic vocal."
Addressing Baby Shark's NFTs in a statement, Pinkfong USA CEO Bin Jeong made clear that her company (which owns north of 5,000 children's "songs and stories") intends to debut similar projects moving forward.
"We are excited to finally reveal Baby Shark's first NFT collection," said the nearly four-year Pinkfong USA head. "This marks the beginning of our venture into the world of NFT, an important next chapter of Baby Shark's journey. As a sensation born on the internet, it is a natural progression for Baby Shark to embrace NFTs and we are thrilled to share the experience with the community."
Though some have raised questions about NFTs' precise value and long-term viability, the music industry's embrace of the data units is showing few signs of slowing down. Primary Wave and BTS agency HYBE entered the space last month, for instance, while UMG's 10:22 PM revealed plans to build a band featuring four characters from an NFT project.