The Apple Music Voice Plan is coming in the latest version of iOS. Here's what to expect.
Apple revealed the latest release candidate to Apple developers for testing purposes. One of the release notes includes references to the new Apple Music Voice Plan, which is a cheaper, voice-only music streaming plan.
What is the Apple Music Voice Plan?
In October, Apple first introduced this cheaper, voice-only option for music streaming. The plan is priced at $4.99 a month and can only be accessed using Siri on Apple devices.
Users can only access songs, playlists, and albums – no access to the Apple Music app is included. There are no limitations on playback and you can ask Siri to play music based on listening history, likes, and any playlists.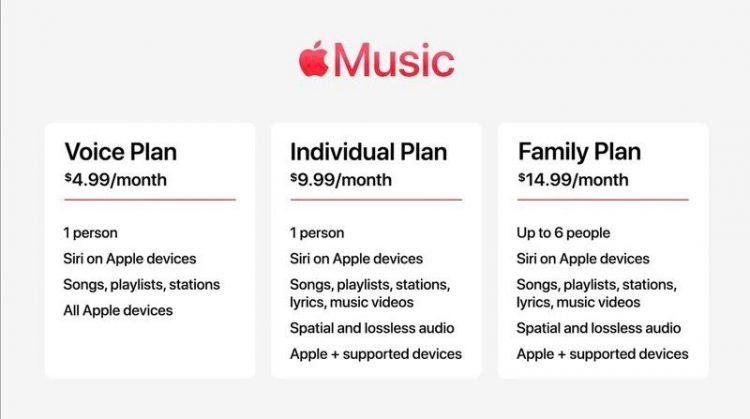 Apple added hundreds of new mood and activity playlists to accommodate these voice requests. Some examples Apple gave include "Play the dinner party playlist," "Play something chill," and "Play more songs like this." Those new playlists may have been created with Apple Music Voice Plan users in mind, but they're available to anyone with an Apple Music subscription.
These 250 new playlists are curated by Apple Music's editorial team and are optimized for Voice Plan users.
Some of the new mood categories include Happy, Feeling Bad, Angry, Chill, Confidence and Optimism, Self-Care, Inspiration and Focus, Work and Study, Get Going and Get Out, Romantic, Family and Celebrations, Workout, Sports and Games, Activities, Doing Chores, Driving and Transportation, Places, Meals, Seasons, Weather and Zodiac.
The Voice Plan will launch in 17 countries and regions. Launch regions include Australia, Austria, Canada, China, France, Germany, Hong Kong, India, Ireland, Italy, Japan, Mexico, New Zealand, Spain, Taiwan, the United Kingdom, and the United States. Apple may extend the voice-only plan to other countries and regions sometime in the future.