Rapper T-Pain has reignited discussion about the question that so many in the music industry have asked – "How much do artists make per stream?" – with a new social-media post.
T-Pain (full name Faheem Rasheed Najm) spurred conversation among artists, music industry professionals, and fans with a recent Instagram post and tweet, which include a chart that purportedly shows the number of streams required to earn $1 on leading platforms like Spotify, Apple Music, and YouTube Music.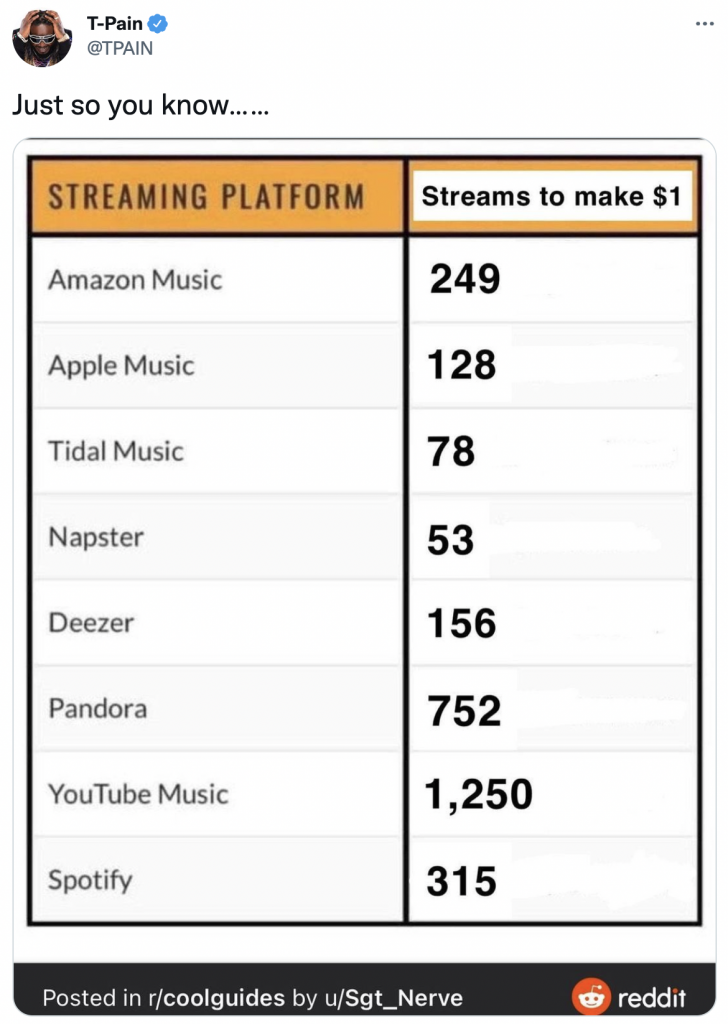 The to-the-point diagram was originally posted on a subreddit called "r/coolguides," which encourages users to share "picture based reference guides for anything and everything," according to its description. This OP doesn't elaborate upon the data behind the chart, but a Reddit comment revealed that the information had been lifted from a website called Producer Hive (DMN later confirmed that source).
Specifically, this latter source features a chart with two columns, "streaming platform" and "royalty rates," and the asset has since made its own way onto additional social platforms. But the resource on T-Pain's Twitter and Instagram profiles has simply been modified to reflect the number of streams needed to generate $1 on most of today's most popular services.
Digging into the number of streams required "to make $1" per the updated chart – and answering the central question of "how much do artists make per stream?" – MelodyVR's Napster ranks first, with 53 plays per $1 payout.
Said chart also relays that 78 Tidal streams are needed to generate $1 in royalties, compared to 128 for Apple Music, 156 for Deezer, 249 for Amazon Music, 315 for Spotify, 752 for Pandora, and 1,250 for YouTube Music. The figures largely come out to $1 apiece when calculated against the actual per-stream royalty rates published by Producer Hive and on Reddit.
Here's another look at the breakdown, presented as payments per-stream instead of total streams per $1.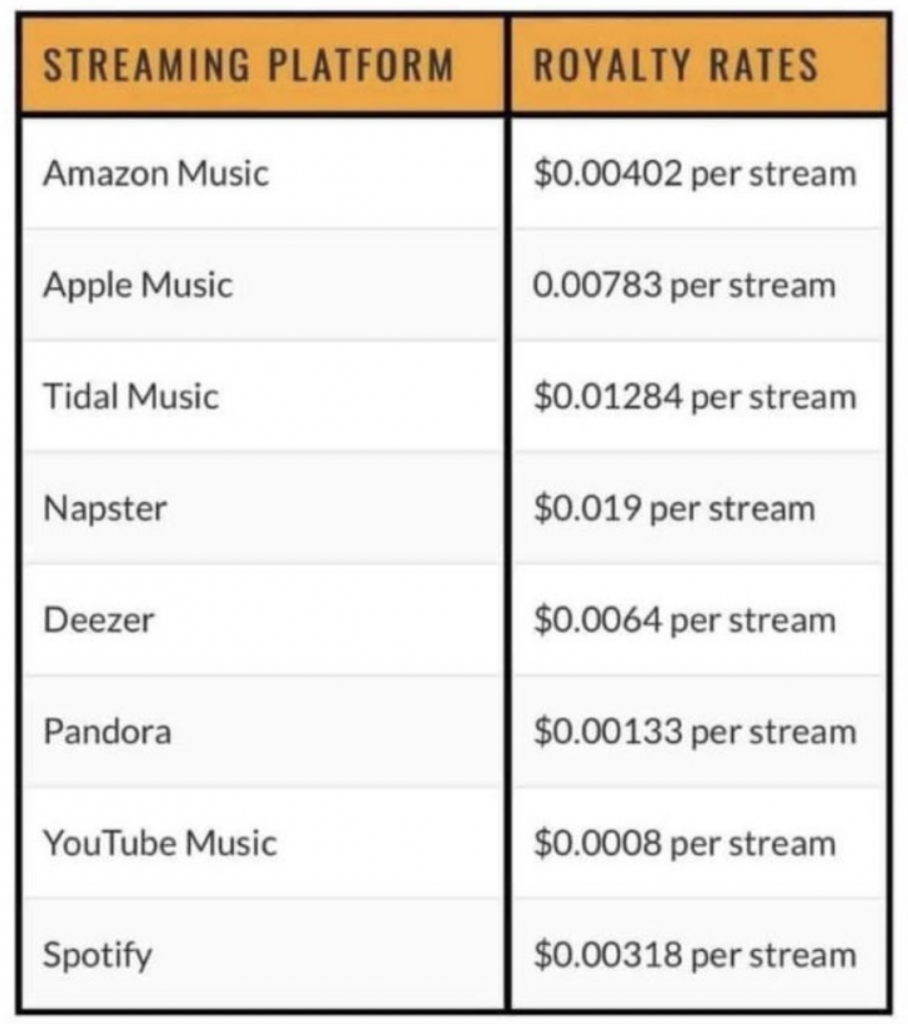 It bears emphasizing that these rates are virtually identical to those posted by Digital Music News some time back, save for a handful of totals that have changed slightly in the interim, but are updated only on DMN.
And as we've noted, precise royalty rates (especially on services with both premium and ad-supported versions) depend on a variety of factors, including but not limited to the subscription cost (and advertising specifics) in the region from which the streams at hand derived.
Moreover, streams from premium accounts pay more than their ad-supported counterparts, and based upon an array of different factors yet, some artists have reported being paid at far lower royalty rates than those disclosed above. Needless to say, these considerations render it increasingly difficult to directly answer the question that thousands (and perhaps more) have asked: "How much do artists make per stream?"
On this front, following a months-long investigation last year, the UK's Competition and Markets Authority in October announced a formal "probe into music streaming," and platforms such as SoundCloud and Tidal have rolled out direct-to-artist payment models – to the particular benefit of independent creators who have dedicated fanbases but don't rack up billions of streams.