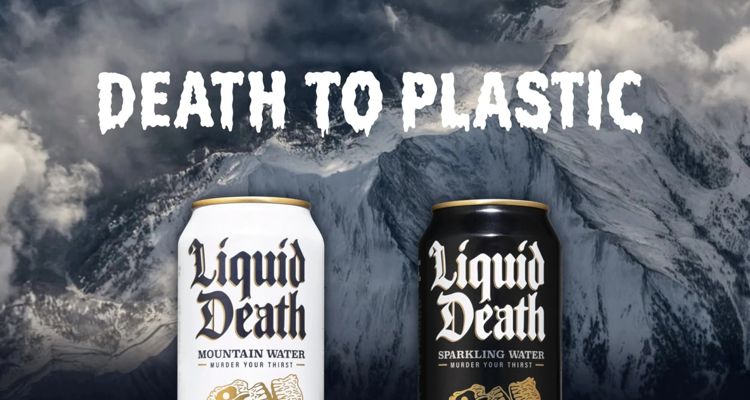 Expanding upon its $15 million May of 2021 raise, Live Nation-backed canned water company Liquid Death has secured another $75 million in Series C funding.
Santa Monica-headquartered Liquid Death just recently announced this latest multimillion-dollar round, which was led by Heavy Sound Labs backer Science and drew additional support from Live Nation. The five-year-old business has now raised a total of $125 million, higher-ups indicated in a TechCrunch interview, and stakeholders value the brand at $525 million.
Other existing investors in Liquid Death include Wiz Khalifa, Steve Aoki, and Tony Hawk, the latter of whom partnered with the company last year on a line of blood-infused skateboards. And upon backing Liquid Death in May, Live Nation committed to exclusively selling the canned water at each of its U.S. venues and festivals for a time.
Bearing the point in mind along with the comparatively large size of Liquid Death's newest raise, co-founder and CEO Mike Cessario relayed in the aforementioned sit down that over 29,000 U.S. "locations" carry the canned water, up from 16,000 in May.
And the bottled-water alternative – two cases of which, including 24 16.9-ounce cans, are available for about $36 shipped on the Liquid Death website – drove the company's 2021 revenue to nearly $45 million, against $3 million in 2019, Cessario also said. Finally, regarding the startup's performance, Cessario disclosed that a retooled agreement with Amazon has dramatically increased sales.
Especially given Live Nation's many live entertainment events and establishments, it'll be worth following the market performance of Liquid Death in the approaching months and years.
Though the Ticketmaster parent company's previously highlighted commitment to selling the hydrator only covered stateside happenings, it stands to reason that Liquid Death (which is drawn from the "Austrian Alps," per its LinkedIn profile) could later become a staple of international Live Nation gigs.
More broadly, Live Nation's interest in Liquid Death represents one of several music-industry plays and partnerships in the beverage space.
Katy Perry this week took to social media to unveil "a line of sparkling nonalcoholic aperitifs" called De Soi, for instance, whereas Ellie Goulding last summer purchased an ownership stake in hard-seltzer brand Served. But in the wake of the Astroworld tragedy, Anheuser-Busch discontinued Travis Scott's own seltzer line.
On the sponsorship and partnership side, Halsey and Post Malone have inked deals with Budweiser and Bud Light, respectively, while Rockstar Energy tapped Lil Baby to star in its first-ever Super Bowl advert and Stella Artois enlisted Lenny Kravitz to shoot a commercial for Super Bowl LV.