Today's fans have instant access to a tremendous amount of music in the digital age. But few releases rise above the noise level. In an effort to change that, Chartmetric is helping artists harness data when marketing tracks and pursuing long-term career success.
What's the biggest hurdle facing new music releases today? Shifting fanbase demographics and unpredictable social media trends are two factors that make it difficult to gain traction. But the most immediate cause of underwhelming commercial success may be the sheer volume of new releases.
According to CEO Daniel Ek, a staggering 70,000 tracks make their way onto Spotify daily. And podcasters upload an average of nearly 3,300 new programs per day, based upon data disclosed in the company's Q3 2021 earnings report.
Those are intimidating numbers, though data analytics platform Chartmetric has been helping artists battle this avalanche of content with data. According to Chartmetric, data is now the most critical component of effective marketing strategies.
In most cases, the massive supply of music (and other audio content) isn't complemented by a massive follow-through on marketing and development, even though a carefully tailored promotional campaign is imperative if songs are to separate themselves from the crowd of almost half a million tracks that reach the leading streaming service weekly.
A combination of social media campaigns (paid as well as organic), email blasts, and attempts to secure playlist placements are among today's most common music marketing strategies. And as many artists, professionals, and stream totals attest to, some of the efforts return strong results, whereas others fail to make a splash.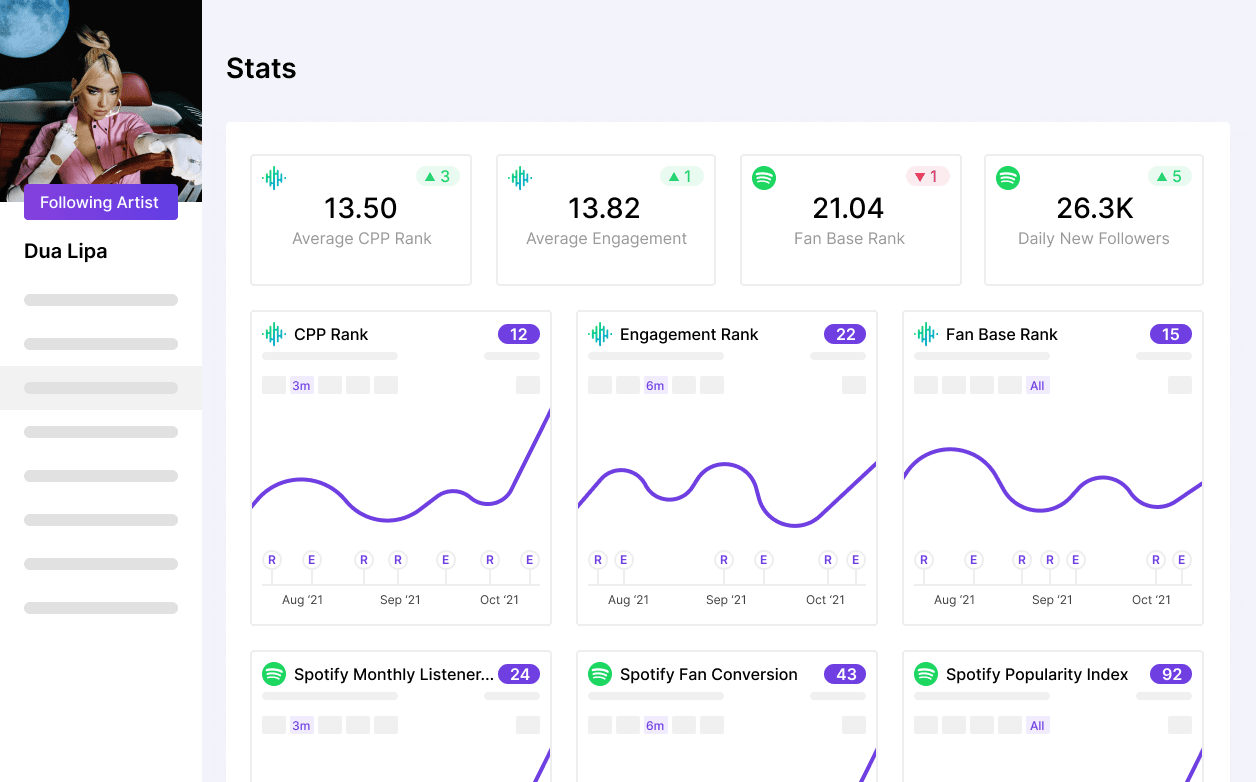 Missing from both outcomes (and middle-of-the-road results) is a comprehensive intelligence dashboard through which teams can view, analyze, and act upon an all-encompassing dataset to maximize music's reach.
As a critical (and often overlooked) component of promotion, data enables informed decision-making before and after a song's release. That has been a core philosophy at Chartmetric for years, though the company is now joining forces with DMN to spread the gospel further.
Chartmetric allows users to track social platforms like TikTok, Instagram, and Facebook, among many others, instantly viewing followers, likes, retweets, and an abundance of other information. Users can filter these findings by period as well as geography, demographics, and much more.
The same is true of Spotify, YouTube, and other leading streaming platforms, with followers, monthly listeners, and fan-conversion rate (a follower-to-listener ratio) easily tracked. Chartmetric also calculates an array of stats to illustrate broader trends, such as "cross-platform performance," a measure of an artist's showing on 16 social and streaming platforms relative to the performance of all artists in the music industry.
Short-term, Chartmetric's sizable collection of data allows artists to optimally time their releases, gauge fans' responses to projects, obtain information about audiences, plot their tour stops with support of listeners' geographic specifics, and more. And in the long term, the corresponding planning and adjustments could play a crucial part in charting career trajectories.
Andreas Katsambas, President — Strategy, Marketing and Operations at Chartmetric, explains: "I have worked with numerous artists in my career and marketing resources are always limited.  Trying to establish an artist on a global scale is very expensive and time-consuming.  Plus an artist can not be everywhere at all times.  Having insights with data helps to create a plan that is smart and proactive.  There is not one formula for success; rather is the ability to understand the market and your audience so you can act accordingly. It helps manage the complexity and provides a starting point to build upon."
Australian DJ Nina Las Vegas, for instance, experienced a major spike in Chartmetric cross platform performance (CPP) rating in late November and into December, after playing Ability Fest. Digging into the causes of this broader engagement spike, the 36-year-old enjoyed a material jump in Wikipedia views shortly before the Melbourne festival, her Chartmetric profile shows. This gives Nina the understanding that there is a potential audience with an interest in her performance.  She can react early by running online ads, for example, or make sure she develops an awareness presence during the fest and benefits from that insight.
And Nina Las Vegas' Spotify playlist count (and, in turn, the reach of her music) increased significantly from September until after the performance, according once again to the Chartmetric dashboard. The points demonstrate that the value of the Ability Fest set extended far beyond the provided compensation, drawing new fans and streamers.
With other stats indicating that Nina Las Vegas' Spotify listeners are heavily concentrated in Australian cities, while her Instagram followers skew male and young, the creator can channel her resources and promotional undertakings appropriately, both for future song releases and live performances.
Norwegian singer-songwriter Aurora, for her part, received a data-supported confirmation of fans' approval for "Heathens," as the early December single elevated her own Chartmetric CPP rating dramatically. A hike of more than 200,000 Spotify followers across September and December – the stretch also saw her release "Giving in to the Love" – further showcased newfound listener interest.
Tellingly, though, Chartmetric's one-stop tracking shows that radio airplay was a non-factor in the original growth of "Heathens," which is nevertheless finding listeners on TikTok.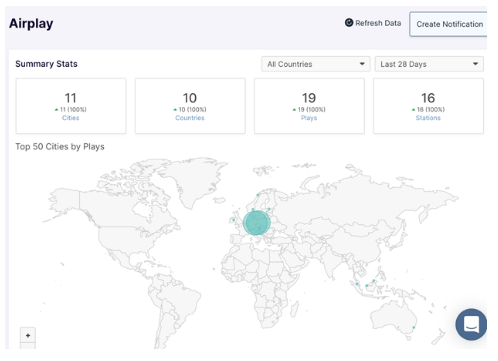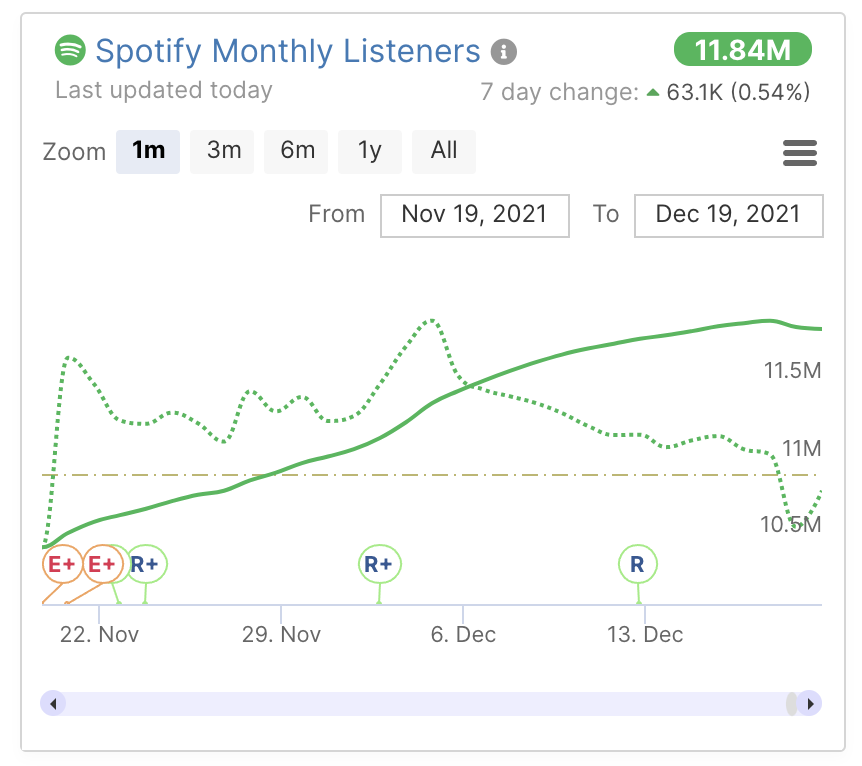 Aurora and her team could therefore adjust their marketing approach for The Gods We Can Touch (which features "Heathens"). And on the touring front, Chartmetric notes that the 25-year-old has a decidedly global listener spread – information that will prove useful as she hits the road in support of the album next year.
Naturally, the shift away from physical and its logistical considerations, in coordination with the comparatively high-stakes nature of investing time and money in full albums, has prompted no shortage of artists to begin building their careers around singles.
"Hustler Freestyle" rapper Russ, for instance, has released all manner of non-album singles alongside projects like Chomp 2, whereas The Chainsmokers released each of the 10 songs on their third studio album, World War Joy, as singles.
But even with a sophisticated singles-based release strategy, the promotional process is hardly set in stone. In many cases, numerous marketing initiatives end up targeting the wrong audiences and platforms before concluding prematurely in the absence of data.  Whether data-focused, intelligent campaigns can eliminate all those misses is doubtful – though just as data is now heavily used in finding trending artists, its role in marketing the releases from those artists is an area that Chartmetric is aiming to greatly expand.
Andreas adds: "An artist needs to invest heavily in understanding their audience and key markets.  A success story can come from anyone in the world.  It can stem from a DSP or a social media platform.  It's imperative to pay attention to any activity and react as quickly as possible.  We have seen numerous examples of artists that have grown dramatically – sometimes overnight – so keep an eye on all your data analytics and once you see an area that connects, take it and run with it! It's all about building on that momentum."