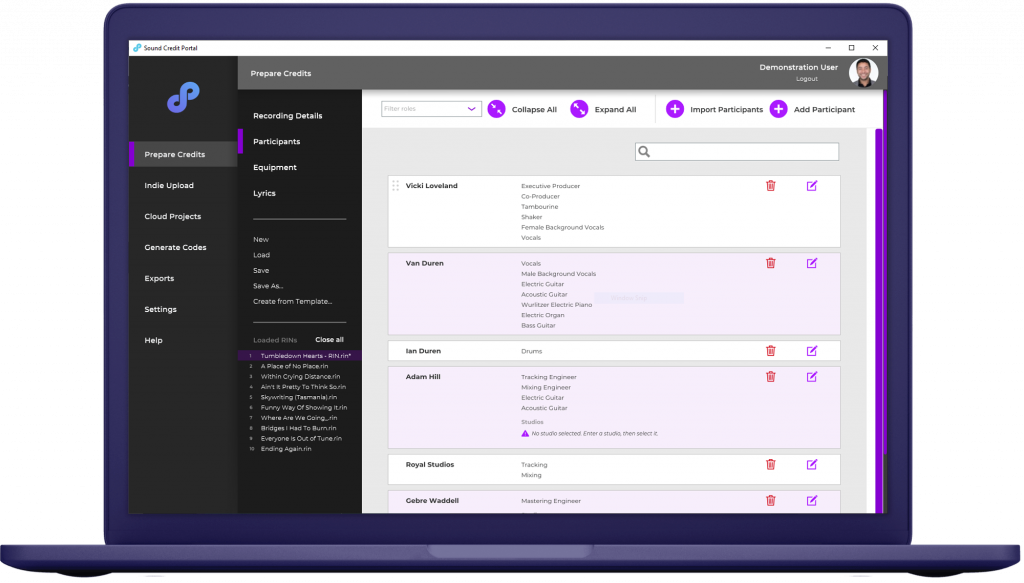 One of these days, the billions of dollars in unmatched and unpaid annual music royalties will shrink into the millions. And then, down to de minimis thousands. But what will it take to get there?
For years, the pathway towards erasing a billion-dollar industry embarrassment has been discussed in conferences and committees. It isn't the sexiest part of the biz – that's for sure – but as data expert Thomas Redman says, "where there is data smoke, there is business fire."
The good news is that smart investment dollars have been supporting solutions that are now becoming mature. At the forefront is Sound Credit, whose founder and CEO, Gebre Waddell, has made music metadata a professional calling. Sound Credit's latest version 4 release offers a broader set of platforms and interfaces to capture and clarify metadata. That includes a desktop app, two mobile apps, and an in-studio kiosk.
Sound Credit, which focuses intently on expanding metadata associated with music IP, has already garnered serious buy-in for its crediting solutions. Back in 2019, Blake Shelton and Warner Music Nashville tapped Waddell's behind-the-scenes venture on the track, "God's Country."
The mission was pretty simple: to give detailed credit to everyone involved in the process of bringing a song to life. As part of a broader credits-focused campaign spearheaded by the Recording Academy, Shelton gave an unusual shout-out on the track to more than two dozen contributors, including all the musicians, engineers, producers, and writers who made the song possible.
"The power of song is unbelievable, and this year, #GodsCountry has been just that for me," Shelton blasted on Instagram. "Honored to work with some incredible creators and friends on this one. Join me in celebrating and #GiveCredit to all those who work #BehindTheRecord. It's been a damn good year."
Shelton's participation was a watershed moment for Sound Credit. Suddenly, the industry could see that music crediting can be a simple process instead of a chaotic liability.
The credit capture also helped Sound Credit flex its support for the 'Recording Information Notification' (RIN) metadata standard. As part of the Shelton project, a detailed RIN file was fed back to Warner Music Nashville, and the data was subsequently distributed to major streaming platforms like Pandora.
"This was the first delivery from a credit platform to a major label representing the genesis for the music credits movement," Waddell told Digital Music News. Just recently, DMN joined forces with Sound Credit to further the crusade to improve music crediting — and get a lot more creators paid.
It's staggering how many people are often included in a song like "God's Country." But even more staggering is how many creators are often left out of the credits entirely. It's been estimated that roughly $1.4 billion in royalties lay unclaimed and unpaid every year. But those in the bowels of this problem freely admit that this is just a loose estimate. Missing royalties could easily be in the multi-billions annually throughout the world and across all music license types (performance, mechanical, and recording royalties, to name a few).
But why is the music industry so behind when it comes to simply paying creators what they are owed? A quick answer is that the music industry is overwhelmingly complex. But many industries are more complex than the music industry, yet far ahead in supply chain logistics and data management. "Other industries across the developed world solved their supply-chain data issues at the start of Web 2.0 in 2005. However, the music industry focus was on survival – with peer-to-peer sharing, the demise of CDs, and the closing of record stores," Waddell flatly observed.
That leads to what Jimi Hendrix might call "a frustrating mess," though it also spells opportunity for companies like Sound Credit.
Sound Credit seemingly emerged out of nowhere in 2017. That's when a simple workstation plug-in for capturing credits went viral, providing the urgent need for efficient and functional crediting at the point of production. Sound Credit notes that this was the 'most viral music software release in history,' with an eventual spread into production environments across more than 60 countries. Ultimately, the Memphis-based Sound Credit drew an investment round from the Revolution Fund. Soon thereafter, 60 Minutes featured the platform.
For Waddell, there was no going back after that explosive start. Part of the reason why an estimated $1.4 billion in royalties remain unpaid is that the industry lacks a simple standard for collecting metadata details. It's chaos, though the spread of the platform and the company's rapid product expansion give hope of a uniform standard.
These days, Sound Credit's version 4 contains more than 4 million lines of code and 30,000-plus active users. Perhaps more importantly, Sound Credit has consolidated the production management operations throughout Nashville. As a result, virtually every budget, session booking, and union form in Music City for the major labels and large indies are being performed by full-time Sound Credit staff. From this proving ground, Sound Credit is aiming to scale the services from its storied Tennessee music hub to the global industry.
"After almost 30 years in the industry, I think it's high time that credit tracking was streamlined," said Scott "Scojo" Johnson, a Nashville mainstay production manager who joined the team alongside Mike "Frog" Griffith, and Alyson McAnally. "I'm excited to join the team that is defining the future of recording credits in more user-friendly ways."
The product portfolio has also diversified to include a desktop app, an anywhere mobile app, plug-ins for virtually any DAW workstation, and even a physical kiosk that prompts contributors to enter their credits before entering the studio. The result is a rich network of metadata-capture points, all of which flow into a wider river of proper credits.
The platform also has a patent-pending data hub method allowing users to export to multiple formats after entering credits — including union forms, label copy, and lyric sheets.
Sound Credit's platform is also integrating a growing number of endpoints, including major music labels and publishers like the aforementioned Warner Music Nashville. Beyond that, Sound Credit's partner list also now includes metadata-dependent entities like PPL, with whom they partnered in 2019, to improve credits globally, as well as the Mechanical Licensing Collective (MLC).
"We are thrilled that Sound Credit has made it easier for users of their new app to create Bulk Upload Files that they can use to register their works with The MLC,"  said Kris Ahrend, CEO of The MLC. "This new functionality will make it easier for those users to register their works with The MLC, which, in turn, will ensure that we are paying them all the mechanical royalties they are owed for their works."
It's a growing music industry network powered by a more robust credits collection engine. All of which offers hope of a shrinking missing-royalty pile in the years ahead.
"Sound Credit 4 has a level of elegance that has never been seen for music credits and data, from design to features.  It represents a quantum leap that the executives of our industry must understand if music credits and data are important to their work," said Waddell.