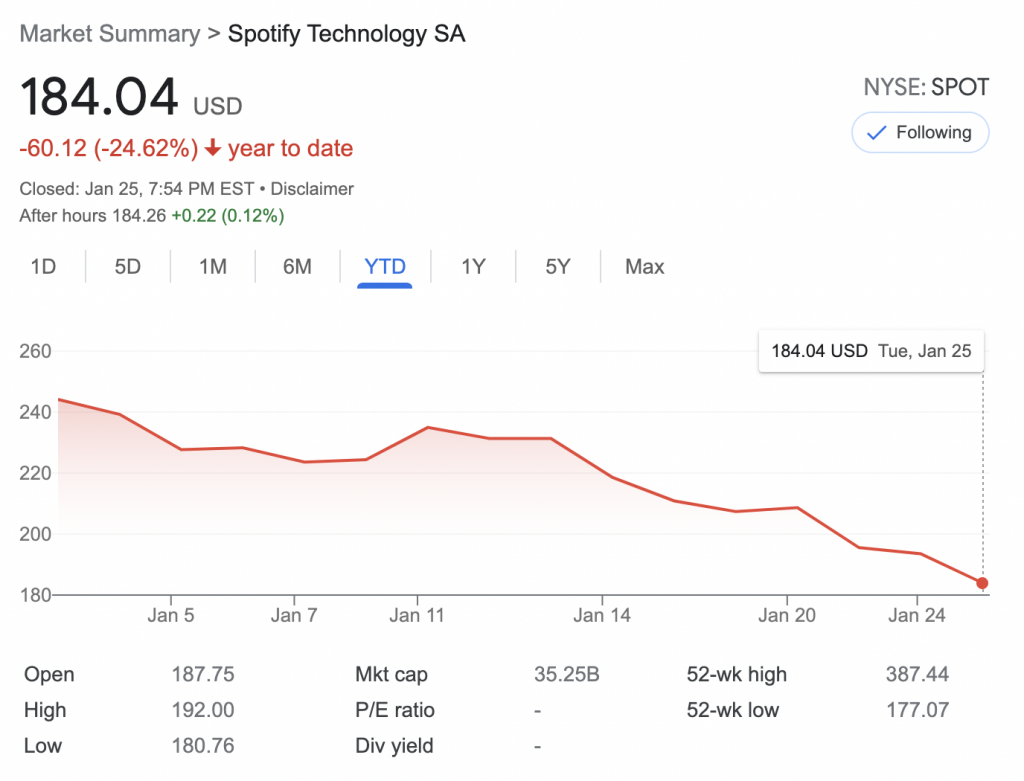 Spotify stock (NYSE: SPOT) dipped by nearly five percent during Tuesday's trading hours and has parted with almost one-quarter of its value since the start of 2022. All of which is prompting Wall Street — and previously high-flying stakeholders — to discuss the downturn's potential causes.
Having finished at $193.52 per share on Monday, Spotify stock was worth $184.04 per share when the market closed on Tuesday – a 4.92 percent decrease on the day, a 13.59 percent decline across the last five days, and a full 23.50 percent falloff over the past six months.
Furthermore, as mentioned at the outset, SPOT's present value represents a 24.62 percent slip since 2022's beginning, when the stock was worth north of $244 per share.
The broader slide is stunning: back in late January of 2021, SPOT was hovering around $337 a share. Since that point, SPOT has witnessed a $152 plunge, which translates into a 45% drop in just one year. Tuesday's price represents a modest 24.42 percent gain from the Stockholm-based company's 2018 public offering.
Of course, it's impossible to pinpoint the precise factors that are dragging SPOT down, but the movement arrives amid broader market corrections and a shift away from unprofitable and/or tech stocks.
The S&P 500 is down about 9.2 percent on the year, and pandemic darlings like Netflix (NASDAQ: NFLX) and Peloton (NASDAQ: PTON), which cracked all-time-high prices in late 2020 and 2021, have posted double-digit stock-price losses to this point in 2022. To be sure, NFLX is down approximately 39 percent/$231 since January 3rd, compared to a 25 percent/$9 decline for PTON during the same stretch. The latter stock had surged past the $165 mark heading into 2021.
Bringing the focus back to recent developments concerning Spotify specifically, a number of issues are emerging. After years of surging subscriber growth, the numbers are plateauing in wealthier nations like the US. Diversifications into arenas like podcasting also remain speculative: just recently, Spotify shut down its pioneering podcast studio – and laid off some of the division's 10 to 15 employees. Though the move appears inconsequential in the context of Spotify's multibillion-dollar bet on podcasts, it doesn't seem to spell confidence in the format.
And with the company set to detail its Q4 2021 revenue specifics eight days from now, on Wednesday, February 2nd, it'll be interesting to see how podcasts performed in terms of interactions as a percentage of Spotify MAUs.
Notwithstanding the addition of 300,000 podcasts during Q3 2021 (for a total of 3.2 million programs), Spotify only noted on the engagement front: "The percentage of MAUs that engaged with podcast content continued to increase throughout the quarter, marking an acceleration relative to Q2 trends." Said percentage remained flat at 25 percent from Q4 2020 into Q1 2021 and increased "modestly" between last year's first and second quarters.
The broader profitability picture remains problematic, though 2022 could be Spotify's turnaround year. Whether Wall Street responds to those improvements remains unclear, however, especially given massive macroeconomic headwinds like raging inflation, expected interest rate increases, and even broader political instability.
Meanwhile, some are speculating that Spotify could follow Netflix in raising its prices – a significant possibility because music streaming services feature similar song libraries and mainly cost the same in the States. Plus, Spotify's long-awaited HiFi support doesn't yet have a release date, company officials announced two weeks ago, despite the fact that Apple Music and Amazon Music unveiled the feature at no added cost last summer.