Twitch surpassed $1 billion in global consumer spending in 2021, breaking into the top ten best-earning apps.
App analytics firm App Annie reports that 2021 was an extraordinary year for Twitch. It moved up two places in their non-gaming apps by annual global consumer spend. In 2020, Twitch found itself in #11 place, just missing out on joining. Now the app has jumped two places and cracks the list at #9.
Twitch rose to prominence as a game streaming app, but over the last three years, it has branched out. Nearly every single category on Twitch that is non-gaming-related has grown thanks to the pandemic.
"The core components that make up Twitch – livestreaming, real-time interactions, and a powerful sense of community – have driven our success over the last decade. We pioneered live streaming first within the gaming community, building our expertise around creating immersive experiences, and now our content spans gaming, entertainment, sports, music, and more," says Doug Scott, Chief Marketing Officer for Twitch.
Consumer spending in Twitch is driven by in-app purchases tied to gifting content creators bits or subscribing to their channel. Bits are a virtual currency that gives viewers the ability to cheer a streamer and reward them monetarily. Of course, Twitch takes its cut of both bits and subs (monthly channel subscriptions). Content creators on the platform can exchange bits for money paid out to them.
App Annie reports that global consumer spending in the top 25 live streaming apps grew 57% YoY in 2021. Global time spent using live streaming apps grew 40% during the same period.
It shows just how important live streaming has become to the creator economy as a whole. The top markets leading lifetime spending on Twitch include the United States, the United Kingdom, Germany, Canada, France, Australia, South Korea, Italy, Mexico, and Spain.
North America alone accounts for around 35% of Twitch viewers, with plenty of streamers from across the globe. You can take a look at this infographic to see which 15 countries have the most Twitch viewers.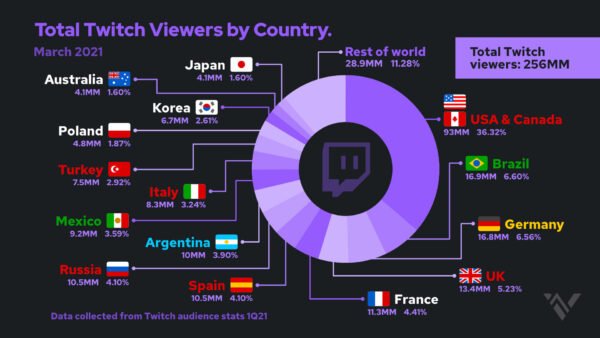 Which countries have the most Twitch viewers?
This infographic combines the United States and Canada, but omits Mexico as a separate country. 'North America' (minus Mexico) represents 35% of the Twitch market.
United States & Canada – 93 million
Brazil – 16.9 million
Germany – 16.8 million
United Kingdom – 13.4 million
France – 11.3 million
Spain – 10.5 million
Russia – 10.5 million
Argentina – 10 million
Mexico – 9.2 million
Italy – 8.3 million
Turkey – 7.5 million
South Korea – 6.7 million
Poland – 4.8 million
Australia – 4.1 million
Japan – 4.1 million