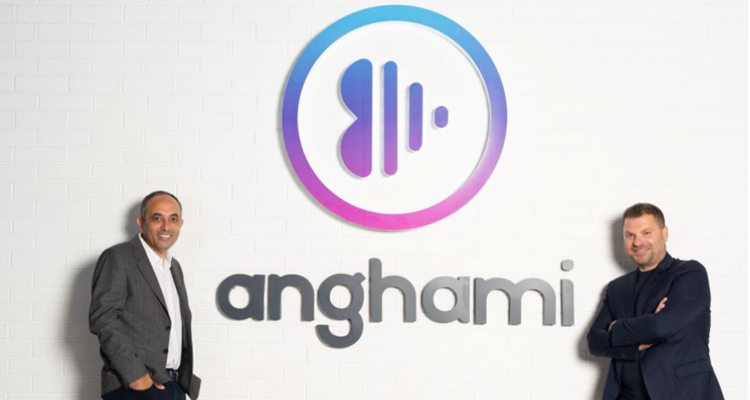 Nearly 12 months after announcing plans to debut on NASDAQ as part of a SPAC merger, Anghami, which says it's the most popular music streaming service in North Africa and the Middle East, has officially started trading on the public market.
Abu Dhabi-headquartered Anghami revealed the closure of its merger with Vistas Media Acquisition Company via a formal release, and the post-deal company's shares arrived on NASDAQ (as "ANGH," with warrants listed as "ANGHW") this morning. At the time of publishing – with about three hours until market close – ANGH was hovering just above $14, for a gain of more than 16 percent. Shares briefly surged to $17 apiece when the market opened.
Execs at 10-year-old Anghami acknowledged their company's stock-market debut in an additional release today, touting the platform's regional reach ("around 58% of the market share in the Middle East"), 72 million-track library, and 75 million registered users.
And in a statement, Anghami co-founder and co-CEO Eddy Maroun emphasized that his company will continue to prioritize the development of exclusive content moving forward – an important point as streaming giants like Spotify and Apple Music look to expand their own userbases in the region.
"We believe that our efforts to take a different approach and challenge the status quo in the streaming world present a great opportunity for fans not only in the region, but also for millions of people around the world who are trying to reconnect with their roots through music," Maroun said in part.
"As we embark on this new chapter, we remain as committed as ever to our goal of expanding the Arabic-language music repertoire through new initiatives and innovative concepts such as Anghami Originals, Anghami Labs, live concerts, live radio and branded content," finished the Anghami higher-up, whose platform's largest markets are Egypt (population 102.3 million), Saudi Arabia (34.81 million), and the United Arab Emirates (population 10 million).
Predictably, the major labels have taken noteworthy steps as of late to bolster their market presence in the Middle East's quick-growing music industry.
Most recently, Sony Music and Anghami in mid-December launched a "boutique record label" called Vibe Music Arabia – another reminder of the advantage that local streaming players have in terms of exclusive music.
April of 2021, for its part, brought with it the launch of Universal Arabic Music, and the newly minted division enlisted The Weeknd manager Wassim "Sal" Slaiby to serve as CEO. Moreover, Anghami had previously stated that Lebanon-born Slaiby had proven "instrumental" in his role as the streaming platform's international head of partnerships.
Meanwhile, Warner Music Group in early 2021 took a reportedly $200 million stake in billionaire Saudi businessman Al-Waleed bin Talal's Rotana Music, which bills itself as "the Arab world's leading independent record label."
Worth mentioning in conclusion is that the Saudi government possesses a substantial interest in Live Nation, and after hosting December performances from Justin Bieber, David Guetta, and others, the Middle Eastern state is planning a 600 percent increase in concerts this year.