Happy clients turned Play MPE executives Glenn Aure and Allan Benedict explain why you should use the preferred music promotion and discovery platform too.
The following comes from Play MPE, a proud and longtime and partner of Digital Music News.
In an increasingly competitive market, Play MPE is helping new music stand out by streamlining the process of music promotion, distribution, and discovery. Record labels, promoters, and artists can securely deliver professional release campaigns to top industry tastemakers spanning five continents and in multiple languages. The music tech company continues to update and evolve its promotion and discovery platform and its team.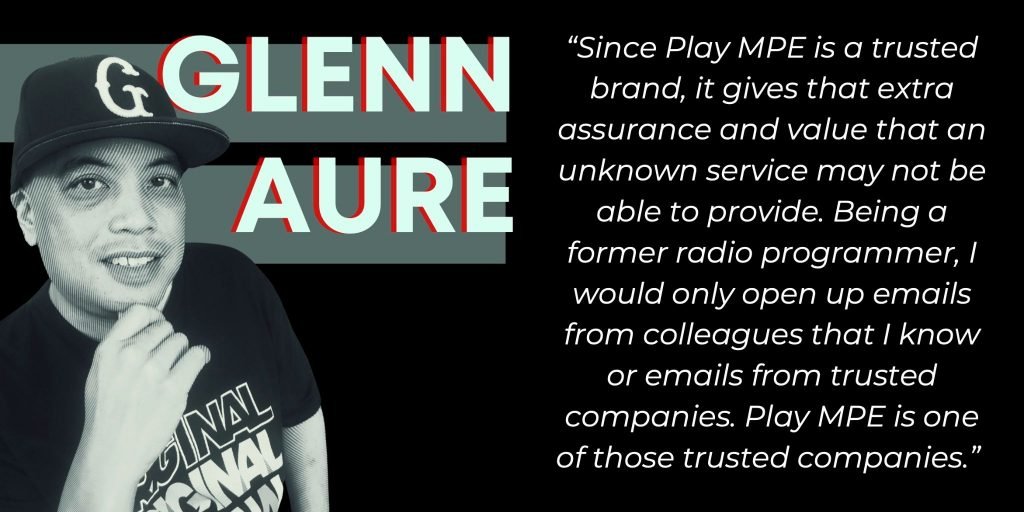 Play MPE Executive Glenn Aure has worked on both sides of the industry having an extensive background of over 30 years in both FM radio as a DJ, programmer, and music director for 106 KMEL Radio and in major label promotions for Capitol Records, Def Jam, Epic, and Republic Records.

"I'm a firm believer in letting skilled people do their jobs. Play MPE has been the gold standard in music delivery to radio over the years. Why wouldn't you want to use a product that is trusted and known by labels and radio? Let the experts do what they do best" says Aure.
Allan Benedict brings 12 years of experience in the music industry. He has worked in both FM radio for 88.7 WLUW-FM and Music Choice Indie & Alternative, and on the promotions side for The Syndicate and [PIAS]. He too gets both sides of the coin when it comes to promoting and discovering music.

"It's rare that a service is just as valuable to major labels as it is for small shops and independent artists. We have a reputation for being a source of new music for radio that's recognized across the industry. Promotion executives at major labels know that their releases are being delivered to a well-maintained list in a standard format that programmers are used to and expecting" Benedict explains.
So how does it all work?
The Play MPE platform was built specifically for the music industry and consists of two applications that work in tandem: Caster and Player. One to promote music securely and one to access and discover it.
What is Caster?
Play MPE's Caster application is on the music promotion side of the platform. Record labels, promoters, and artists create release campaigns which are then scheduled and distributed to their target markets. Play MPE is the most widely used music promotion and discovery platform in the world, and for good reason, it connects labels, promoters, and artists to verified industry professionals in radio, music supervision, media, curation (retail, restaurants, airlines), and more, in all music genres and formats, servicing 100+ countries.
No matter where you are based if you want airplay on country music stations in Australia for example, Play MPE has a distribution list for that. Caster is essentially a digital music promotion tool to get your release heard by the people that make decisions in the music industry.
Why use Caster to promote music?
Benedict offers: "Play MPE makes it a lot easier to get your music noticed by the right people in the right places. For an independent artist, there are so many variables to account for and so many things to figure out. I'm proud that Play MPE is a service that takes a bit of the guesswork out of music promotion and helps artists on their way. Plus, knowledge is power and our reporting analytics let you see who's interacting with your release and where, so you have an even greater chance for success."
What is Player?
Play MPE's Player is the music discovery application industry professionals use to access music promotion campaigns (distributed by Caster) instantly, even offline. It's a digital library that never expires, housing everything a tastemaker needs to do their job. There is no time wasted chasing after crucial metadata, broadcast-ready files, songwriter splits and publishing information, or searching for a random link in a flooded inbox. All the essentials are there at their fingertips. Oh and it's not just the latest releases from around the world, those well-loved catalog classics live in Player too!
So why should a tastemaker use Player?
Aure who has years of previous experience as a DJ, programmer, and music director says "In today's world, music is key in so many facets of our day-to-day life. From TikTok to YouTube, all the social media outlets, music is a heavy influence. Tastemakers who want to be ahead of the curve in finding those undiscovered musical gems definitely need to be a part of our reach."
Who and what is considered a tastemaker?
Radio programmers and program directors, music supervisors, members of the media, curators, music industry VIPS, influential bloggers, and more are all verified, and regularly updated by Play MPE's operations team.
What sets Play MPE apart from its competitors?
"Play MPE is the total package when it comes to getting music to the people that matter at radio. We have a dedicated list management team making sure that our recipients are active and our releases are getting to the right inboxes and an uber-talented development team that's constantly working to improve the experience for both the label and artist sending out music and the recipients on the other end receiving it. Especially on the recipient side, you'd be hard-pressed to find a solution similar to Player that has all of the music you're looking for in one place" says Benedict.
What makes it essential to the majors? How can it help Indies and Artists?
"For major labels, the ease and efficiency we provide is priceless. The ability for labels to reach out to us to facilitate a radio blast and then the trust they have in us to provide our service – it's a seamless operation that we have with the majors. With independent labels/artists, we can help in getting their music out to key radio recipients and tastemakers. Since Play MPE is a trusted brand, it gives that extra assurance and value that an unknown service may not be able to provide. Being a former radio programmer, I would only open up emails from colleagues that I know or emails from trusted companies. Play MPE is one of those trusted companies" Aure says.
Any advice for artists wanting to promote their music and maximize the potential of their marketing campaigns?
Aure offers a final bit of advice: "Promoting and marketing your music is a vital and necessary part of your journey as an artist. If you are committed to being an artist that puts out music, then you have to be committed to all the necessary steps it takes to be successful. You need to make sure your music is the best quality (mixed and mastered WAV files); have all of your promotional assets sorted (photo, bio, social media links, etc); are set up to distribute and sell your music on DSPs; have a timeline on how you want to roll your project out; ascertain whether you need to hire a promoter to work radio and other outlets. There are lots of moving parts that all come together as one machine to help propel your music to the next level. The music industry is a competitive field just like if you compared it to the sports industry. The same goes for both – work hard, stay committed, believe in yourself!"
Benedict shares: "My main advice for artists is always to know who you are, know where you want to be, and remember that as you put together a marketing plan. There are a ton of different ways you can go about working a release and hundreds of different groups of radio stations you can submit to. The key to getting noticed is figuring out where your potential listeners and fans will be and honing in on that target. Once you know where you want to go and where you fit in, you can use all of the data at your disposal to make it happen. There are so many services out there now that can give you insights across social media, radio, streaming, etc and that gives the artist a lot of power to be proactive with their release and not have to rely on getting signed or putting together a huge team to get started."