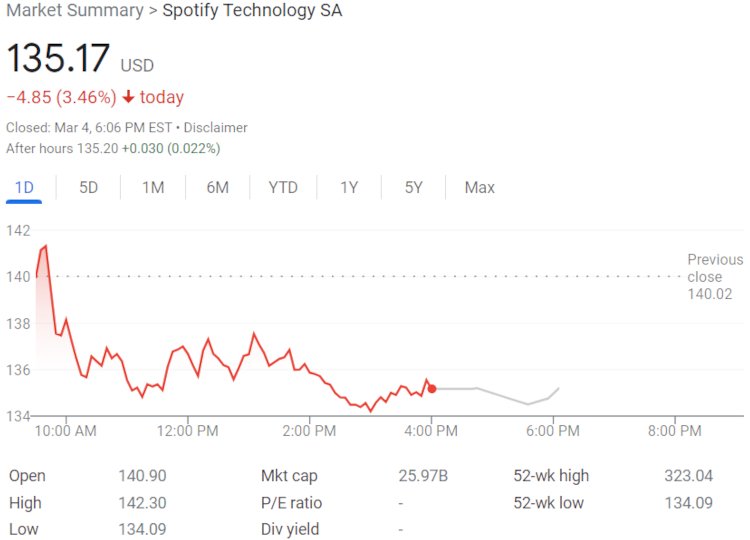 Spotify stock (NYSE: SPOT) parted with 3.46 percent of its value today and briefly touched a 52-week low of $134.09 per share. Now, many are speculating about SPOT's short-term path forward and long-term outlook.
When the market closed today, Spotify stock was worth $135.17 per share, having rebounded from the aforementioned 52-week low of $134.09 per share that came earlier in the afternoon. SPOT's day-end value reflects a 10.86 percent falloff from Monday morning, when shares were trading for about $152 apiece, as well as a more than 50 percent decrease from early March of 2021, when shares were hovering around $275 each.
Additionally, Spotify stock's current value is the lowest since the onset of the COVID-19 pandemic in March of 2020, when SPOT dropped into the low-$120s. (The stock then rebounded slightly in April of 2020 and, following the May of 2020 announcement that Spotify would become the exclusive home of The Joe Rogan Experience, embarked on an ascent that culminated in a nearly $365-per-share price in February of 2021.)
Regarding the possible reasons for the downturn of Spotify stock – and SPOT's path forward – Russia's invasion of Ukraine, inflation, and related concerns "will continue to dominate markets in the week ahead," according to financial professionals. The S&P 500 fell 1.3 percent this week, while NASDAQ lost 2.8 percent.
It's possible that the Ukraine conflict could also be contributing to SPOT's woes because of its impact particularly on Spotify operations. Spotify rolled out in Russia (as well as 12 other European nations) back in July of 2020, and higher-ups in Q3 2020 said that the launches had "unlocked significant pent-up demand…with Russia serving as the largest upside drive."
Markets including Russia had delivered "meaningful contributions" to total monthly active users (MAUs), Spotify disclosed in Q1 2021, and execs in Q3 2021 acknowledged their partnering "with Russia's largest all-digital bank" to offer fans free three-month trials.
But as Spotify has closed its Russia office and booted state-media outlets from the platform, it remains to be seen whether domestic subscribership goals will come to fruition in 2022's opening quarter. Moreover, the Russian government today blocked access to Twitter and Facebook nationally.
The points are important because Spotify in Q4 2021 forecasted 418 million MAUs and 183 million subscribers for the following quarter – with the latter total representing an increase of just three million. Of course, Russia and its more than 144 million residents factored into this modest subscribership estimate, which appeared to prompt many investors to sell SPOT.
To be sure, Spotify stock was worth over $200 per share at the start of February, and SPOT suffered a double-digit decline immediately after the Q4 2021 earnings report was published. Nevertheless, it bears highlighting in conclusion that several investors are extremely optimistic about SPOT's long-term potential.
And today, investment firm The Benchmark Company set a $260-per-share Spotify stock target value, estimating that the "current stock price implies just 250 million premium customers in 2030."