The Grammy Awards ratings for 2022 were marginally better than last year – the least-watched awards show ever.
According to Nielsen, the 64th annual Grammy Awards on Sunday drew an audience of 9.6 million viewers. That's an increase of around 130,000 viewers compared to last year, which set the all-time low for viewership of the Grammy Awards.
The numbers have sunk to an all-time low post-COVID. Part of the issue is that the awards show is only available on limited platforms. This year's show was only viewable on CBS, Paramount+, Hulu, and YouTube TV. Unless you have access to traditional cable or one of these streaming services – you probably weren't watching the Grammys. So how does that number stack up versus previous years? Here's a look at Nielsen's data on Grammy Awards viewership all the way back to 1988.
Grammy Awards Viewership Numbers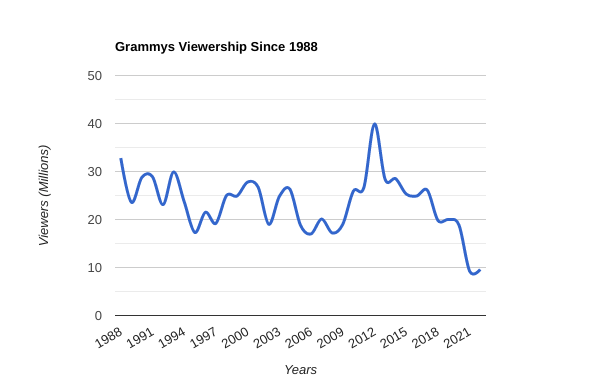 The chart above references Nielsen's viewership numbers for the Grammy Awards since 1988. Music's biggest night saw a sharp drop in viewership during the pandemic and it hasn't seen the recovery that the Oscars have. The Oscars grew 60% in total viewers and 77% among adults 18-49 – but much like the Grammys, its viewership was nowhere near pre-pandemic levels.
The Grammy Awards was broadcast on CBS and Paramount+, which limits viewership. Hulu Live TV and YouTube TV had the event (on CBS), but it seems as though awards shows just aren't attracting crowds the way they used to. Part of that may be a reflection on the scandals and voting issues that have plagued the awards show over the last few years.
While those in the music industry are likely to tune in to music's biggest night, actively seeking it out – the general public seems less and less interested. It will be interesting to see if the Recording Academy can turn that interest around. This year they partnered with Roblox to help generate interest among the younger crowd.