Kanye West pulled out of Coachella on April 4. Since that point, ticket prices on secondary markets have fallen precipitously.
General Admission tickets for Coachella started at $450 to $550 when they were available directly. As April drew closer, ticket prices on these markets for GA tickets reached upwards of $675 for a three-day pass. But on April 4, Kanye West announced he would not be headlining Coachella 2022. Following the news, Coachella ticket prices on secondary ticketing markets began to drop across the board.
Digital Music News received a tip from TickPick.com and started investigating prices in the lead-up to Coachella. A one-day GA ticket can be had for $390 on TickPick.com, which represents a 56% decrease in the ticket price from when Kanye was on the bill. Secondary tickets were going for upwards of $685 before April 4.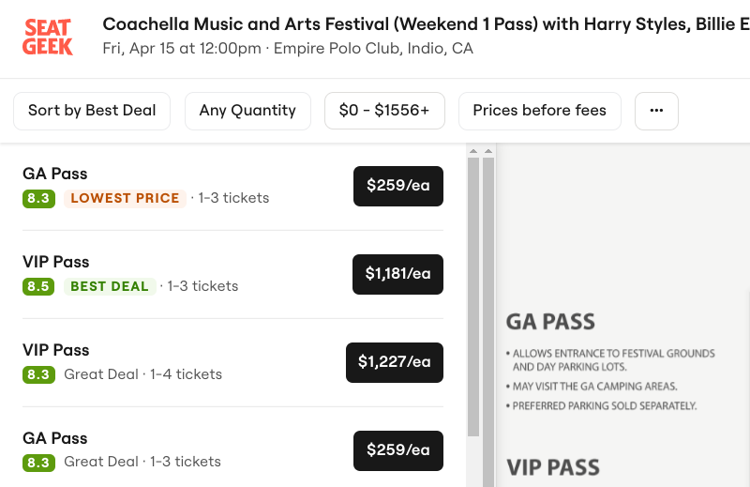 Coachella ticket prices aren't just down at TickPick, either. We checked prices at SeatGeek and StubHub, both wildly popular secondary ticket markets. Prices on StubHub saw a GA Coachella one-day pass start at $327, before taxes and fees. Over at SeatGeek, the ticket prices are even cheaper, with a one-day GA ticket starting at around $259 before taxes and fees.
There's also a rumor that The Weeknd demanded to be paid Kanye's salary, or he was pulling out too. According to a report from Page Six, The Weeknd refused to take the stage unless he was paid $8.5 million – what Coachella was offering Kanye for his performance. Goldenvoice confirmed it had struck a deal to keep The Weeknd as a headliner for the festival.
Other musicians who will be appearing at this year's live festival in the desert include Harry Styles, Megan Thee Stallion, Billie Eilish, Doja Cat, Swedish House Mafia, and Carly Rae Jepson. You can view the full line-up for Coachella 2022 here. The Coachella Valley Arts & Music Festival is kicking off this weekend, starting April 15 through 17. The festival's second weekend will kick off on April 24.