Part of managing a successful artist profile in 2022 means being aware of your presence online. Who is at the top of your favored genre? Chartmetric can tell you with its artist score and artist ranking tools. Let's take a look at how they work.
The following was created in collaboration with Chartmetric, a company DMN is proud to be partnered with.
Chartmetric collects music and artist-related data from multiple sources online. It helps musicians measure their followers, playlist includes, subscribers, fans, stream counts, and many more metrics that seem bite-sized but make up a whole picture of popularity. Many musicians use the data to see how they can expand their reach on streaming platforms like Spotify by increasing their playlist reach.
Chartmetric allows artists to research different playlists and curators to position themselves for placement. Sometimes the inclusion in a highly popular playlist (think Twitch streamer) can be the difference between make or break plays for a burgeoning artist. With so many different metrics and platforms to keep track of, Chartmetric wanted to give artists and their teams a straightforward way to understand an artist's overall performance across platforms. So, how do Chartmetric's Artist Score and Artist Rank tools work?
Every day, Chartmetric calculates the score for the top one million artists in its database. The analytics firm ranks each artist on whoever has the highest score that day. On May 3, 2022, Justin Bieber had a Chartmetric artist score
 of 585.28K, giving him a Chartmetric Artist Rank of #1.
Chartmetric Artist Score is an index based on 16 different streaming and social media platforms. It gives users a survey of artist popularity across the entire digital realm, not just the digital streaming providers (DSPs). The Chartmetric Overall Score is composed of a Fan base score and an Engagement score, which come together to provide a better view of an artist's long-term growth and short-term virality.
Fan Base scores represent long-term accumulated gains for an artist over their lifetime. Those metrics include Spotify followers, Instagram followers, etc. The Engagement score reflects an artist's current relevance and activity based on metrics with more immediate actions. Engagement metrics include YouTube channel views, playlist count difference, and Wikipedia page views, just to name a handful.
Artists with established success (Justin Bieber, Drake) will have a high Fan Base score, while artists with high viral popularity will feature a high Engagement score. Tracking how these scores fluctuate as artists drop new releases can provide an intimate insight into how the internet at large interacts with your music. It also gives artists a look at the many factors that contribute to a global digital artist ranking within Chartmetric.
Chartmetric Social & Streaming Stats
You can view trends over time and get a better understanding of how an artists' digital presence impacts their Artist Score. For example Chlöe's April 7, 2022, release "Treat Me" caused a 3x jump in her Chartmetric Artist Score. Her last release before that was September 2021's "Have Mercy," which gave her a 5x boost. What's important here isn't the number itself, but how the releases compare to each other.
As you can see, the "Have Mercy" release enjoyed a much longer "tail" of popularity that settled into a higher "normal" score in the 20-30K range, when before she was below 20K. While "Treat Me" gave her a nice spike in popularity, it seems like the resonance across her platforms didn't stick around as long, and she's settled back into a similar position. Comparing how both release campaigns went will be important when her team re-groups for the next track to market.
Chartmetric's Neighboring Artists section is a great way to keep an eye on what artists in your sphere are doing. You can follow multiple artists and even opt-in to a daily summary of their activity to see all changes that have been made within a specified time period. The customizable filters available on the Artist List are just one of the many reasons Chartmetric data is so valuable – you can hone in on the exact stats you want to see.
It's also a great way to find collaborators for a social media campaign, tour, or next studio session. By clicking on the "Filter by Genre Cluster" part of Neighboring Artists, we can look at Chlöe's similar artists across platforms, both in terms of stats and in terms of genre.
For example, by clicking on Instagram Followers, other similar artists around 5 million Instagram followers include Brandy, Gabi DeMartino, Janelle Monae, and Ylona Garcia. If Chlöe's team wants to grow her YouTube subscribers, they can click on that column and find similar sounding artists that also have roughly 550 thousand subscribers like Aloe Blacc, Benny Cristo, or G.R.L.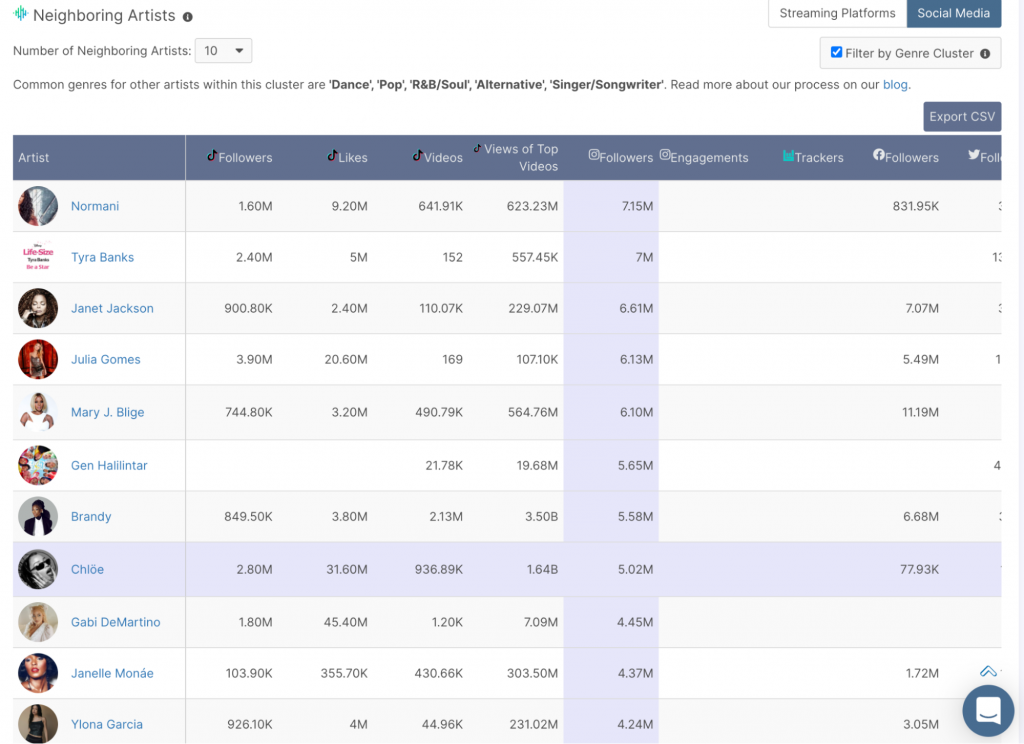 Chartmetric also provides context to what a particular score or rank means within the total artist population. Just one click of the Chartmetric Artist Rankings in the Artist Overview allows you to see what percentile an artist is in. Tracking this data over time can help you analyze the trajectory of your own career as you drop new music.