VEVA Collect is emerging as a premier collaborative platform for musicians worldwide—ensuring everyone involved in the recording process is synched up, properly credited and compensated. Here's a detailed look at the platform, and how musicians and artists can make the most of it.
Every music producer, songwriter, artist, or engineer has a need to effectively share, store, and protect tracks. But few platforms are tailored specifically for the complex details surrounding music collaboration.
Utilized by top Grammy-winning producers and engineers — with credits like Adele, Ariana Grande, Lady Gaga, Jay-Z and many more — VEVA Collect was created with one goal in mind: to set a new standard for how metadata and music production is handled during the collaborative process.
A product of US-based VEVA Sound, VEVA Collect aims to simplify and organize audio production for collaborators with control over session files, credits, and metadata. Just recently, VEVA joined forces with DMN to give artists a closer look at the platform.
Artists have increasingly been utilizing the platform's specialized features for project tracking, safe storage and sharing for files, and mixed and mastered versions — while collaborating in new and improved ways. Recently, VEVA Collect has seen an influx of artists seeking better file management and collaboration, for an accelerated and simplified workflow to track, share, and protect their work.
The feedback on this platform is worth noting. "VEVA Collect is incredible," enthused Willie Linton, sound engineer for Post Malone and Jufu. "I'm mixing an album right now and am running the entire project through this platform. Everything it does to keep my projects organized is invaluable."
Being touted as the world's first, secure, cloud-based file-sharing and credits platform built exclusively for the music industry, VEVA Collect's free account facilitates metadata and workflow management with 2GB of storage. Accurate metadata is at the center of VEVA Collect. To uphold this, Veva has partnered with Quansic for free ISNI registration for every VEVA Collect user.
For advanced features, artists can elect between paid tiers of Individual User, Pro, or Pro-Unlimited.
VEVA Collect users report a visually intuitive interface, layout, fast load times, and ease of navigation with tabbed menus. Here's a quick look at how VEVA Collect is organized, to help you better navigate and optimize your use of the platform.
A fuss-free dashboard mimics a 'virtual vault'. This dashboard holds everything creators need to manage a new project. Categorization is visually intuitive for enhanced engagement, placing all essentials at the forefront. Recently updated files, tracking favorites, projects and songs—all within a hyper-organized layout.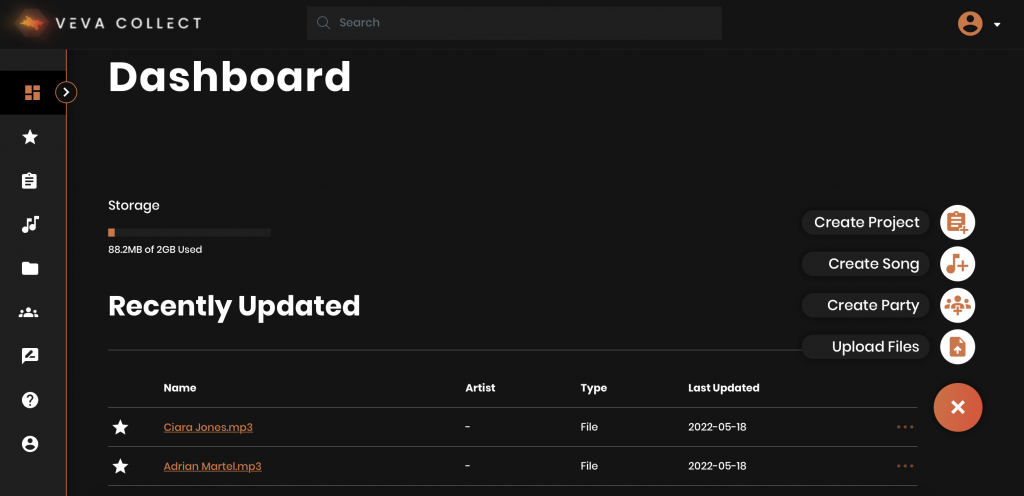 Easy-access side bar without superfluous menus. Easy-to-navigate tabbed menus guide simplified usage and streamlined focus on track workflow. The platform offers advanced organization of a large number of files — core to every single track produced by an artist.
The Favorites tab holds Files, Recordings, and Sessions. Drag-and-drop files to add, or browse your PC to upload multiple items simultaneously with fast load times and enhanced sorting options.

Create Projects for new songs. Allows tracking of all credits, songs and demos, as well as essential details like title, thumbnails, record label and artist. VEVA Collect also generates a unique project number for reference.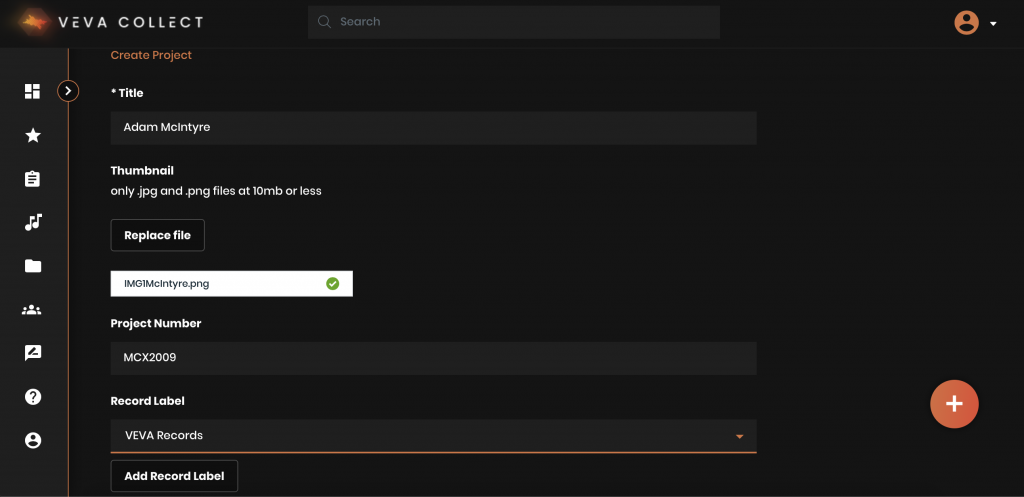 Song Tab streamlines the entry of critical metadata. ISWC, relevant titles, date of creation, and lyrics and all easily entered and managed. Users can also utilize the space for notes and descriptions to record directions for relevant collaborators.
Files tab for organized project management: Sort and process all multi-tracks, stems, mixes, files and notes—shareable via secure, customizable, tiered permission links.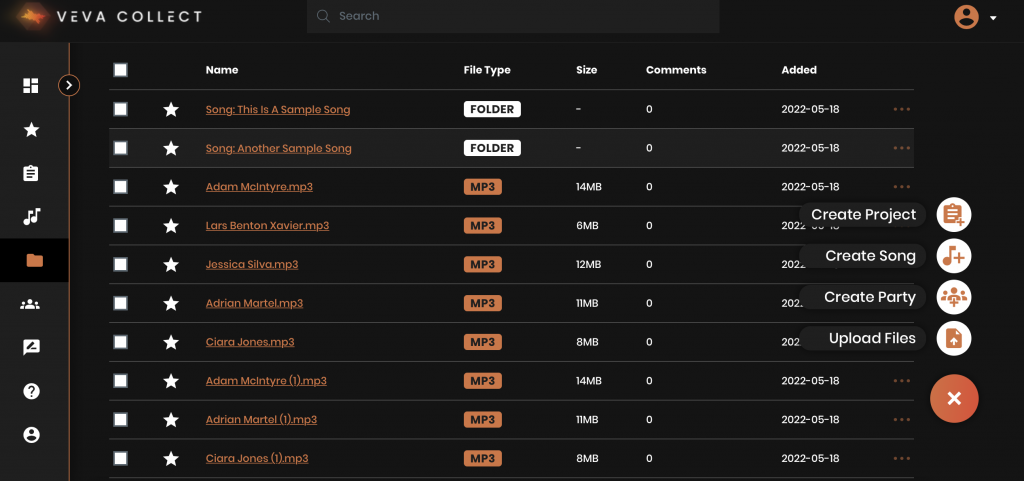 Parties Tab guides collaboration. Define collaborative parties with unique IPI/CAE, publisher details, PRO particulars, and all other affiliation information. The platform also allows sharing of files with select collaborators at specific times, with expirable links to limit access to parties at different stages of production.
VEVA Collect's strategy is to simplify the labor-intensive chores generated by complex music collaborations. The goal is to simplify collaboration with users all over the world by setting a sole online 'access point.'
Here's a look at a number of VEVA Collect features that distinguish the platform from more conventional storage and sharing options like Dropbox. These features are all geared towards musicians, producers, and other creatives.
NOT your standard 'Dropbox'. Standard Dropbox-style platforms remain file-centric and limited, while VEVA Collect is created specifically for the music industry's specific, extensive demands of file storage and sharing management, collaboration, and enhanced security. The platform allows musicians to control every aspect of a project from start to finish, and keep all unreleased and released projects at one reference point.
Non-compressed, Hi-Resolution files. Unlike files placed in a traditional Dropbox, artists' work files are not compressed, resulting in Hi-Resolution files ideal for mixing engineers and label use.
Pre-injected Metadata. Fields for lists of performers and other details are pre-injected into the platform to expedite metadata entry. Every single aspect of music production is collected at one access point — lyrics, photos, press releases, videos, and canvases — optimizing how artists have performed within the music industry for decades.
Heightened control of high-value files throughout the digital music supply chain. Everything users place on VEVA Collect is DDEX compatible. This offers the ability to build a virtual vault with all multi-tracks, stems, mixes, files and notes —shareable via secure customizable, tiered permission access. Password protection of links and the ability to set expiration dates allows control of who is working on what, when, and where.
Incorporation of advanced collaborative features. Artists can structure a warehouse for all files and relevant project details, and create a hub of assets to distribute to relevant collaborators later. This feature allows management of all stems and the ability to stop shares and un-send links at the click of a button. Since users can send files directly from VEVA Collect, they also exert greater control by tracking downloads.
Industry-leading security standards match banking-level security. Assets stored on the platform are worth millions of dollars, and require more than just 2-factor authentication. With that in mind, a multitude of privacy options and fool-proof security are tailored to suit the needs of leading artists around the world. The aim is to protect high-value projects and keep collaborations private.
All files are shared with AES-256 Encryption to ensure assets are safe until artists are ready to release productions. Users can also stop shares and resend links at the click of a button. By sending files directly from VEVA Collect, project managers can also maintain control by tracking downloads.
"Every product we bring to market is built with the highest standards of data security in mind," said VEVA Sound President Deborah Fairchild. "We are largely in the business of unreleased music, so security is a top priority in every product we build."
Full access to all platform features via the VEVA Collect app. With a full companion app boasting every feature available on the platform, VEVA Collect allows placement of all information in one place, in real time. Users can drop notes and files on-the-go, tackling audio, metadata, DAW and file storage within the palm of their hand.

VEVA Collect is also aiming to resolve the music industry's long-standing crisis of unpaid royalties.
Millions of dollars in unpaid royalties have always been the bane of the music industry's existence, and significant issues originate during the creation process. Multiple income streams require that creators and rights holders record and capture credits at the source, though this task is often overlooked. To ensure intellectual property is credited to the correct people, VEVA Collect's advanced credit metadata focuses on collecting data while creating tracks.
VEVA Collect's "Collect While You Create" feature could potentially revolutionize how every songwriter, musician, producer, and engineer is accurately credited for intellectual property — and be compensated for their efforts accordingly.
"This enables collaboration from a holistic view — not only are the files associated with a project kept in one place, but the who, when, and where of a project too," Deborah Fairchild continued. "This makes it easier for everyone to get credit and, more importantly, to get paid."
Since VEVA Collect's launch in 2021, major producers, artists and studios have made use of the platform's advanced features for exporting metadata directly into systems using the DDEX RIN standard (they also have the ability to select custom exports with Pro). Now, there's also an influx of indie and DIY artists using the platform to elevate production and collaboration details, while ensuring they receive downstream credits and payments.
While that won't fix the industry's metadata issues overnight, it's certainly a step in the right direction.