Music supervisors are now using high-powered AI ammo to cut through the noise and hit the soundtrack bullseye—quickly. Enter hyprAUDIO, which is aiming to scale its AI-sync search technology to become the 'Expedia of sync'.
Sync music licensing doesn't come easy. Brands are willing to pay big bucks for the right song, but despite the hype of 'sync licensing industry progress,' finding that perfect track remains an imperfect, time-consuming process.
Music supervisors have their work cut out for them. High standards and specific requirements trigger high expectations of finding that ideal song — but prospective licensees fall headfirst into unexpected quicksand: a massive overload of content.
Libraries and catalogs with millions of tracks represent the tragedy of search for music supervisors.
Discovery of that 'perfect song' cannibalizes expensive resources, and narrow funnels aren't doing producers any favors. With that in mind, hyprAUDIO threw AI at the problem.
Launched on May 4th, hyperAUDIO instantly claimed the spotlight in sync licensing — aiming to redefine the search process for music supervisors with a primed, searchable database.
hyprAUDIO is a sync-specific search engine that can sift through hundreds of thousands of tracks by tapping into the power of AI. Even better, searches can be triggered by using example audio clips instead of descriptive terms. That's something music supervisors are already doing in their sync briefs, instead of using more cumbersome descriptive terms.  hyprAUDIO's AI is ammo that's tailored to fit and simplify music supervisor needs, cutting cost and effort.
The business model also fills a vital need: facilitating the process of sync music licensing from start to finish. The platform is also free for both sides of the licensing equation: artists, writers, and publishers on one side, as well as music supervisors on the other.
hyprAUDIO is a product of Songistry Inc., a company founded by Internationally acclaimed songwriter and music producer Justin Gray (John Legend, Mariah Carey, Joss Stone). Songistry recently secured $5 million in funding.
With hyprAUDIO, Gray wants to revolutionize sync licensing by optimizing how music supervisors and producers (across movies, advertising, gaming, and YouTube) manage their productions. Earlier this year, Songistry joined forces with Digital Music News to broaden awareness of hyprAUDIO's AI-powered search innovation and expand the marketplace for composers and songwriters.
Perhaps the best innovation from hyprAUDIO is the previously-mentioned audio-based search capability, which strips out search bias entirely. By simply dropping an MP3, YouTube, or Soundcloud link and using 'sounds-like' matching, supervisors can cut through the noise and hit the music content match bullseye—quickly.
"You can widdle down from thousands of songs, to hundreds of songs, to hidden gold — in seconds," said Gray, while discussing the vision behind the extension of Songistry's MDIIO.com into hyprAUDIO. Creators can host their best soundtracks on sister platform MDIIO.com, and hyprAUDIO pushes these tracks into an AI-powered, precisely searchable database for licensing to music supervisors.
"Our main objective is connecting great music with those looking to license that music," said Ryan Maule, VP of Strategy and Operations at Songistry.

Enhanced metadata-powered search capabilities are another ingredient in hyprAUDIO's secret sauce.
More than 200 points of granular metadata hold in-depth structured information on soundtracks. hyprAUDIO has elevated matching capabilities, providing the ability to instantly skim through massive catalogs and libraries of licensable one-stop tracks.
According to hyprAUDIO, metadata-powered AI allows targeted access to exclusively relevant music. AI tags sift through hundreds of thousands of tracks definitively categorized for pain-free search—completely eliminating human bias.
These complex and highly-accurate metadata breakdowns aren't the only prize to be won with hyprAUDIO. The company is also aiming for an unbeatable competitive advantage via a finessed interface that's tailored to facilitate ease of search, selection, and ensure security of information for all stakeholders.
Here's another look at the search process involving a YouTube link. After matches are delivered, hyprAUDIO then shuttles matches to the next stage: licensing negotiations.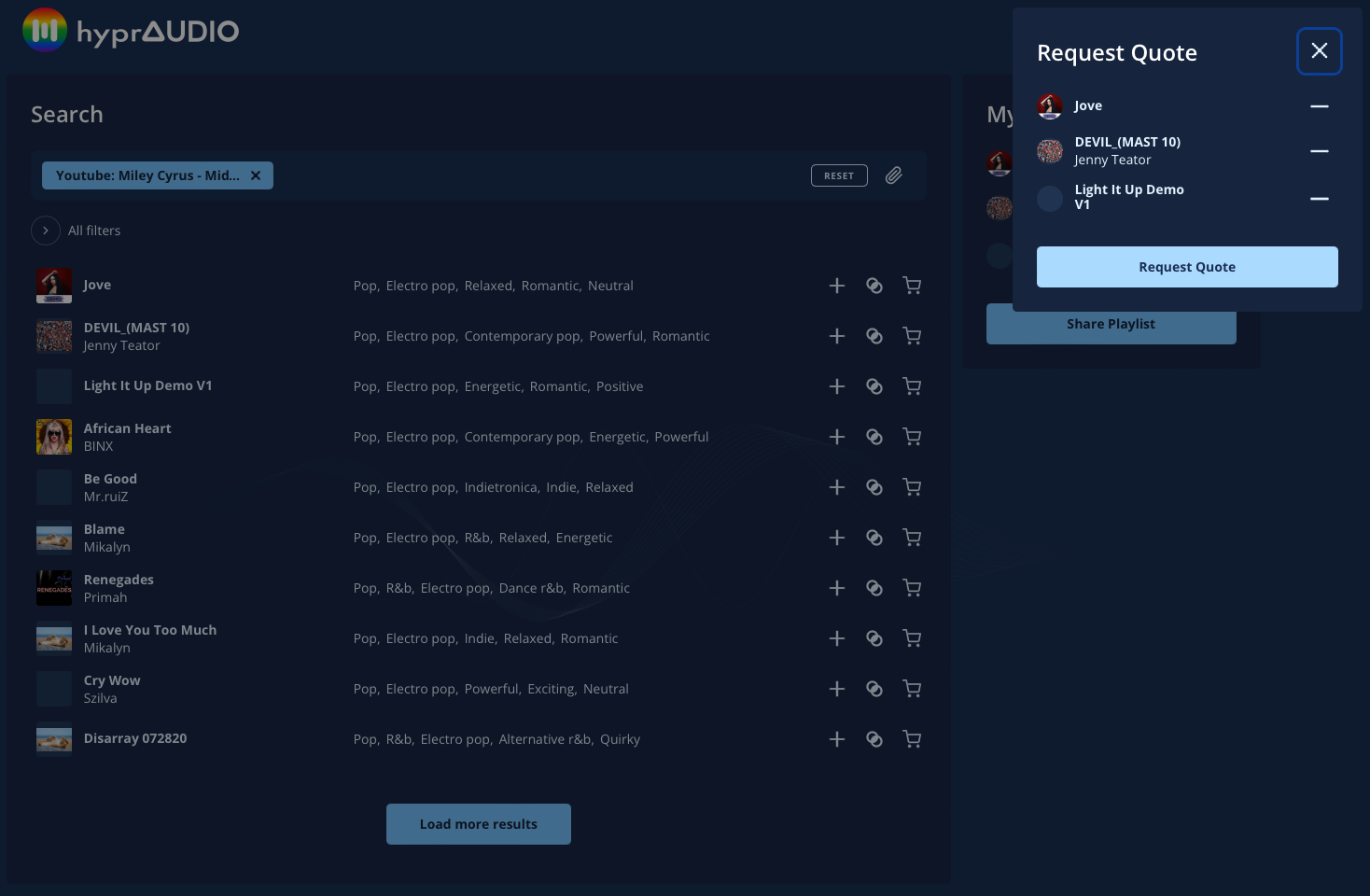 AI is empowering the process from initial search and discovery, to licensing, to collaboration, to final production.
hyprAUDIO has surfaced as an advanced licensing facilitator with a broader aim to expedite costly workflows. The platform aims to deliver a music search engine experience that simplifies complex production workflows. And the overarching process is simple: 'mine your gold' effortlessly from hundreds of thousands of tracks, request a license quote from hyprAUDIO, then move on with the production.
Looking ahead, hyprAUDIO is aiming to scale from thousands of tracks to millions–all within the next 6 months, with its eye on 120+ countries. This goal towards massive scalability — which Songistry calls 'the Expedia of sync' — could substantially broaden sync opportunities for content creators.
"This is all non-exclusive, it's not a contained library so you don't have to go to multiple sites to find what you are looking for," Maule continued.
Higher sync revenue for music creators is also a major component of this model.
Unlike the industry standard of 50% charged to creators, hyprAUDIO charges a 20% success fee for music placements—putting more in creators' pockets. This could draw a greater talent pool, and result in higher-quality creative tracks for better, quicker matches.
Following their initial launch, the hyprAUDIO team is now focused on realizing their  'Expedia of sync' music licensing vision: aggregation of multiple catalogs, bigger and highly-targeted databases, and the opportunity for continued partnerships to facilitate future projects—all with extremely accurate and fast results for music supervisors.