We celebrate the 4th July Independence Day with a massive 75% discount on the industry- first Lifetime plans from pCloud. Saving more than $700 on the go until July 6th easily.
The following article comes from pCloud, a proud partner of DMN.
Over the last few years, as a professional Swiss cloud storage solution, pCloud, has risen to the top 3 cloud services, gaining widespread popularity, being trusted by more than 16 million users! We demonstrated very high affinity for musicians and artists. Keeping promises is important, especially if forming company loyalty towards customers.
Such growth over the course of a very short period is explained by a revolutionary business model with unbelievable simplicity: "Let's give our users what they need". It seems to be working perfectly so far.
Among service values, pCloud appreciates the privacy of users, providing cutting- edge unbreakable encryption and overall robust security.
We take pride in the fact that we believe, that with pCloud, you can access and share your files anywhere you go, anytime, from any device with an effortless execution in the most secure way possible.
Artists adapt to new ways of boosting their craft and pCloud is always there, striving to live up to their highest standards. This is why tech authorities consider pCloud the best cloud of 2022, towering above others.
With complete autonomy over data and privacy, artist can safely produce and share their music in the most convenient ways possible to this day.
Not only can you forget about losing your projects, but pCloud also enhances the entire process of collaborating with other artists, or simply enjoying your music libraries with cross- functioning services.
For just $245, you can save more than $700 and get 2TB of storage for a LIFETIME, without any recurring payments.
We mentioned keeping promises. Many of our users are so happy with their Lifetime plans, that we received an increasing wave of requests to have the option to upgrade to more Lifetime storage. Because of this, we officially give the option to upgrade up to 10TB for just $990, by saving $4000!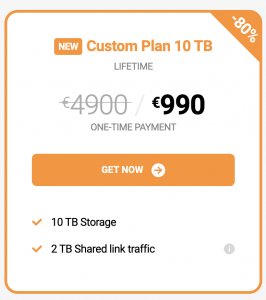 Below are the top pCloud features, with many more to come very soon:
Desktop- Virtual drive
File sharing
Branded links
Unlimited speed (Comparison between pCloud and Dropbox)
LIFETIME ACCESS (pay only ONCE and get set for LIFE!)
Audio album sorting
Access across devices
Share link customization
Real-time backup update
Unbreakable encryption
Sync locally stored folders with the cloud
Use with your DAW and on every OS and device
Native audio player for demo sharing and listening
You can always try pCloud for free with 500GB and consider upgrading in the future.
Music creation is a very specific craft. We want to make sure musicians focus entirely on their creative process, without being concerned about technical tools and lack of collaborative methods. We are here to stay and we kindly invite all to elevate their career with pCloud.
Only the sky is the limit.