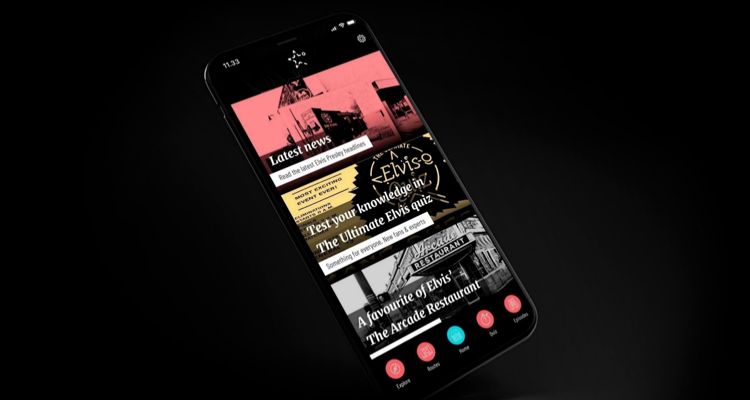 The new Follow Elvis app offers an in-depth look at this legendary Rock N' Roller's life. Can't get enough Elvis? There's an app for that.
The new Baz Luhrmann ELVIS biopic has re-ignited an interest in the King of Rock & Roll. This app aims to highlight the untold story of the King, where he came from, the influence Memphis had on his music, and more. The developers bill it as the "ultimate immersive fan experience that curates written articles, audio design, and video footage showcasing the compelling story of Elvis."
The Follow Elvis app includes an exclusive guide to Elvis' life and times spent in Memphis, Tennessee. "We've read all the books, watched all the films, and listened to the music over and over," adds the team behind the app. "But we want to go deeper and give his millions of fans around the world the change to get a close-up of The King."
The guide includes more than 800 pages of brand new, thoroughly researched articles revealing previously unpublished facts about Elvis. The team spent more than 20,000 hours on countless research trips to Memphis to collect the best stories, film 200 locations around the city, and create a unique audioscape experience for the app.
Some of the Follow Elvis app highlights include:
200+ episodes of 5-15 minutes on key locations in Memphis linked to Elvis. Each episode contains new footage, stills, and a voiceover for the ultimate experience.
Select your own itinerary on a route following the footsteps of Elvis in video, audio, and text for 200+ locations in and around Memphis.
More than 800 pages of brand new, thoroughly-research articles revealing facts about Elvis.
36 hours of stories presenting new sides of rock & roll legend Elvis Presley's life in Memphis.
The ultimate Elvis quiz for fans to test their knowledge on the life of the King of Rock & Roll.
The app highlights some of Elvis' favorite restaurants in the city, including having his own back room at The Delta Room. The app is available in the App Store and Google Play. The full experience costs $24.99, while individual sites can be bought for $0.99. Don't have time for a full tour of the city? Pick and choose the locations you visit.