Who is the highest-grossing touring artist of 2022 so far? The answer may surprise you. 
In the first half of 2022, the music industry heard loud and clear that fans — particularly in North America — are ready to get out and see live music again. The box-office figures reported to Pollstar for the year's first two quarters show strong demand for live entertainment, and fans are willing to pay a pretty penny for it, too.
The average number of tickets sold, average ticket price, and average gross all showed solid upward movement this year in all 100 of the top North American tours compared with 2019 — the last full year of live activity before the COVID-19 pandemic.
Gross averages in the year's first half show an average box-office gain of $856,206 per show, a 24.4% increase over 2019's midyear gross average of $688,535. This is partly due to the rise in the average ticket price — $108.20 compared to 2019's average price of $91.86 — a difference of 17.8%.
So who is the highest grossing touring artist in 2022 so far? Latin superstar Bad Bunny has dominated the touring circuit in 2022 for worldwide and North American tours.
Phil Collins, Tony Banks, and Mike Rutherford's final run with Genesis for their The Last Domino? Tour came in second globally with $72 million, with Elton John in a close third place at $70 million for his Farewell Yellow Brick Road tour. Others in the top ten include The Eagles' ongoing Hotel California tour, which continues to perform well at $44 million for a solid seventh place.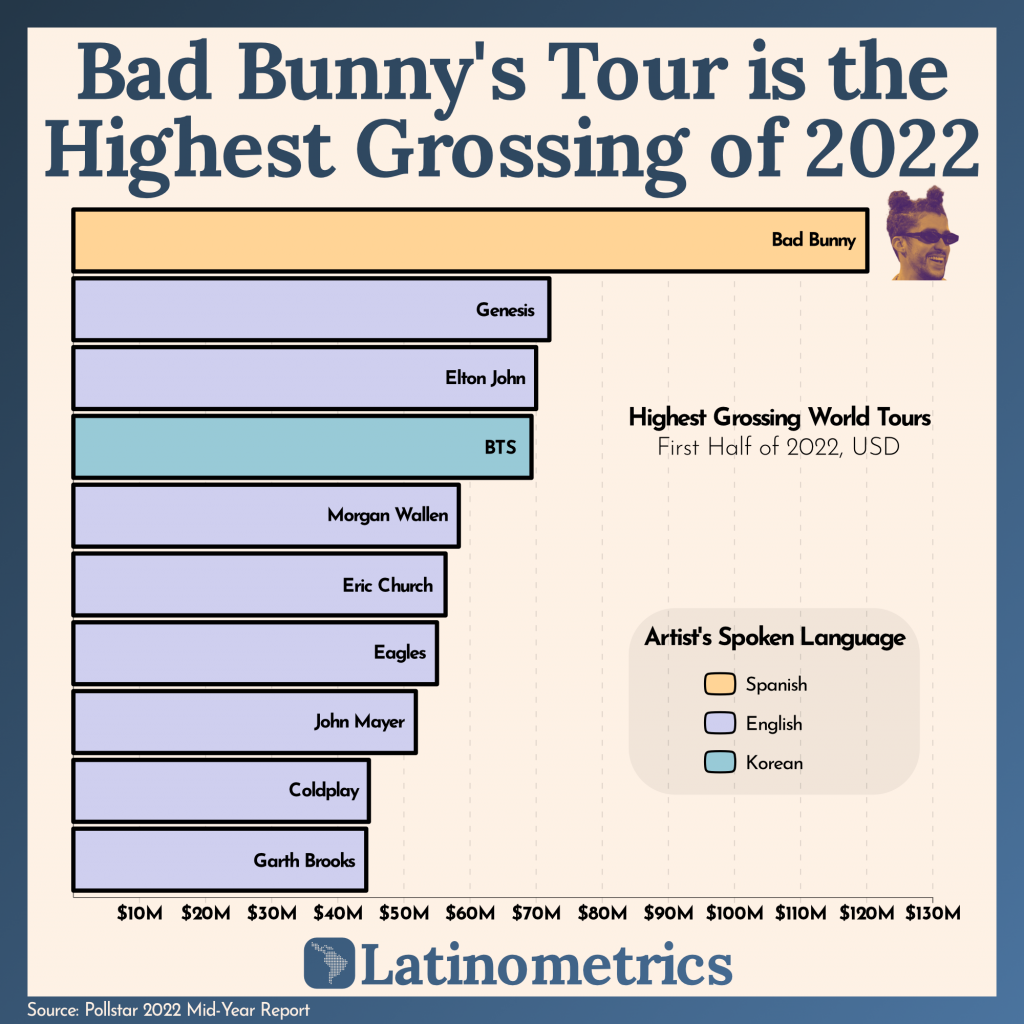 Pollstar's midyear lists cover concert grosses from November 18, 2021, to May 18, 2022. This gorgeous graph was compiled by Latinometrics.
Top 10 Pollstar 2022 Worldwide Tours (Midyear)
Bad Bunny – $120.1 million

Genesis – $72 million

Elton John – $70 million

BTS – $69.3 million

Morgan Wallen – $58.3 million

Eric Church – $56.3 million

The Eagles – $55 million

John Mayer – $51.8 million

Coldplay – $44.7 million

Garth Brooks – $44.3 million
Elton John comes in in North American tours at number two behind the incomparable Bad Bunny. The Eagles and Genesis also make the top ten in North America, as do BTS, Morgan Wallen, Garth Brooks, Eric Church, and John Mayer.
Top 10 Pollstar North American Tours 2022 (Midyear)
Bad Bunny – $120.1 million

Elton John – $70 million

BTS – $69.3 million

Morgan Wallen – $58.3 million

Eric Church – $56.3 million

The Eagles – $55 million

John Mayer – $51.8 million

Genesis – $46.5 million

Garth Brooks – $44.3 million

Dua Lipa – $40.1 million