Sound Legends wants to empower independent artists from around the world to access the global music market — across 195 countries and 300+ streaming platforms.
In a quiet bow over the summer, a new player entered the crowded field of digital music distribution with a globally-focused model. The concept is slightly different than the incumbent class: instead of focusing exclusively on higher-tier markets like North America and Western Europe, Sound Legends wants to 'empower deserving, talented artists in all parts of the world,' which includes tailoring price points to meet global affordability levels.
Sound Legends' global outlook is their self-touted unbeatable competitive advantage. While music distribution is arguably a mature space, Sound Legends believes that existing digital distributors remain focused on markets such as the US, owing to the higher monthly fee first-world artists are capable of paying (and receiving).
"We understand that $6.99 a month for US-based artists is modest, but that is what an artist in another part of the world would earn in a week — if that," explained Sound Legends CEO and cofounder Alex Malagon. "So we're sensitive to that."
According to Malagon, Sound Legends is the 'entry point for international artists' while fueling continued growth in markets like Latin America. It's all part of a model that caters to 195 different countries and aims to create powerhouse enterprises in many of them. Just recently, DMN joined forces with Sound Legends to expand the more accessible pricing approach and get more global artists into an affordable distribution partnership.
With the platform up and running on out-of-pocket seed funding, Sound Legends is now raising outside capital. The company just kicked off its Reg CF offering at a valuation of $32 million.
Regulation CF, or 'Reg CF,' is a relatively new equity crowdfunding instrument, thanks to recently-relaxed investor regulations in the US. Prior to 2016, investments of this nature were generally restricted to wealthier, accredited investors or were saddled with large levels of compliance requirements.
The capital raise will be used to fuel Sound Legends' marketing and sales initiatives and improve its UX. Malagon noted how Latin America is the fastest growing market in the world and an initial focus area for Sound Legends. "There are lots of amazing artists coming out of Latin America, particularly Colombia, Brazil, Puerto Rico, and Mexico," Malagon relayed.
"These crossover acts are dominating and reshaping the entire musical landscape domestically and beyond. This is why our core emphasis has been on independent emerging artists from these nations. Sound Legend's geo-targeted outreach efforts are paying off by adding thousands of daily users from the most sought-after markets".
Beyond traditional distribution services, Malagon has also created a broader suite of artist services. These span copyrighting, song licensing, publishing administration, A&R consulting, and legal, marketing, and PR-related services. That sounds more like the broad support offered by a label, which is exactly the intent.
There are also discussions surrounding a model that offers international Sound Legends franchises.
Malagon called this the company's '195 country license model,' with a focus on country-specific franchisees. "This revenue model empowers the boots on the ground by focusing on the people who know their own market better than anyone," Malagon explained.
"If someone from Colombia wants to have their very own Sound Legends Colombia franchise, branded with and representing their country's featured artist, they simply purchase the licensing rights for that country. In turn they will earn 50% of all revenue proceeds that come through said country while benefiting from the vast marketing machine already happening in domestic markets and beyond".
Underneath every country-specific entity is a common distribution platform suite. Sound Legends executives call the platform the 'one-stop shop for artists and producers.'
Even in a perfect world, artists have limited tech awareness. When it comes to copyright legalities, the knowledgebase is even worse, which is a situation Sound Legends wants to improve. Malagon noted, "They [artists] don't have to figure out copyright; they don't have to license. Sound Legends has the tech to take a song worldwide in a minute."
Sound Legends' PR executive Dindy Yokel also addressed this 'skill limitation' by adding, "For artists, learning how to create and drop NFTs, obtain massive social media and traditional media exposure requires several new sets of skills that take away from their expertise, which is creating music."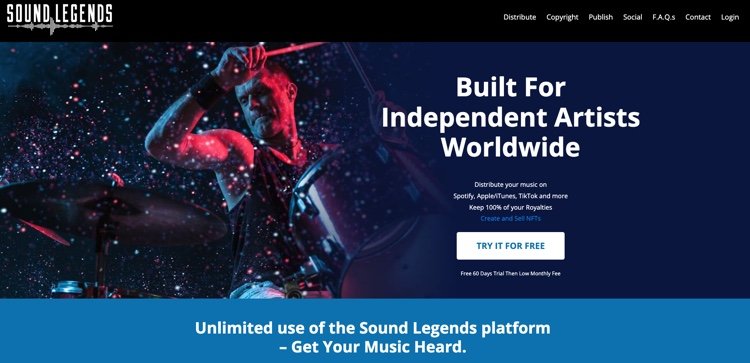 Sound Legends' unique tiered payment plan is likely to get more artists on board. The approach 'empowers deserving, talented artists in other parts of the world,' and puts action against the often-empty 'equity' platitude.
Subscription tiers prioritize music distribution and track acquisition, reflecting the company goal of 'speaking to the hearts of artists.' Depending on their country of residence, artists pay different subscription rates. The company calls these graduated rates for distribution' 1st-world, 2nd-world, and 3rd-world' tiers.
The highest tier (Tier I, applying to the US and Western Europe) is $6.99 per month, followed by Tier II (for Eastern Europe and Asia) is $3.99 per month, and Tier III (for developing countries) is $1.99 per month.
According to Sound Legends, this nominal monthly fee 'gives artists outside the US an opportunity to be heard.' All of these monthly subscriptions offer artists access to Sound Legends' complete services and global distribution platform.
Discussing this unique tiered payment plan, Malagon said, "It comes from the fact that we are a global company." But the company also offers a considerable amount of services for free, at least in the trial stages. At Sound Legends, independent artists can create an account for free, get unlimited uploads, and test-drive the platform for 60 days before paying.
This free account allows artists to discover the platform's full breadth and gain insights into full distribution analytics and copyright administration services. Artists follow a simplified process of setting up an account, uploading tracks, and copyrighting their music to appear on more than 300 channels worldwide.
Malagon also pointed to comprehensive and broad distribution worldwide. Sound Legends promises access to '300 DSPs—double the amount of other music distribution platforms for publishing music.' Throughout, Malagon noted that Sound Legend's primary focus is to ensure all content is copyrighted correctly.
But the highlight of the platform could be the single annual fee, with the ability to keep 100% of music royalties.
That is arguably the most competitive pricing plan available, with Distrokid originally pushing rivals like Tunecore into all-you-can-eat pricing offers. Similarly, Sound Legends wants artists to 'get every dollar you deserve for your life's work,' combining all of Sound Legends' features into an independent artist domain.
Other perks are competitive and worth noting. That includes real-time visibility stats and sales information, with tabs on earnings and royalties. By centralizing analytics on a member dashboard, artists can keep an eye on their performance across different platforms.
Artists can also tackle digital assets by using the on-platform NFT marketplace. The company allows independent artists to drop, manage and sell NFTs. The platform's NFT marketplace is equipped with the required necessities, along with a free crypto wallet.
Yokel explained how these features, along with the company's global focus, elevate the game for licensees and artists alike. "If you create a platform that is open to almost every country in the world, you're going to find musicians that you wouldn't otherwise discover."