Short-form content for music promotion is the thing right now. Lots of artists have gone viral on TikTok, like JVKE, SALES, Lil Nas X, Gayle, and so many others. But there are also tons of artists not going viral who are quickly building a following thanks to short-form content.
And the best way to do this is to recycle content across platforms. You'll notice the successful content creators do this, and indie musicians need to take notes.
What Platforms To Post On
The platforms that have mastered the short video format are TikTok, Instagram Reels, and YouTube Shorts. They've discovered a way to feed your content to strangers as well as provide an enjoyable experience for said strangers (consumers).
So these are the three places to be posting (and recycling) your short-form content. Will this always be the case? Most likely not. How musicians share their music, and the internet in general, changes so much, sometimes rapidly. But for the foreseeable future, sharing short videos on these platforms is the best way to promote your music.
Why You Should Recycle Content for Music Promotion
Instead of making content specific to each of these three platforms, I'd suggest making content that can work on all three. It's more efficient to make one short video that you can post on Shorts, TikTok, and Reels.
Consumers on all three platforms seem to enjoy the same type of content, and not everyone uses all three platforms. I only have anecdotal evidence for that statement, but logic would tell us that it's true.
If every person who used one of these three platforms also used the other two, all three platforms would have the same exact number of users, and they don't. This means that many Instagram Reel users won't realize your Reels are just yesterday's TikToks. Just because someone only uses Reels doesn't mean they should miss out on your great TikTok content.
So recycling your content gives you more reach for less work. You make a good piece of content and use it to reach new fans on three separate platforms instead of just one. Plus, you're not doing three times the work by making three separate pieces of content.
My Experience on TikTok, Reels, and Shorts
In addition to posting consistently on TikTok this year, I started posting YouTube Shorts and Instagram Reels at the end of September 2022.
And can I just say…wow. Already a huge benefit for me.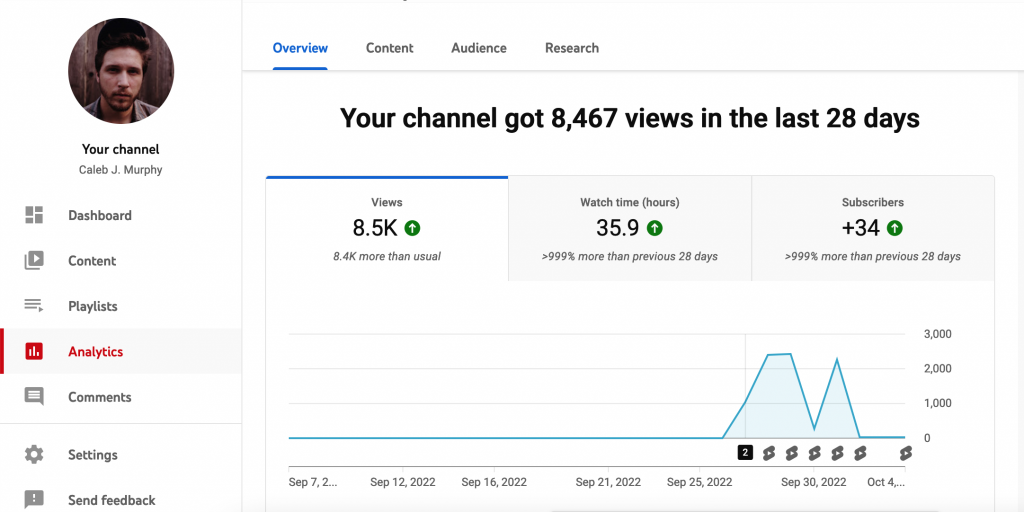 For example, on YouTube I've had roughly a 1,000% increase in watch time, subscriber growth, and views.
Before posting shorts, I was getting 20-60 views per video. Now, some of my recent Shorts have gotten over 2,000 views.
I have similar numbers with Instagram Reels, going from a few hundreds views per video to between 2k and 8k per video.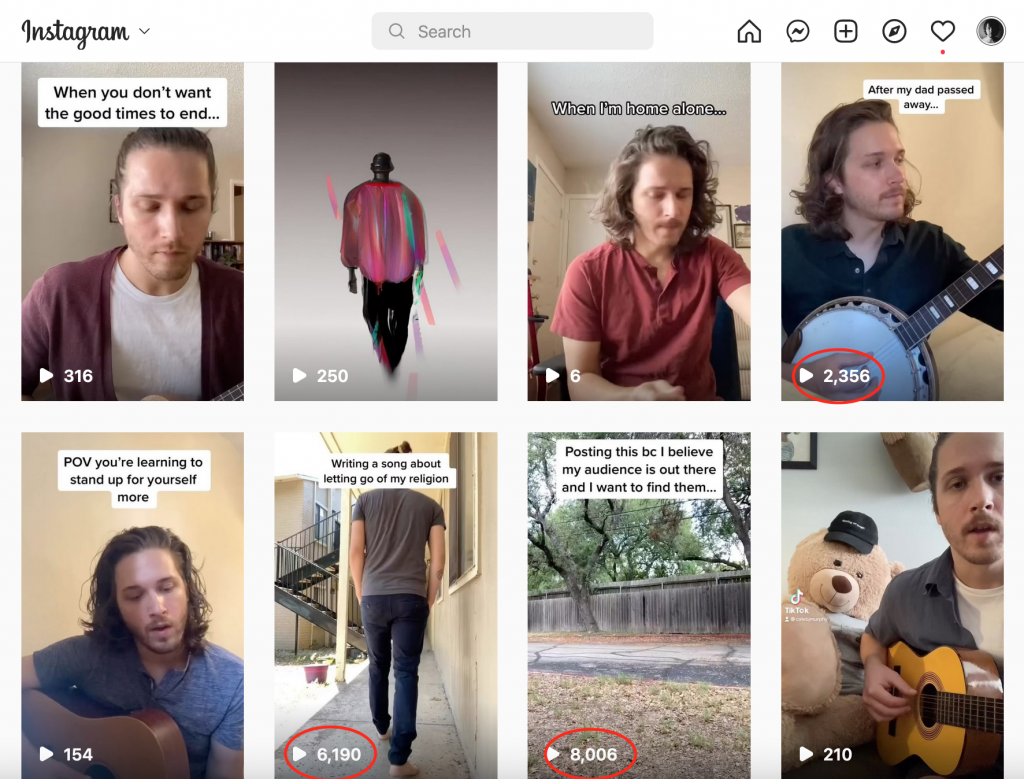 And every time I post on TikTok – without fail – I multiple new followers and tons of likes from people who most likely never heard of me before. Plus, people often leave comments saying they love the song and asking where they can stream it.
Yeah, I'm not going viral. My views, likes, and comments are pretty small compared to a lot of other musicians. I still have a small audience. But every short-form video I post is getting my music in front of complete strangers, which is exactly what we all want as indie musicians.
How To Recycle Short-Form Content Across Platforms
Here's how you can easily recycle content to promote your music on multiple platforms…
Figure Out What Type of Content Works
The best way to figure out the content that works for you is to find inspiration from other creators. Check out musicians who make similar music to you who are also doing well on these platforms. Then let their content give you ideas, or even use the same format but make it your own.
For my genre (singer-songwriter, folk, acoustic guitarists), I noticed the "hook" was often just text on the screen, or the artist saying something, that gives the viewer context for what they're about to hear/watch.
This format works for both live performances, or if you just have an interesting visual paired with the official audio playing. In whatever case, the lyrics are almost always on the screen as the artist sings them, allowing the viewer to follow along.
For example, here are the hooks I've seen working for other artists, regardless of genre:
Start With TikTok
I would suggest starting with TikTok videos, then posting those videos on Reels and Shorts. Here are some reasons why:
TikTok has a simple, built-in video editor that lets you easily add a sound (your song) and text on the screen
The content that works on TikTok usually works on Reels and Shorts
TikTok is the master of algorithm-focused social media, so most artists who go viral are doing so on TikTok
So here's what you can do:
Create short-form content on TikTok with TikTok users in mind
After you post the video, copy the TikTok link and paste it in SnapTik's video downloader (this removes the TikTok watermark which helps it do better on the other platforms)
Download the video from SnapTik
Post that video on Reels and Shorts
Video Editing Programs To Try
If the TikTok in-app video editor is not enough for what you need, there are plenty of other options that are equally as easy to use. Here are some video editing programs that are either free or affordable:
Stay Consistent
The key with content creation, music promotion, and really every part of being an indie musician is consistency. Quantity leads to quality. The more you do something, the better you get at it.
So create a schedule for making, editing, and posting content. Find a system that works for you and stick with it. You're probably not going to go viral after three posts. In fact, you may never go viral.
But with each new piece of short-form content, you'll get likes, comments, followers, and ultimately lifelong fans of your music who hadn't heard of you before.