For members of the music industry, sync licensing's far-reaching potential benefits are hardly a secret. But besides affording artists considerable upfront compensation and meaningful exposure, placements are spurring renewed fan interest in more catalog tracks than ever. 
The following was created in collaboration with Songtradr, part of a broader partnership focused on the sync licensing space.  Be sure to check our ongoing coverage of this fast-growing sector here. 
The most prominent 2022 example of sync licensing's ability to help catalog songs find entirely new audiences arrived over the summer, when a placement in Stranger Things catapulted Kate Bush's "Running Up That Hill" back into the commercial spotlight. 'Catalog' is officially defined as songs that debuted at least 18 months ago, though "Running Up That Hill" debuted almost 40 years ago.
Originally released in 1985, the track recently climbed to the top of the charts (breaking multiple records in the process) and generated millions from streaming after appearing in the Netflix-exclusive program. Bush then issued a rare public statement acknowledging "the young fans who love the show" for giving her 37-year-old work "a whole new lease of life."
However, "Running Up That Hill" isn't the only catalog song that's enjoyed a resurgence following a sync placement. Instead, this is part of a broader phenomenon impacting a range of once-forgotten gems.
Just recently, Digital Music News partnered with Songtradr's Tunefind music-discovery platform to analyze the listenership data behind three tracks that have experienced significant (but less-publicized) boosts of their own thanks to sync licensing. Tunefind is widely used by music supervisors and powers the Billboard Top TV Songs chart.
These stats illustrate the newfound possibilities associated with sync. Arguably, sync is assuming the role of traditional radio given the massive promotional lift enjoyed by songs played on TV shows, viral TikTok videos, and Hollywood blockbusters. Back in the mid-80s, broadcast radio had the power to elevate tracks like "Running Up That Hill" with heavy spins. Now, with traditional radio crowded by seemingly-endless listening options, synchronization is creating some unexpected winners – with 'spins' taking the form of soundtracks on ultra-popular series and viral clips.
The comparison is apt in more ways than one – including the scarcity found in both formats. Broadcast radio once had the power to 'make or break' songs. But radio stations have always had a finite number of slots — there are only so many sought-after spins on major stations, and many stations like to repeat songs. On the sync side, there are only so many hit shows and epic movies that have slots for music. But when a catchy song gets slotted in the right way – regardless of when it was released – things can really explode.
And that's exactly what is happening to a number of older tracks, regardless of when they were released. While "Running Up the Hill" grabbed the headlines, plenty of other songs have also enjoyed resurgences. Here are just a few examples.
Artist: Santigold (featuring Trouble Andrew)
Placement: Along for the Ride 
Tunefind Ranking During H1 2022 (Film): 2
Though Santigold initially dropped "I'm a Lady" as part of her 2008 debut album, Santogold, the track benefited from a flood of new listeners when it complemented Netflix's Along for the Ride in May of 2022.
Based upon the Sarah Dessen novel of the same name, Along for the Ride (which stars Kate Bosworth) drove fan engagement with the "I'm a Lady" placement on the film's Tunefind landing page, where a multitude of viewers navigated to find the song's name as well as the responsible artist.
The Tunefind Ranking (for all films) directly reflects the number of Tunefind users that utilized the platform to click or tap through the "I'm a Lady" placement during 2022's initial six months.
And predictably, given this influx of interest on Tunefind, the 45-year-old singer-songwriter's placed track achieved a material stream-count jump on Spotify and other platforms, Chartmetric data shows.
The listening growth is most noteworthy and apparent on Spotify, where the 16-year-old song had been garnering about 2,000 plays per day pre-placement. After Along for the Ride became available to Netflix subscribers on May 6th, though, daily Spotify streams for "I'm a Lady" shot up past 50,000 before gradually leveling out at roughly 15,000 in August.
Of course, the latter figure still marks a 750 percent improvement from before the placement came to fruition. Also, since the start of May, overall Spotify streams for "I'm a Lady" rose from nearly 6.3 million to crack 9 million.
To a lesser extent, "I'm a Lady" also enjoyed a bump on YouTube, with two official uploads' daily views increasing from a combined total of approximately 150 to north of 7,500 before leveling out at roughly 1,500 in August.
Meanwhile, Apple's Shazam was used more than 275,000 times to identify "I'm a Lady" during May, June, July, and August – underscoring that there's always an untapped demographic through which songs can make waves commercially.
Artist: Jim James
Placement: Ozark
Tunefind Ranking During H1 2022 (TV): 2
Most widely known as the frontman of My Morning Jacket, 44-year-old Jim James has dropped a number of projects as a solo artist, including 2016's Eternally Even. The album's third track, "Here In Spirit," racked up 12.4 million Spotify streams during the first five years after its debut, with 2021 having brought an average of approximately 7,500 new streams per day, according to Chartmetric.
This daily-stream figure dipped to around 5,000 in January of 2022 – before more than tripling on the Monday following the release of the fourth and final season of Netflix's Ozark, and specifically the first half thereof. Among the tracks synced in the much-anticipated season are "Here In Spirit," and the placement ranked second on Tunefind in engagement (for TV) across H1 2022.
Far from fizzling out in the subsequent weeks and months, the daily Spotify listenership of "Here In Spirit" peaked in February, gradually rounded out at about 15,000 in April and May, and then held steady at an average of 13,000 in June, July, and August – still north of three times the pre-placement streaming rate. That staying power is hardly uncommon, especially for prominent song placements on major series. Instead of a one-time boom, on-demand video allows viewing at any future point – which also opens the door for continued song discovery.
Overall, the total Spotify streams garnered by "Here In Spirit" throughout its first five or so years on the platform jumped by almost 30 percent during 2022's eight months alone.
Inclusion on Pandora track stations, or algorithmically generated lists of music based on the song, hiked from 718 at 2022's beginning to 1,100 for "Here In Spirit" by August. The identical period saw the song's Shazam total, which had been increasing modestly before the placement, grow by more than 280 percent to break 560,000.
Song: "Monster" (2016)
Artist: Reckless Love
Placement: Peacemaker
Tunefind Ranking During H1 2022 (TV): 10
21-year-old Finnish rock band Reckless Love released "Monster" as part of 2016's InVader, and the track made a relative splash among the veteran act's hardcore supporters (and heavy-metal fans generally) during the first six years that it was available to the public.
Spurred by momentum stemming from an appearance in HBO Max's Peacemaker (which debuted in January of 2022), however, "Monster" experienced a dramatic resurgence in streaming figures and other listenership metrics, ultimately ranking 10th in user engagement among television placements featured on Tunefind during H1 2022.
"Monster" started 2022 with a total of about 2.18 million Spotify streams and was adding roughly 1,500 streams per day. The latter number spiked well past 100,000 once Peacemaker began streaming and went on to drive overall streams above 6.75 million by August's end – signifying a 209.63 percent boost.
Furthermore, with a Shazam count of less than 10,000 (which was growing by one to two look-ups daily) before viewers dived into Peacemaker, "Monster" nearly doubled in the category overnight. By August's conclusion, the number was still increasing by more than 100 daily and had topped 107,000.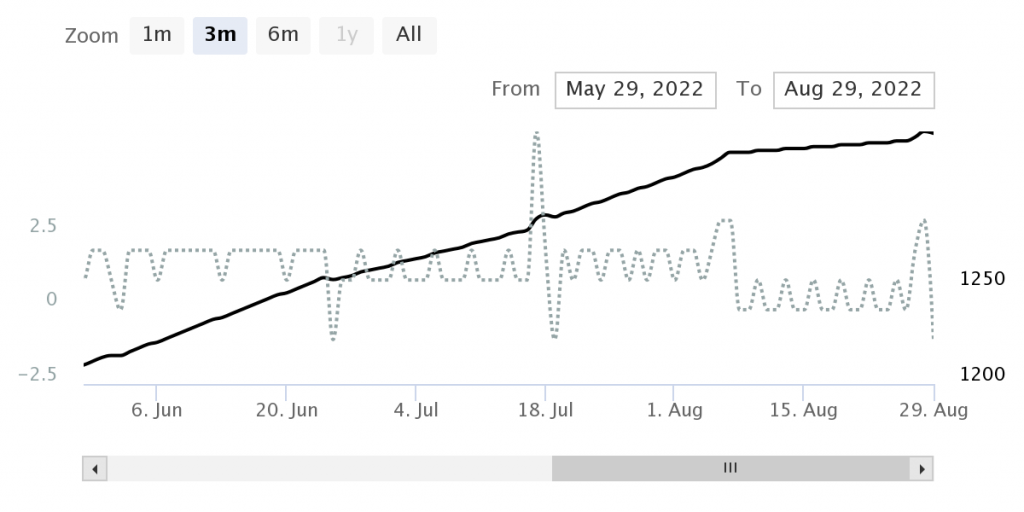 There was also a dramatic surge on TikTok, where the track appeared just days after its HBO appearance. Now, the track has been featured in over 1,332 videos, with spillover effects likely on streaming platforms like Spotify.
For those enmeshed in the sync world, those breakouts are just scratching the surface.
While "Running Up That Hill" unicorns are a certainty in the future, the bigger story is arguably coming from the groundswell of songs experiencing a second surge thanks to prime sync placements. And while those tracks may be technically 'old,' they're brand new to many newfound listeners, a phenomenon that is also shifting the game in a music industry accustomed to recently-released chart-toppers.