Including Chartmetric's precision data in your electronic press kit (EPK) just got easier with these new tools.
The following article was created with Chartmetric, a company DMN is proud to be partnering with.
As reported by Digital Music News, Chartmetric's recent acquisition of onesheet has made it easier than ever to create EPKs for any artist. Now Chartmetric is rolling out a new learning hub — learn.chartmetric.com — to help artists and their teams to present data in a meaningful and compelling way. Chartmetric also launched a $10 monthly Artist Plan for its analytics tool earlier this year.
What is an Electronic Press Kit?
An EPK is an essential component of an artist's success in today's music industry. onesheet's elegant solution can distill all of Chartmetric's data into a sleek webpage, presenting key insights and highlights from millions of points of data gathered by Chartmetric. The best part is that the presentation of this data is customizable. 
Artists and their teams have granular control over which sections to include, which stats to show, and what to feature at the top. With so much control over how the data is displayed, how do artists and their teams know what suits them best? Which information should be displayed to a booker vs. a playlist curator vs. a record label? That's where Chartmetric's new learning hub comes into play. 
learn.chartmetric.com – Chartmetric Learning Hub
Chartmetric is on a mission to collate all the possible sources of music industry data into one cohesive source. The new learning hub includes a certification program for anyone who wants to demonstrate their proficiency in navigating the Chartmetric platform. It also provides a study guide, music data glossary, and links to additional multimedia educational content. Most importantly, however, the learning hub teaches users — from artists to record executives — how to apply Chartmetric data to everyday music industry situations, including putting together EPKs.
For instance, the need for presenting data to bookers and labels is different from sharing with playlist creators. Artists looking to route a tour or get signed need to show they have a viable audience ready to tap into. That should include a substantial social footprint with a clear identity to help market the artist. Showing existing tour dates can help bookers see other venues at which the artist has played as well.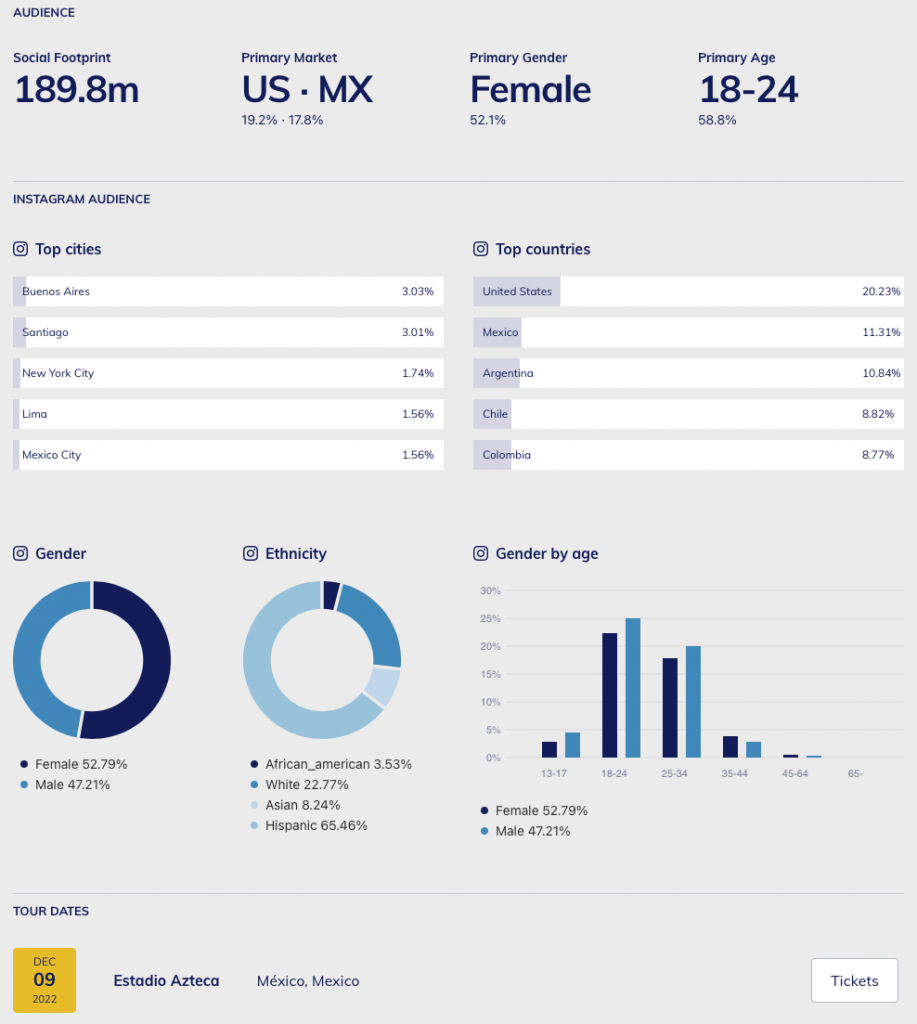 Artists looking to garner more reach through playlist curators may want a completely different EPK. Playlist creators want to see how many other playlists an artist has been featured on and what makes the buzz about an artist's music online worthy of inclusion in their curation process. 
Highlights from social media and Spotify can help solidify placement. With Chartmetric data, artists can highlight how their Spotify followers and YouTube subscribers have grown across multiple time periods. No math required—just go to your artist profile page on Chartmetric and adjust the time period on the Social & Streaming stats section.

With the learning hub, Chartmetric hopes to give users the skills they need to get the most out of music data so they can create a compelling EPK that can help advance their careers in music. With onesheet.club, learn.chartmetric.com, and the Chartmetric Artist Plan all at your fingertips, Chartmetric is putting the power back into the hands of artists and their teams— with one of the most powerful and affordable tech stacks in the music industry.