Ticket prices for Adele's Las Vegas residency are skyrocketing on reseller sites, going for as high as $45,000 in some cases. 
'Weekends with Adele' is kicking off on November 18 after being rescheduled from earlier this year. In addition to the rescheduled dates, Adele added eight additional dates in March 2023. But tickets for these events are listed at eye-watering prices on resellers like StubHub. Tickets in the lower bowl of the theater range anywhere from $8,000 up to $32,000 for seats in the 100s to 200s range.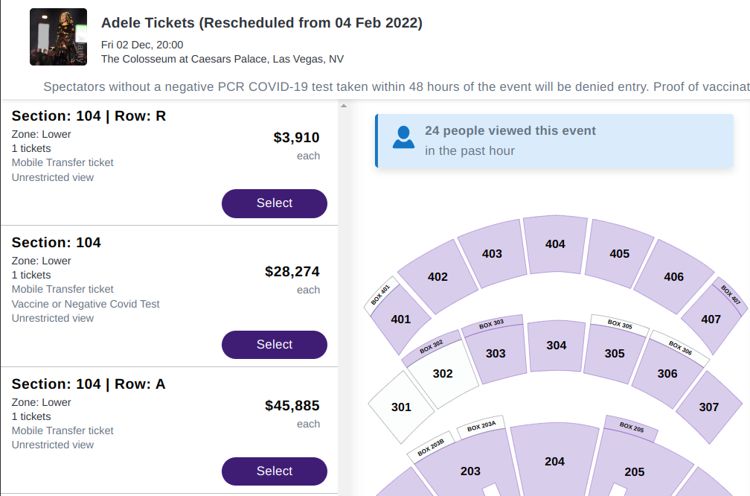 Even nosebleed tickets in the 400s range from $600 to $2,000. Tickets for the show are not available to purchase on Ticketmaster. The highly anticipated Las Vegas residency was supposed to happen earlier this year, but dates had to be rescheduled. Adele posted a heart-felt message on her
Instagram
account when that happened, letting fans know she was crushed. Many fans took to social media to express their support, disappointment, and some their anger.
"I'm so sorry, but my show ain't ready," she told fans. "We've tried absolutely everything that we can to pull it together in time and for it to be good enough for you," she said in her message on January 20. Following the cancellation, Adele took to Instagram again to announce the rescheduled show with new dates. 
"After what feels like an eternity of figuring out logistics for the show that I really want to deliver, and knowing it can happen, I'm more excited than ever!," she told her fans. "Now I know for some of you it was a horrible decision on my part, and I will always be sorry for that, but I promise you it was the right one."
Adele released her latest studio album 30 in November 2021. The album features the first new music from the British singer in six years and was the best-selling album of 2021.