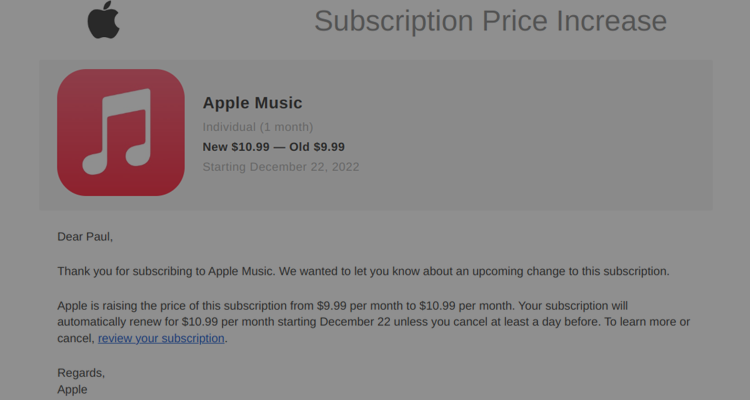 Two months after Apple announced a price increase for Apple Music–the new monthly rate is rolling out.
Apple announced in October 2022 that it would increase the price of Apple Music, Apple TV+, and the Apple One bundle. Those new prices were effective immediately for new subscribers but rolled out to current subscribers in a rolling wave. You can see the copy of the email Digital Music News received about the price increase above.
The monthly plan for Apple Music now costs $10.99, with proportional cost increases across its individual yearly and family plans. Individuals now pay $109 for their yearly Apple Music subscription. The Apple Music Family Plan now costs $16.99/month–an increase from $14.99 previously. The Apple Music Student plan even went up to $5.99/month over the summer.
Apple says the price increases are due to an increase in licensing costs so that "artists and songwriters will earn more for the streaming of their music."
The Apple Music price increase comes on the heels of competitors doing the same. Spotify increased the price of its Family Plan in 2021 to $15.99 per month. Spotify is still charging $9.99/month for its individual plan, which is the price the service launched at over ten years ago. However, rumors abound that Spotify will revisit raising costs of its individual plans in 2023.
Spotify is even considering a new higher-priced tier, perhaps called Spotify Platinum. The tier would cost $19.99 a month and would include perks like HiFi, Studio Sound, headphone tuner, audio insights, and limited ads while listening to Spotify podcasts. It would differentiate Spotify from Apple Music in that Apple offers lossless and spatial audio features at no additional cost to its subscribers.
Spotify is hoping to bundle other features like a headphone tuner and reduced ads when listening to podcasts as an additional reason to offer a higher-priced music streaming plan. It's unclear what the Library Pro and Playlist Pro features would bring to the table, either.