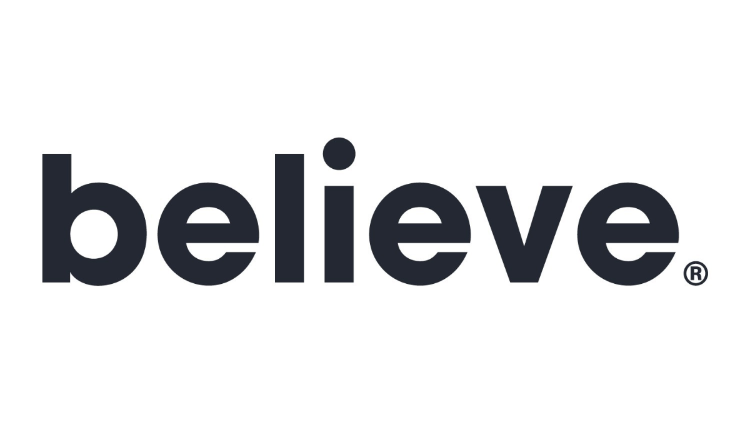 Paris-headquartered Believe has officially announced that its annual digital music sales cracked €1 billion ($1.07 billion at the present exchange rate) during 2022.
The TuneCore owner Believe unveiled the digital-sales milestone today, via a concise announcement message that was emailed to DMN. Per this to-the-point release, Believe last year achieved north of €1 billion in digital sales, referring specifically to recorded "revenue generated from digital store partners and social media platforms before royalty payment to artists and labels."
And according to the digital music company, which arrived on the Euronext Paris in 2021 and took a majority stake in French indie label Jo&Co in early 2022, the sales figure "is a testament to Believe's original vision and appeal to artists and labels."
Building upon the idea, Believe founder and CEO Denis Ladegaillerie in a nearly 150-word-long statement touted the "continuous success" of the artists and labels that work with his company, which posted a close to 40 percent year-over-year revenue jump in Q3 2022.
"Our digital expertise and innovation, our deep relationships with our streaming partners have delivered great results for our artists and labels, helping them grow their audiences and their streams at a much faster rate than the market," Ladegaillerie communicated in part.
"Delivering best-in-class products and services to all artists, from DIY to established to top artists and shaping the future of the music industry by contributing to build strong, thriving and diverse local music ecosystems is what we stand for," proceeded the former Vivendi exec Ladegaillerie.
Last month, Believe announced the rollout of Encore, a mobile app through which its artists can track the performance (including streaming stats, playlist additions, and more) of their catalogs. Meanwhile, December saw the entity proclaim itself Germany's "third largest company on local repertoire in the streaming market" as well as the "second largest player for hip hop in Germany."
(According to Berlin's Federal Music Industry Association, the German recorded music market generated €967 million throughout H1 2022, with digital having accounted for approximately 80 percent of the total.)
Finally, seemingly in a testament to the aforesaid "deep relationships" with streaming partners, Believe included in its release congratulatory statements from YouTube global head of music Lyor Cohen, Spotify VP and global head of music Jeremy Erlich ("Enabling artists to live off their work is core to our mission at Spotify"), and Amazon Music VP of licensing and strategy Rishi Mirchandani.
When the market closed today, Believe shares (BLV on the Euronext Paris) were worth €11.18 each – an over two percent dip from yesterday's close, but an almost 50 percent hike from a 52-week-low of €7.49 per share. The 18-year-old business is scheduled to post its performance breakdown for all of 2022 on Wednesday, March 15th.