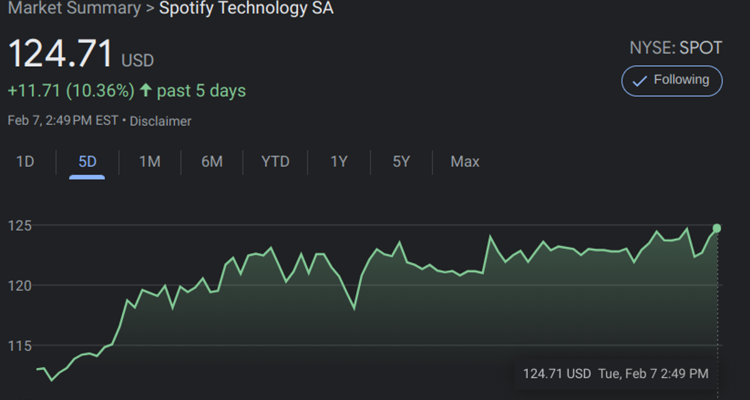 Bullish analyst sentiments are helping to keep the Spotify (SPOT) stock price above $120.
Analysts at Wells Fargo and Atlantic Equities have lifted SPOT to 'Overweight.' Wells Fargo analysts raised their price targets for SPOT from $121 to $180, stating the company's commitment to margin improvements as the reason.
"When we upgraded SPOT to 'Equal Weight' it was predicated on management showing progress against margin targets. Opex is demonstrating leverage as OI losses improve, and we think SPOT will be break-even in Q1 2024," analysts write.
Analysts for Atlantic Equities similarly raised their price target from $110 per share up to $160–a more conservative bump than Wells Fargo analysts. During Spotify's earnings call last week, it reported ending Q4 2022 with 489 million active users, an increase of 20% year-over-year.
Wells Fargo analyst Steven Cahall believes Spotify will raise its prices this year to match rivals Apple Music and YouTube Music.
Cahall also believes Spotify's podcast gambit hasn't fully paid off yet. "This is during an ad recession, so podcasting is likely a bit behind," Cahall says. "We see margins and valuation as upward bound with margin delivery rerating SPOT. We're ahead of Street on gross and op margins for '23-'25."
Spotify has addressed investor's concerns about the company's perceived 'competitive weakness' with a few strategic moves. It has diversified its audio profile away from just a music streaming service to include podcasts and audiobooks. And earlier this year, Spotify announced a reduction of its staff, amounting to laying off 6% of its workforce. SPOT stock has performed well since that announcement as investors see the company 'trimming fat' to keep itself afloat as Apple and Google entice consumers with attractive bundled music services.
As of the time of writing, SPOT stock has recovered 52% YTD from its January 1 low of $81.90 per share. The stock hovers above $120 and continues to make gains as analyst expectations remain bullish. Despite that, the stock remains down 15% from its 2018 IPO price at $147.